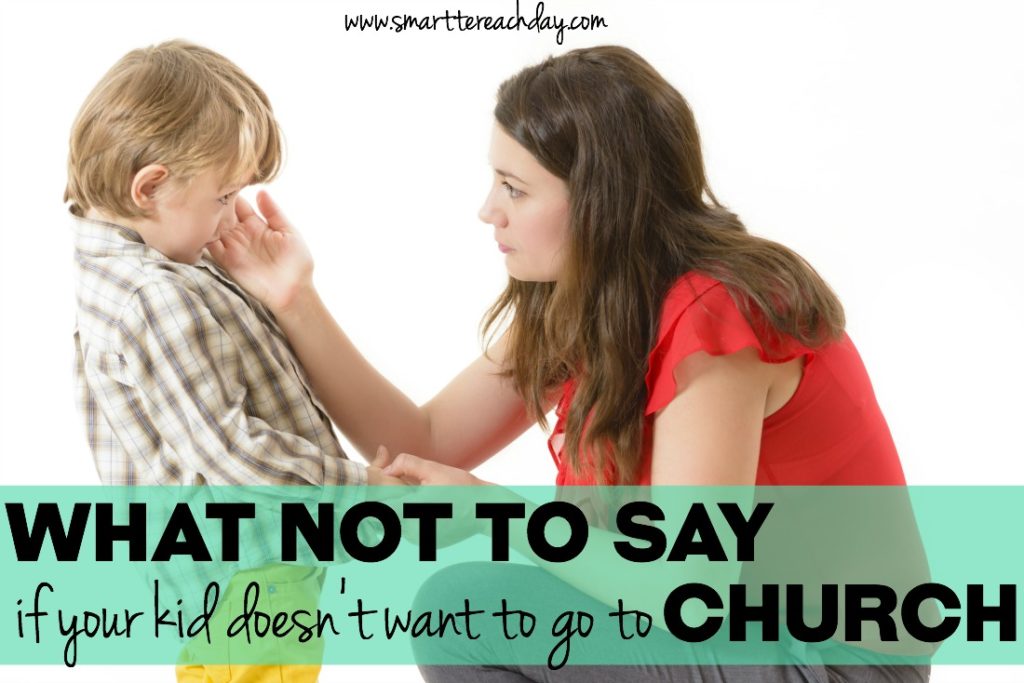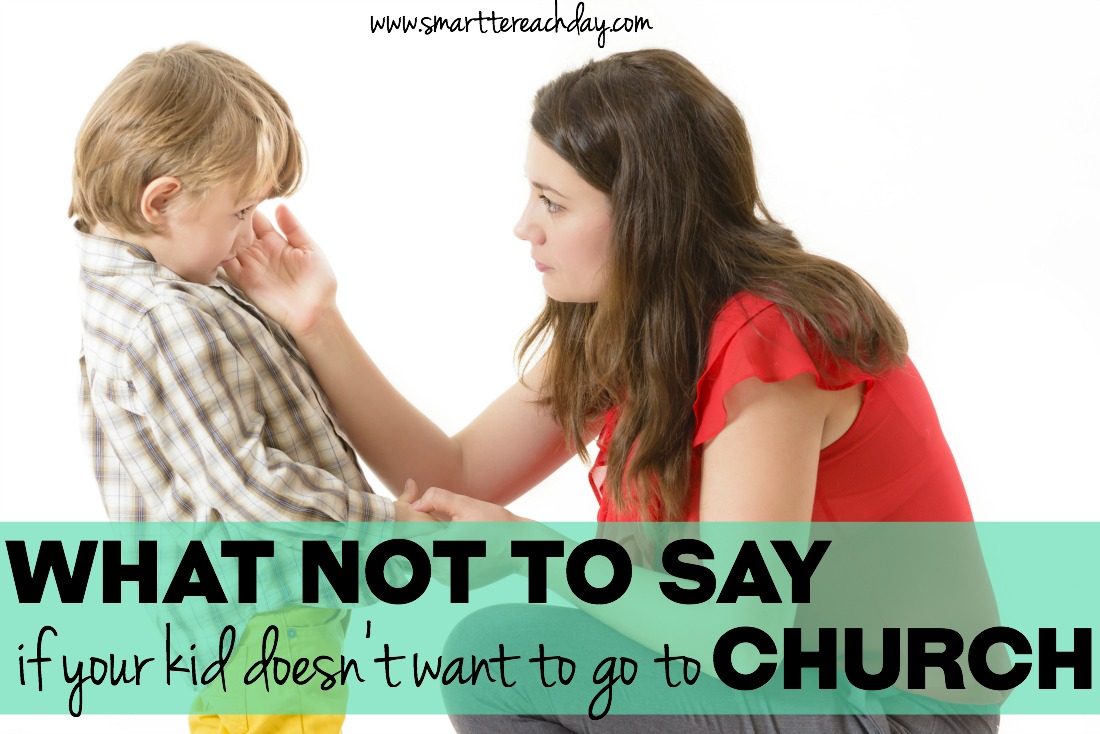 A few weeks ago on the way to church, a son (who shall remained unnamed) remarked rather peacefully and thoughtfully, "I hate Sundays. I hate church days."
I didn't respond, but he had me rattled, alright.
DIDN'T LIKE CHURCH?!?!?!??
What in the world? What kind of a child was I raising here??? Sundays aren't FUN Around here?!?! What was I doing wrong? We all know what's next…marijuana and sneaking out of the house!
Okay, I jest a little. But I was bothered, for sure.
Until I remembered my aunt's advice that I quoted in my book, How To Introduce Your Child To Jesus. The basic advice was, if your child doesn't seem to enjoy church, don't freak out. Relax – he's human, just like the rest of us.
So while my tendency was to, well, freak out, and demand that WE JUST GO TO CHURCH, BECAUSE THAT'S WHAT WE DO!!! thanks to my aunt, I handled it a little differently next time. When the topic came up again (probably when we were trying to squeeze into our church pants on a tense and frazzled sacred Lord's Day, here's what I did.
I stopped what I was doing and pulled him next to me. "(child's name), can I tell you a secret?"
"Sometimes… (pause for effect) sometimes I don't like church either."
You could feel in the stillness the shock my words were having. I could almost feel a little tremor of relief (or was it laughter?) in the warm little body next to me.
"Yes, it's true. Sometimes I'm tired. And I have a lot of things to do, and I'm hungry during church, and sometimes…I just don't want to go."
He was smiling now.
"But you know what? When we go to church, it makes someone really happy. Do you know who that is?"
"um…Dad?"
"God!! God loves to see us coming together and singing to him, and praying to Him. When he sees you in church worshiping him, he is so happy!"
So I felt like that was a home-run lesson right there. And truly, I do think it was an excellent point.
But alas, it didn't completely fix the issue. I still had to brace myself on Sunday morning when I answered the inevitable question…"What day is it today?" Because the response was less than enthusiastic.
However, I developed a little plan in my head. It started with the question my mom always asks when you're faced with a conundrum of this sort.
What is your goal?
In this case, my goal isn't just to get everyone to go to church, with stoic obedience. My goal is to teach my kids three things.
You are loved and understood by us.
You are loved and understood by God.
In our house, we obey God. (And joining together with others who believe in him on Sunday is one way to do that.)
Obviously, I could have just ignored all his protests and ordered him in the car BECAUSE IN THIS FAMILY, WE GO TO  CHURCH, THAT'S WHAT!!! And for some kids, that may just work. I could see in my own, that it wasn't working, that was growing seeds of distance and discontent. So the first step was identifying with him, letting him know that of course, it's normal to not like church. But we do it to obey.
And then I went a step further. Now, this is not in the Bible, and for some of you, this could be completely the wrong plan. But here's what I did.
I asked, "WHAT EXACTLY is my child disliking about Sundays? Is there anything I can do to make it a more positive and special experience?"
I imagine there are a billion things that might make little children come to love and enjoy Sundays a little more. Here are a few possibilities…
a special snack
a special toy
back rubs and snuggles from mom and dad during church
a special tradition for after church (out to eat, Grandma's house, etc.)
IMPORTANT NOTE: I'm not saying that moms should bend over backwards to make church a big ol' party for kids. But look back at your goals 1, 2, and 3 above. If these "special" things help to re-enforce those goals, then BY ALL MEANS USE THEM.
So for us? It wasn't toys, snacks, or anything like that that made a difference in a positive attitude about church.
It was the funniest thing.
It dawned on me one day (as we were squeezing into those awful crunchy too-tight jeans) THIS CHILD HATES HIS CHURCH CLOTHES.
This is a kid who LOVES his special outfits and takes delight in what he wears. And I had to admit, those hand-me-down, uncomfortable church clothes were pretty horrible.
So I went and pulled up the computer (Old-Navy after-Christmas sale, if you're curious), and got my little one to sit next to me.
AND TOGETHER WE PICKED OUT NEW CHURCH CLOTHES.
He was elated!
Who would have thunk it that a simple little plaid shirt with a boy-sized tie would make the difference between tantrums and groans, and sprinting downstairs to get dressed RIGHT AWAY MOM, BECAUSE IT'S SUNDAY!
I pray that if you, too, have a child who isn't thrilled with the church experience, that you, too, might have a glimpse into their little mind. That you might have humility to admit your own humanity (and the guts to keep on going to church anyway).
And yes…that you might be blessed with abundant insight when you brainstorm, what might make this special, and treasured, and holy for my little one?
Have you dealt with your kids not wanting to go to church? How do you handle it?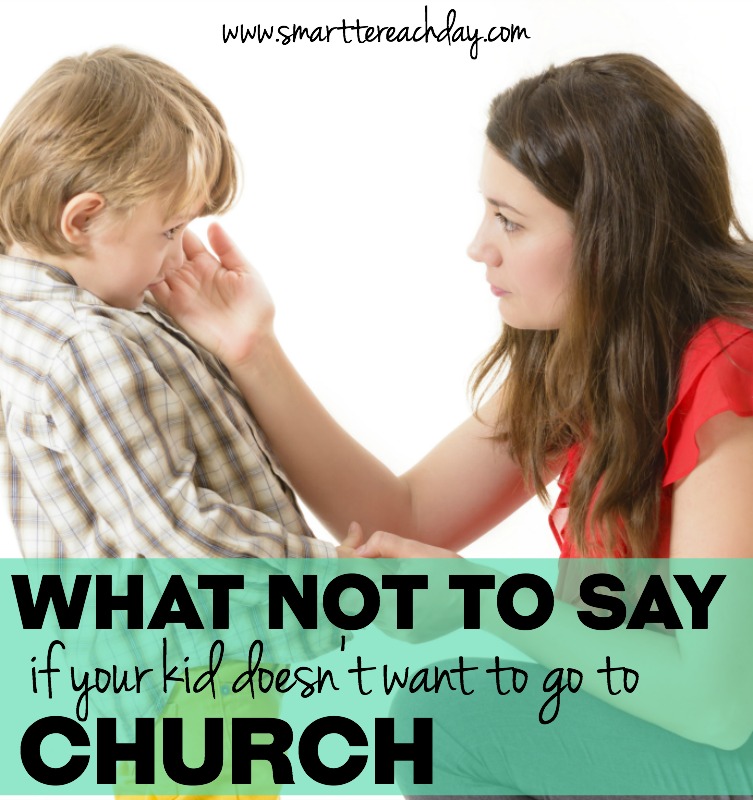 Follow "Smartter" Each Day on Facebook!
Follow "Smartter" Each Day on Twitter!
Follow Jessica on Instagram!