When I was dating my husband, one of the marriage books we read said this:
"Never, ever, ever have a TV in your bedroom. There is no good reason for couples to have a TV in the bedroom. Get rid of it. Now."
Or something to that effect.
I must say, nearly a decade and three kids later into marriage…that I respectfully disagree with this nameless, vague marriage expert.
Let me tell you what happens at the Smartt household. Every night. At the end of the (very long) day, when the kids are tucked (at least temporarily) in their cozy little beds, my husband and I look at each other, and we smile giddy, exhausted smiles, we take a united deep, relieved breath, and we do absolutely nothing besides watch a show.
It is a special, sacred, wonderful time in our marriage. Dare I admit we unanimously voted it the best part of our wonderfully-busy days?
I know some of you are with me, because I can't count the number of times on Facebook someone asks: "We're done with _______ show. What should we watch next?"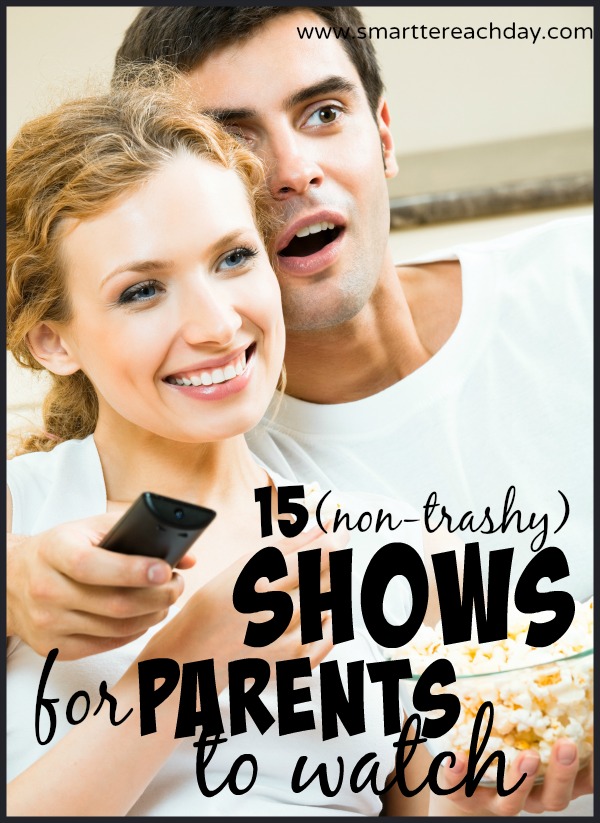 Here is my answer.
*disclaimer: I've used the words "non-trashy" in my intro, and that makes me a tad nervous. No doubt some of these shows have a scene or two in one of the seven seasons that someone, somewhere might think is trashy.
But overall, these are shows we have watched start to finish and felt good about watching. There are a few shows we couldn't in good conscience continue, and we stopped. Unfortunately today even the best shows have something somewhere we'd prefer they do without. But the ones below, overall, passed our test.
P.S. If you have others to add, PLEASE DO in the comments!
Recommended:
24 – Ah, 24. I assume everyone in the world knows and loves Jack Bauer. But if you don't, obviously, start here.
White Collar – This is lighter than some of the other "crime / drama" shows.
Parks and Rec – Very funny! We enjoy type-casting our friends and family as all the different characters.
The West Wing – How did I miss this when it was out?? This is about, obviously, a President and his staff. Really enjoyed it!
Lost – really interesting! I don't care what people say about the ending. 🙂
Duck Dynasty – Also didn't think I would like a show about duck hunters. But as most of us know, this is a great show.
Planet Earth – Todd and I loved watching this when we were dating. It's amazing, and so interesting!
Alias – I really loved this and it was surprisingly decent. There are some kinda sketchy costumes for Jennifer Garner at times.
Recommended with reservations:
Friday Night Lights – There are definitely a few scenes that I wish weren't in here. But overall, good show with positive characters. I was hesitant to watch it because I didn't think I'd enjoy a show about football. But it was great!
Burn Notice – This show is filmed in Miami, so they make a point of letting you know it's at a beach where people wear bathing suits, if you know what I mean. But the characters are positive and likable, and what I did like is there is a definite good vs. bad theme. Right is right and wrong is wrong. I was sad to see Michael Westin go. 🙁
Prison Break – I loved some things about this show, but some of the characters gave me the creeps. Pretty enjoyable to watch, though! It was a little "dark" maybe at points? But overall, good.
And a few other suggestions that I have not personally watched, but have been recommended by people :
The Blacklist
Downton Abbey
So, what are your thoughts? Do you agree with this list? Any I missed? Any you don't think should be on here?
ETA: I ABSOLUTELY have to add another show to this list. Due to some of your comments, we are currently watching Blue Bloods. It is awesome! It is highly entertaining, but also embodies many positive themes (and shockingly clean!) If you haven't watched this one, do it next!!
Follow "Smartter" Each Day on Facebook!
Follow "Smartter" Each Day on Twitter!
Follow Jessica on Instagram!