If you find yourself asking, "Should I homeschool?" then no doubt you have much to consider! There's no two ways around it – homeschooling can be difficult at times! However, it's possible you will find, as I did, that what you gain is far more than what you have lost.
Should I Homeschool? (read this.)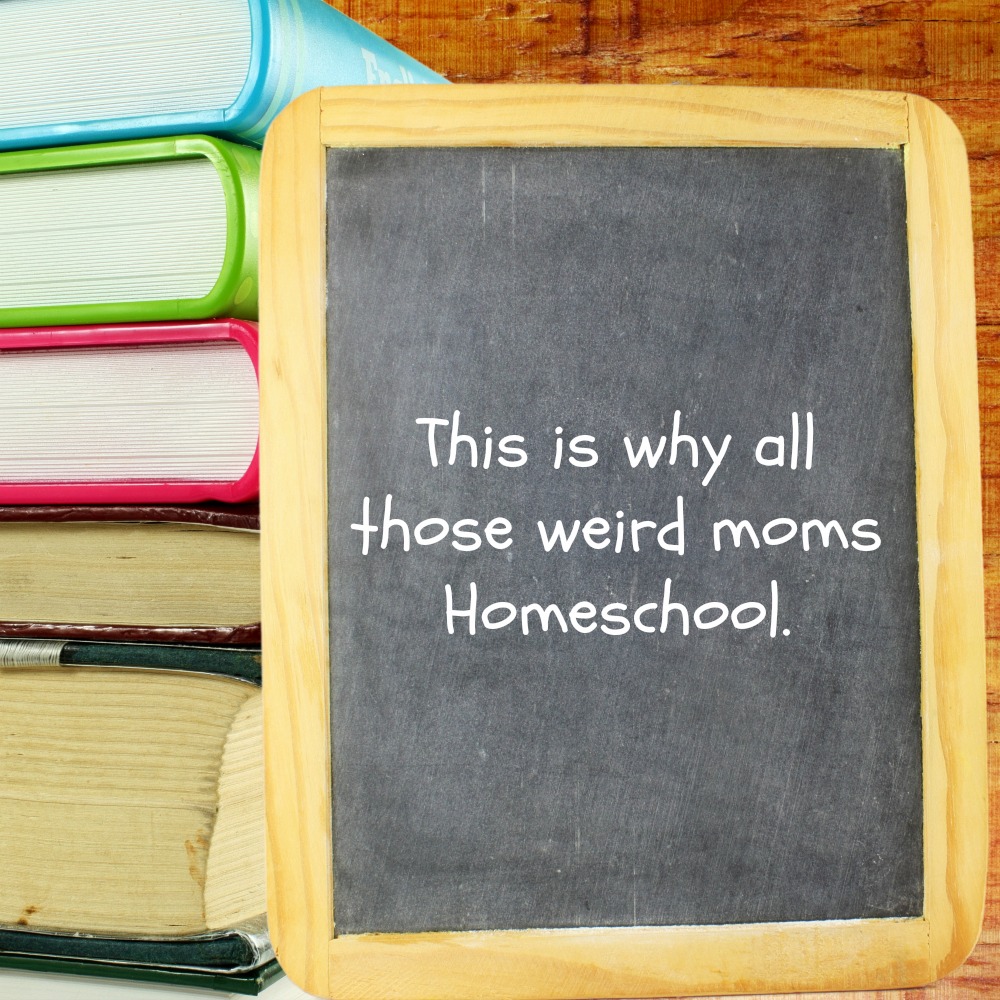 Dear Homeschooling,
I've been dissing you a lot lately, and I'm sorry about that. We had a rocky start, you and I. When I wondered, "Should I homeschool?" I thought at first it would be easy! Honestly, I thought we'd get along easier. You know, with me being a teacher and all. You were shockingly difficult at times.
Homeschooling, you stretch me. Not in a spa-room, Yoga-kind-of-stretch. More like a filling-a-water-balloon-just-to-the-point-of-explosion stretch.
Every day with you requires more prayer, more patience, more creativity, more messes, more self-discipline, and more screaming reprimands from the Solace That Used To Be The Bathroom than I ever imagined.
You take a lot of me.
But I need to tell you something else. See, it's April here, and Year Two is about in the books. And I was reflecting recently while picking up paper clippings from underneath a paint-chipped desk that…well, I owe you thanks.
Homeschooling, Thank You.
Because of you, my children are very best friends. All three of them, even the little. What a precious gift you've given us. Because of you, we spend some quality time around here. Yes, that is more time to poke pencils at each other's kneecaps and dump sand malignantly down one another's shirts. But overall, from the quality time we are deep, true friends. So thanks.
And another thing. Thanks for my second education. Was my first education so dreadfully lacking? Or do I just not remember how stunning the human brain is, or how inexplicable men dragging rocks to make a pyramid over hundreds of years? Without you, let's be honest: I wouldn't be reading books about volcanic rock, discovering Rhode Island's state bird, or tinkering with magnets. I just wouldn't. But it's all fascinating, what you've been teaching us.
Homeschooling? Come to think of it, thanks for all that reading. For the stories. You've reminded me that a good story is a good story at 5 or 35. We've read by the fire, we've read in the sand, we've read in the backyard on blankets.  We've read and laughed, we've read and cried. Okay, that was me. I cried, and they laughed at me. But still, homeschooling – these books are great. Thanks.
Thanks for drawing us outside, homeschooling. You know, as a teacher, I always looked forlornly out the window. It seemed so unfair that we were in cold metal desks under florescent lights. I love reading on the back porch with you. I love being able to sprint outside to see some spider's web, feel if it's raining, chase the squirrel out of the bird feeder (again) or spy on the robin who still hasn't had her eggs.
Homeschooling, thanks for all of the Extra Things we can fit in our day. We can sit on a couch under a fuzzy blanket on a Tuesday, just because. We can bake together. We can play checkers. We can make Valentine's Day cards for the neighbors, we can write our Compassion kids, we can paint flowers with watercolor (crumple it up when it's just not right and start again). Since I'm just not one of these Super Moms who would fit these things in the smidgens of the afternoons and weekends, I need you, homeschooling.
Homeschooling, you give us so many gifts. But the greatest one. Thank you for giving me Second Chances to parent. I am so hurried a person. So preoccupied, so distracted. I shudder to think how rushed and busy our family would be without you in our lives.
You make me sit still.
You make me look at my children.
You give me eight precious more hours in the day to know them, to tell them "good job, Buddy," to stand next to them while they do it again, to scratch their little backs while we read.
Homeschooling, you give us time.
You take my time, but you give it back, pour it back into these little ones. For this gift, I will ever be grateful.
Do you know a friend who is wondering, "Should I homeschool?" Please pass this along!
A note from Jessica: Now's the time of year when many moms are facing school decisions. If you know a mom who's considering homeschooling, would you share this post with her? Yes, homeschooling is as hard and fun as cleaning the toilet sometimes. But also, it's so wonderful! 🙂 And you can do it!
Follow "Smartter" Each Day on Facebook!
Follow "Smartter" Each Day on Twitter!
Follow Jessica on Instagram!