In the six years that I have been blogging, I have never once discussed an overtly political topic.
I've been scared to, really.
Scared you'll label me, loathe me, leave me. It is with great humility and trepidation I write this post, and I have to say two things first.
If you disagree with what I'm about to say, we can still be friends. Really. I consider this actually one of the greatest lessons learned in my adulthood: that I can, in fact, be friends who people who are profoundly different from me. My, how the world expanded instantly. I have friends who differ from me in nearly all aspects of life – religious inclinations, beliefs on homosexuality, parenting, political bent. I have realized there is much to be gained in the humanity we do share, and even in our differences, as we sharpen and hone one another.
And lastly, the elephant in the room, I am no political expert. I'm just not smart enough. I barely have time to wash all the underwear these people wear, nonetheless read up on immigration laws.
I can't write about healthcare, I'd think. But yet, though I am not an expert, I have a relevant viewpoint. We are a single-income, upper-middle class, growing family, and because of my husband's job situation, we have always had independent healthcare. Now, we need Obamacare.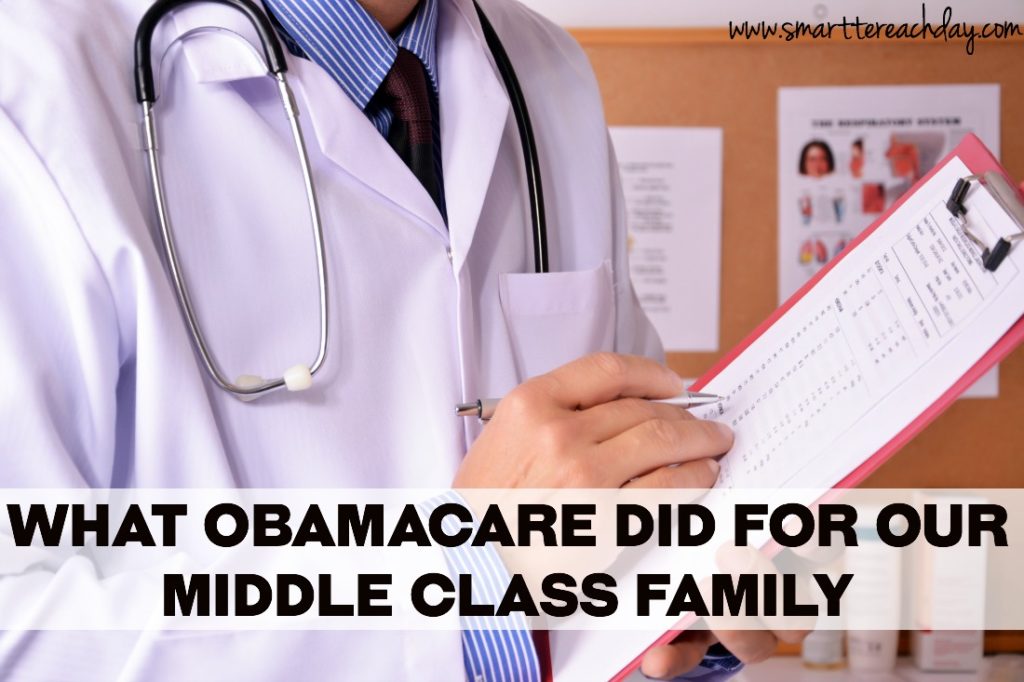 Here is our story of what Obamacare has done for us.
I stay home with our kids, and my husband works for a small business in North Carolina. It has always been difficult for his employer to find reasonably priced options (or, recently, any options) for insurance for his less-than-fifty-employee company.
So we are on our own, and we have been for six years.
Here is a general idea of what we used to pay out-of-pocket for individual healthcare plans. I include this just so you know what we had been paying before on our own.
2009 – (married, one kid) $300
2010- (married, one kid, maternity) $600
2011 (married, two kids, maternity) $875
2012 (married, two kids, maternity) $850
2013 (married, two kids, maternity) $686
2014 (married, three kids, maternity) $850
This year, in 2015, things got interesting. The plans began shifting to become ACA-complaint plan (or, Obamacare plans.) And so, we became eligible for a subsidy. Evidently making less than $108,000 a year qualifies us. This seemed a little high for a government aid threshold, but who was I to refuse some extra $$$, right?
Our plan would have cost $1,162. However, based on our income, we were eligible for a $690 government aid subsidy.
To be honest, when I found this out, I felt a little crummy for all the mean things I had said about our President. Maybe he was right, and these Obamacare plans weren't so bad at all? After all, we were now only paying $493 (!!!) for our family of five.
Well, it's been a nice year, but the party is over, for two reasons.
First, our plan increased from $1100 to nearly $1600. ("Normal rising healthcare costs," it said.)
Second, our income increased, and we lost our government subsidy. See, that government subsidy sounds wonderful, but there's a catch. It's based on your projected income. And if you make over that income in the year, you owe back your aid. If you have a completely fixed income, this would work fine. In our case, it backfired. In what would normally be considered wonderful news, my husband earned bonuses, and I started making good money blogging.
TOO BAD FOR US.
We now owe back our government aid. (It will be taken out of taxes.) We are *just barely* eligible for government subsidy next year, but I don't want to accept it. What if we make more money and owe it back?
The bottom line is that this year, we will pay $1,554.74 for health insurance. A month.
Yes. Our health care costs actually increased by $1,104.75. We are supposed to come up with $1,500+ for health insurance. It is so astronomically insane I cannot even begin to worry about it.
And note, this is not a great plan ($6000 individual deductible). And no, I know what you're thinking. There are not other plans we can use. This really is the cheapest, feasible plan. I have looked. The others have high deductibles, or no co-pays (full payment) at doctor visits.
You know, I seem to remember hearing if I liked my plan, I could keep it. I didn't love my $800 plan, but it did the job. At least we could depend on it, and wouldn't disappear if we made more money.
But this "old plan" is gone. Dead and buried three feet deep. 
Despite what we were promised, Obamacare has made this family's healthcare situation worse, and not better.
From my (very limited) perspective, here's the problem.
It de-incentivies hard work and creating income opportunities, and instead pushes people to need the federal government.  Besides the fact that we are motivated, there is very little financial incentive for us to increase our income for the time being. Using an ACA-compliant plan, we are pocketing less right now (or the same) as if we were making around $30,000 less (by my rough estimate). It's a hard spot – we're too rich to receive aid, and too poor to pay for the plans. We are the middle class, the growing family, the small business, and we are struggling to pay for health care. Is that not exactly who Mr. President promised to help with his plan? What am I missing?
It (along with the current tax and welfare system) penalizes traditional families. My sister noted the other day, "You know, it would be a lot easier if I got divorced and just lived with (my husband) instead. I could collect government aid, and free health care, and food stamps for being a single mom of four." This is sad, but true. Those of us who uphold traditional family units, pay taxes, and earn money are penalized for doing so. I know that sounds like a super-bold and obnoxious thing to say, but is it not the truth? Tell me I'm wrong.
And finally, it has limited our health care options. With our ACA-compliant plan, for example, we cannot see the allergist for my son that we loved. To see him, we would have to pay even more…that we cannot afford. We have one measly plan we can (sort of) use, when prior I would have at least 5-6 I could pick from.
I know Obamacare was supposed to help things...It sounded promising…But am I missing something?
Because it sure has not helped us.
Follow "Smartter" Each Day on Facebook!
Follow "Smartter" Each Day on Twitter!
Follow Jessica on Instagram!