Dear mama reading this ~ I don't know you. I don't know how many kids you have, how old they are, what challenges your days bring. But I do know this. I know you are here because you don't want to look back with regrets.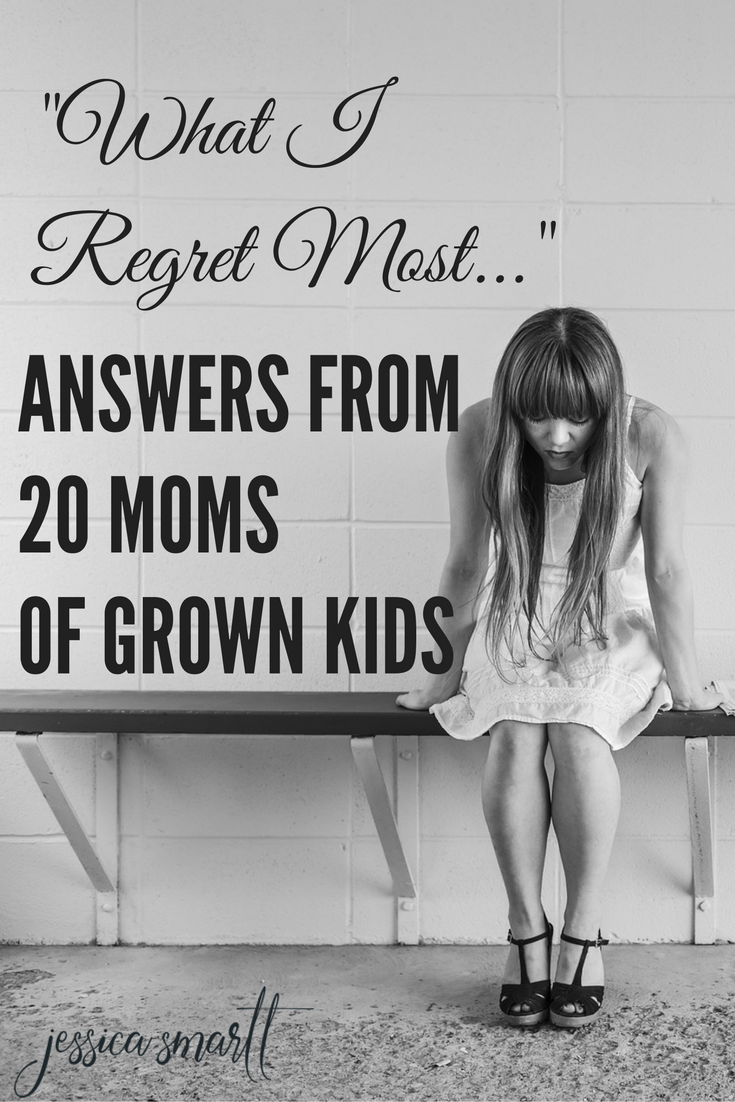 Recently at a baby shower, I was chatting with a friend – a young, cute, professional, recently married. Most notably – NO KIDS YET. 🙂
It was a pleasant talk. But I kept fighting this urge. I just wanted to grab her by the shoulders and shout it – ENJOY THIS STAGE, GIRL!! You go to Starbucks everyday, to work?? You go to the gym?? BY YOURSELF??? Do you REALIZE all the FREE TIME you have?? Don't make my mistakes. Have more adventures. Go out to eat. ENJOY IT!!!!
Because that's what I wish someone had told me. I wish I'd done it differently! I wish I'd enjoyed it more!!
But that made me think…Here I am now, in a new stage. What am I doing now that I'll look back and regret??
What would moms PAST MY STAGE say to me?
What would they fight the urge to shake me by the shoulders – Don't you get it? This is it! Don't make my mistakes!
And so, I asked them.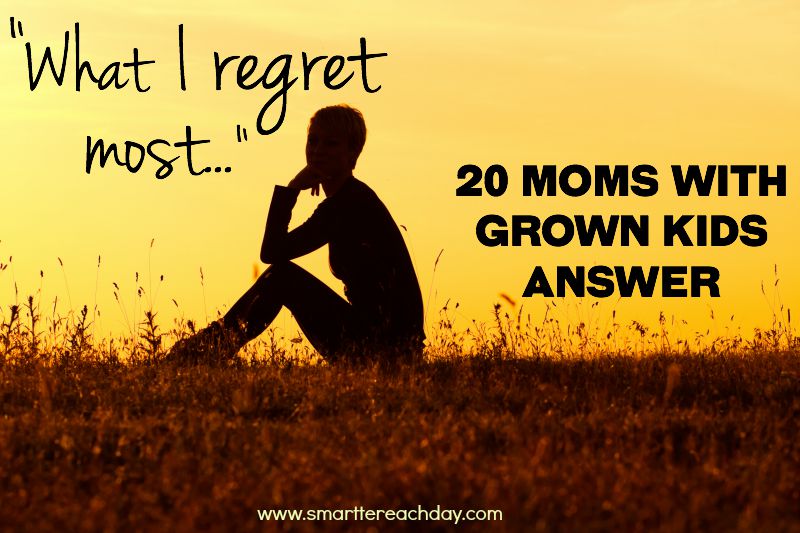 I found 20 women. Older than me, done raising little ones. Some are moving microwaves into dorm rooms, some playing patty-cake with grandkids. These woman are my friends, my relatives, my mentors. They come from all walks of life, all numbers of children – but one thing in common.
They are wise.
I am so grateful for their honesty, their humility, and most of all, their wisdom. I asked them two simple questions. And here are their answers.
What do you wish you'd done differently?
One thing I wish I would have done better? Don't do things with or for your kids just because you feel pressure from them, your friends, the church or the school. If it doesn't fit your budget, your lifestyle or your priorities, have the confidence to walk away and say no. ~T.
I know it seems silly, but I often regret not doing more with music with my children…piano, singing, having more instruments around… ~R.
What I wish I would tell my younger self, when I was dealing with my oldest when he was 3-4 or so : "Hi me, I'm you from the future. The kids are GREAT! Not perfect! But loud, funny, sensitive, kind, loyal people that love the Lord, and who you would want for friends, even if they weren't ours. So, take a breath. You don't have to settle every detail…it gets EASIER the more you have! So lighten up, quit worrying, and go put on some music and dance. I can tell you that's a great thing. You have the important thing – that you KNOW it's about relationship. Go with that, you won't be sorry. ~ L.
I wish I had been more consistent in my discipline.  I wish I had not raised my voice so often. ~E.
Honestly? I wish I had MADE them do more of the practical chores. The dishes, the laundry, stuff like that. They were so busy, I just felt bad making them…but I wish I had! ~L.
What I wish I'd done?  I guess it boils down to don't say no as often. A wise woman of God told me don't say "no" to boys unless it's morally wrong, or physically harmful. And one of (my boys') fondest childhood memories is peeing out of a second story barn door at her house for a sleepover. The theorem stands. ~L.
Be brave (or crazy) and take them out for more "field trips." My boys were only 14 months apart, so taking them out by myself when they were small seemed rather daunting. Packing their necessities and controlling their behavior…too overwhelming, so most of our time was spent having fun…at home. However, now I feel like I might have missed out on some incredible adventures. ~C.
One thing I would do differently is that I would Do More!  I would go for more walks and visit more places and catch fireflies!  But truthfully? I just ran out of energy most days! ~C.
I wish I could tell my younger self to keep a running list of my blessings. ~C.
I wish had been more organized. Keeping a clean home, having meals planned, and having some ideas about how to run my home do make for a happier, less stressful home life. It took several years and babies to come to my senses and seek out information to help me enjoy my role…Fact is, I am still learning these skills. It is a good thing that one is never to old to learn new skills. ~J.
I wish I would have been more diligent praying for my children. It's exhausting raising children and easy to forget to take the time to talk with our Father. ~M.
I'd be thankful to God every day. And along with that I would tell my younger self to remember who your Father is.  You are a child of The King, and you need no other accolades. Don't waste time trying to win the world's approval.  In the end it doesn't matter. ~C.
What are you glad you did, raising little ones?
Definitely I'm glad I didn't work outside of the home.  And I'm glad I didn't have TV when my kids were very little!
I'm so glad I didn't have computers and phones to distract me. I actually got to live in the moment. I am so so thankful for that. ~C.
I am VERY glad I home schooled even if it was just for the first years. ~R.
Anytime we went on vacation, I made them personalized little travel boxes with special surprises. Not super-expensive, but unique to them. They still talk about them. And you know? I don't regret a single vacation we took. We were not wealthy, but it was so worth every single trip! ~L.
I'm also glad I would randomly put on music and dance with them! Which then would evolve into games hide and seek, etc. Laughing and playing – the BEST for relationships!!!  ~L.
So VERY glad I read to all my children, and then taught them all to read. What a gift to open the world of books to them! ~J.
We looked for God in everything.  In sports, in history, in music, in travel, in our relationships with one another.  Some people call it a worldview.  To me it was always being aware that we are baptized sinners. ~J.
I chose a verse and prayed it for them everyday as they grew up, and now with their spouses and children added to the list. ~C.
One thing I'm glad I did was to stay home when they were small. The salary of two Christian school teachers is not great, so for one to stay home would be a major financial sacrifice…but we wouldn't trade it for the world. ~C.
One thing I am glad I did….Realize that you are going to have to put your agenda on hold. You may no longer be able to go out with friends, have the latest fashions, sit and read a book, get a good night's sleep or, for that matter,  countless other things that are good, worthwhile and important to you.  Your life is not your own.  That's ok.  Invest now.  Much of what is done in your 30's and 40's comes full circle in your 50's and 60's.  A life lived well as a young parent will give you a far better chance of living a peaceful, joyful and happy life as an empty nester.  That's the time of life when you can sit back and be a little more concerned with your agenda.  Remember there's a whole lot of life to live after your children move out. ~T.
~~~
To my in-the-trenches mamas ~
Do you ever feel like you dread Summer Break?
Do you find yourself "counting down the days" in your head until school starts again?
Do you want suggestions for fun, independent activities kids can do that are tech-free?
Do you want to enjoy this summer more than last?
If you answered yes to these questions, consider joining my SECRETS TO SURVIVING THE SUMMER BOOTCAMP for moms. In this summer bootcamp, I will reveal my six steps to survive and enjoy the time home with your kids. Less arguing, less boredom, less frustration.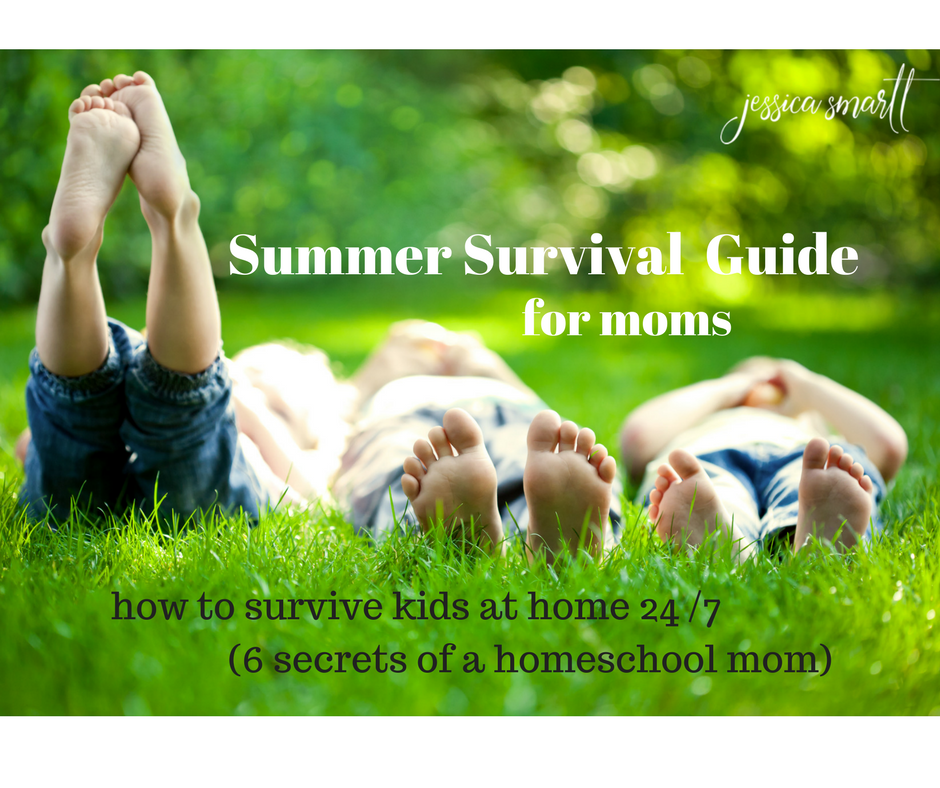 Follow "Smartter" Each Day on Facebook!
Follow "Smartter" Each Day on Twitter!
Follow Jessica on Instagram!