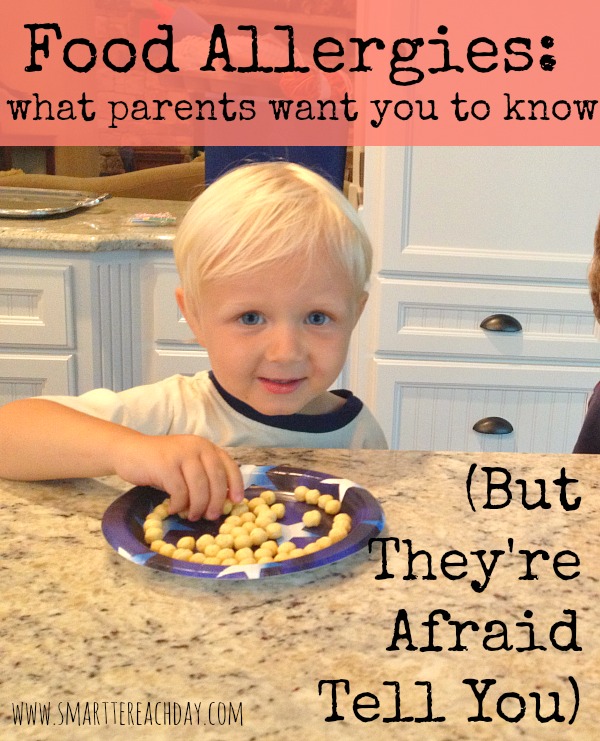 Do you know a family dealing with food allergies?
We are that family.
My son Sam has severe allergies to several common foods. I'm taking a proverbial "gulp" here, and spilling the beans on what I wish my friends and family knew about raising a kid who's allergic to common foods.
I had the hardest time with this title. I kept feeling like it sounded angry, or aggressive. You know – that I'm "fed up" with everyone who doesn't understand, and this is my angry-mama-bear vent.
Not at all.
On the contrary, I am blessed with some of the most kind and accommodating friends and family I'd ever hope for.
Like my sisters, who've all but given up peanut butter, and milk in sippy cups, and Cheez-its for the kids – just so their homes are safe for Sam. Bless them.
Like the folks at church, who for my son's sake switched to dairy-free butter for the morning bagels, and feed every kid in Sunday School Glutino pretzels, which are safe for my son.
And then there's my dear, sweet friends and neighbors, who are *new* to the whole allergy thing, but kindly tolerate my neurotic requests at play dates, wipe their hands, even hold off the cheddar Goldfish while Sam is around. And that's not easy. We know how kids are with Goldfish.
I see all that, and I am so grateful.
Yet I know it's a sticky road, and not everyone "gets it," even though they may want to…
I feel that way, about different things – I don't understand parenting an autistic child, or battling infertility, being a single mom. I wish I did.

It's hard to know sometimes what it feels like, how to act, what would help.
So, this post is for you kind souls who want to understand us, to include us, to love us – the ones with the food allergies.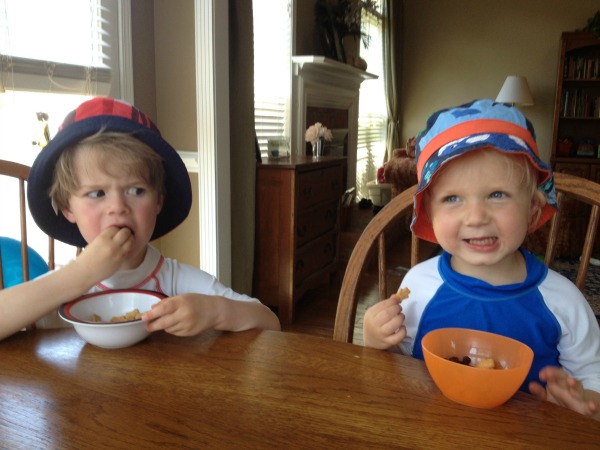 ***Disclaimer: No, I wasn't elected as official spokesperson for food allergies. But after four years of this, I know these thoughts are somewhat common. Yet every situation is different. If nothing else, read this for your friend – present or future – who's dealing with allergies. Then tell her, I read this craaaaazy girl's blog about food allergies. She said "blah, blah, blah…" You don't feel that way, do you? And then they can tell you that I'm crazy. (Or not.)
Okay, that's enough intro. Here it is – my version of what allergy-parents want you to know.
It only takes a little. Like, a ridiculously, unbelievably little. For kids who are very sensitive, a very small amount of food can cause a serious reaction.
If Sam gets a smidge of peanut or milk on his hand, he will get hives. (Yes, this has happened.) If that hand goes to his mouth or eyes, his face could swell. (Yes, this has happened.) If he swallows it, his throat could swell, and he could cough or have difficulty breathing. (Yup. Happened, too.) Sounds ridiculously dramatic, doesn't it?
Bottom line: This is serious stuff.

Sometimes we think of "allergic reactions" in terms of "big exposure," like eating a peanut butter sandwich on accident. However, it can happen from other (smaller) things. Like:
Peanut shells on your shoes from a restaurant or baseball game, rubbing off on the carpet
"Doritos" residue on your hands
Flour on someone's shirt
A knife that cut cheese and wasn't cleaned properly
Spilled milkshake or ice cream on a rug or carpet
If you seem overwhelmed by all of these possibilities, join the club. It is overwhelming.
Yes, I can be neurotic. (But you probably would be, too.) If you ever saw your kid with hives all over his body, if you ever saw his lips swollen twice their size, if you ever saw her scared and struggling to catch her breath, if you ever read an article like this one, and known that that could be my kid…You might be a little neurotic, too.
Your house may not be safe, and that's okay. This is a toughy, but it's true. If my child is deathly allergic to peanuts, and yours eats peanut butter sandwiches everyday in his playroom while he's stacking blocks and building trains, it just may not be a safe place to play. Just let us know that! We will be so grateful that you were honest. We can still be friends, though! Outings we love: the backyard, the park, going on a walk, a fun field trip…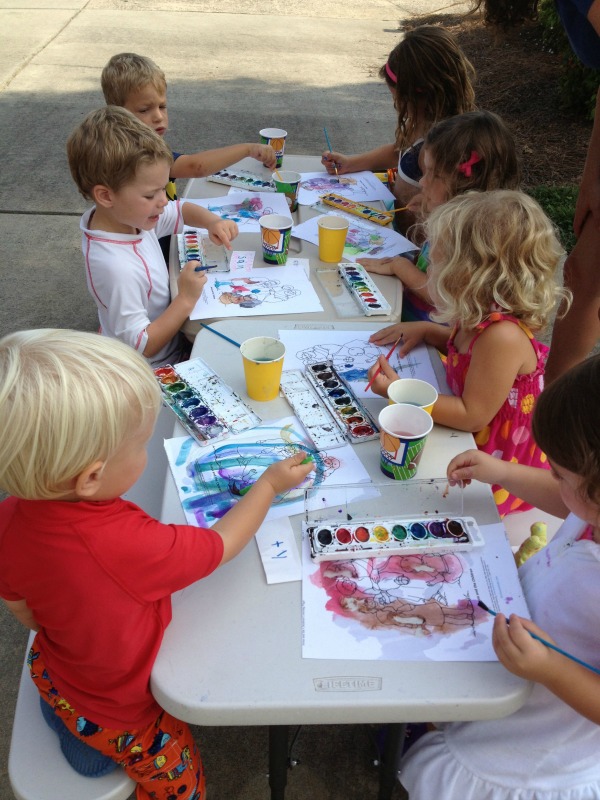 Know how to clean the house for a playdate. If I haven't terrified you of wanting to invite an allergic child for a play date, know that it is possible!
Here's the tried-and-true cleaning method:
Fill up a bucket with Dawn and warm water.
Use a new, clean dish cloth to wipe off tables, counters, and large toys.
Run the vacuum over rugs for crumbs.
Wash everyone's hands, keep allergic foods out of the way during the visit, and you just might make me cry tears of gratitude!
I know it's a lot of work. Tell me all about it, and I'll love you forever.
 Like what you're reading? Click here to subscribe to "Smartter" Each Day.
Understand that we do like you, even if we don't come to your kid's birthday party. Y'all, I like cake as much as the next girl. But birthday parties with allergic kids can be really tricky. The ice cream, the snacks, the random grimy hands, the chaos…
And some venues are trickier than others. I'm sure Chuck-E-Cheese, for example, is a great place for a party. I seem to remember it from one of mine back in the day, actually. But it sort of gives me a mini-heart attack thinking about bringing Sam into a pizza parlor with cheese-fingered rides.
I am not offended in the slightest if your party isn't "allergy-friendly." It's not about us – it's for you and your kid. And I love feeling included when we get an invite to a party, any party.
 But thanks for giving us grace if we don't feel up to it.
Don't bring allergens into our home. A baby bottle full of formula (held by a mom) is one thing I don't mind. But a sippy cup of milk, splashing all over is different. I have gone from feeling apologetic and embarrassed about this, to firm, and unashamed.
It's my responsibility to make our home safe for our child.
Much of the world isn't safe for him. This should be his safe place. If you have questions about what is/isn't safe to bring in our home, just ask. And please, please, show me grace if I say (kindly), "You know, I'd feel more comfortable if we had something else…Would he/she like some _____ instead?"
Don't say: "I checked the label – it's totally safe." Instead, say: "I think these are safe for you guys, but here's the label if you want to read it." Ahhh…the magic words. "The Label." I love the label. Are you thinking I'm a control freak? Maybe. Except that there are literally 986 different names for milk. And 38 snack companies who throw peanuts in random foods. (More or less.)
A "little cold" isn't just a "little cold" to us. Many children who have food allergies also have asthma (like our son). For a child with asthma, a "little cold" can be terrifying to parents. I know this is true, because even my husband (also known as "Mr. Nothing Fazes Me") actually gets stressed when Sam gets sick. We're up frequently at night giving breathing treatments. And it's just awful hearing a child cough and cough relentlessly. We decided it's actually more nerve-wracking than dealing with allergies.
All this to say, years ago I would glare down strangers in public after they sneezed. How dare they, ya know?? I now realize though, that people with colds should be allowed out of their houses, and if we never played with a kid who had a runny nose… we'd never play with anyone.
HOWEVER.
If your kid is full-blown in the middle of a nasty, snotty, lung-hacking cold, maybe let's do dinner on another night. Or at least let me know.
You know, so I can say, "Actually, I think that if I were up all night with a wheezing child this week, I might lose it and start plucking my eyebrows out." Or: "Thanks for letting me know. Let's do a cookout outside or something. We're still up for it."
But just let us know.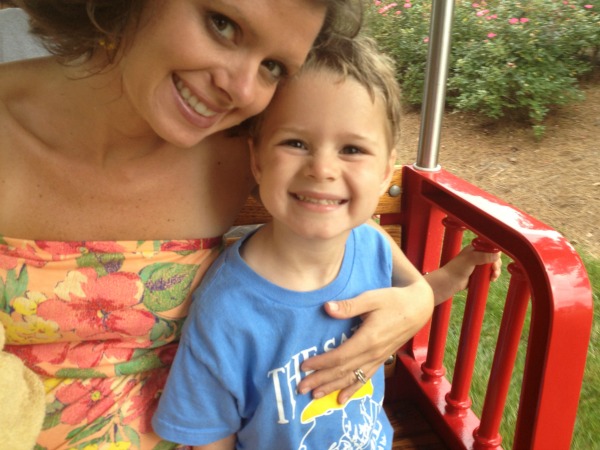 Finally, be careful of physical contact. I know. It's sad, right? It stinks. I'm not saying don't give kisses, but if you just ate a peanut butter sandwich…you might need to wait. High-fives are awesome…if your hands are clean. Wrestling is great…but not if there's Cheetos' dust all over your clothes. If that seems sad, rest assured that my child at least gets plenty of cheese-free hugs and kisses everyday from his loving, somewhat neurotic mother. : ) Who wouldn't want that?!
If you deal with food allergies in your family, does this post reflect how you feel? What would you add (or delete)?


Follow "Smartter" Each Day on Facebook!
Follow "Smartter" Each Day on Twitter!
Follow Jessica on Instagram!