Note: The post you are reading is part of my October series. This post is Lies Moms Believe #5 (Once I'm Wildly Successful At My Side Business, I'll REALLY Be Someone). See the rest of the posts in this series here.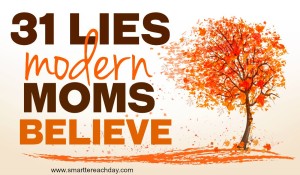 Lies Moms Believe #5 (Once I'm Wildly Successful At My Side Business, I'll REALLY Be Someone
The day I turned 25 years old, I became a Mary Kay salesperson. I was sure I was going to remember that day forever. That it would be the momentous Giant Start for my booming cosmetic career.
I want to be very clear. To this day, I like Mary Kay makeup, and I'm downright embarrassed at the total FLOP I was at selling liquid foundation. I have always wanted to be put-together, rich, and classy. I was just horrible at it.
I gave it a noble effort (aka two parties) and accrued a lot of stock in glimmer eyeshadow…which I later auctioned off a yard sale. (Mary Kay ladies reading this: please, do not report me!!)
Mary Kay was one of the first "home businesses" for moms. I know this, because as a child, how I envied my grandmother's bubble-gum pink briefcase, filled with shiny-white lotions and shimmery, sweet-smelling lip gloss.
Somewhere along the way, someone savvy picked up on the genius of Mary Kay's plan. And the system grew.
As we all know, it's not just lip gloss moms are selling.
You can literally buy anything from a mom with a side business. Moms are making a killing achieving trips, cars, and "diamond-level" status off the proceeds of everything from vitamins to stock pots to spice blends, from energy drinks to exfoliators, lingerie, and laundry detergent.
I don't need to tell you this, though, because likely your inbox, like mine, is filled with invitations to various "parties" (the kind of "parties," college kids would roar with laughter over). Everyone, it seems, is selling something.
"Epidemic" is the word that comes to mind.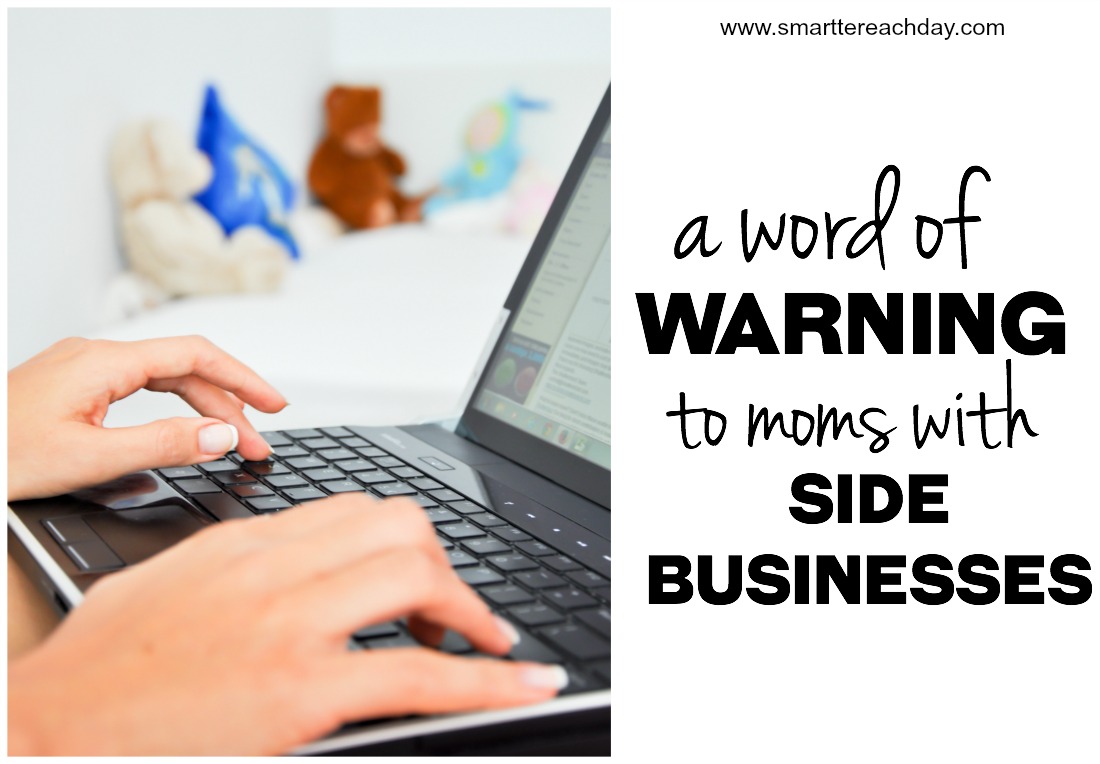 I'm not being critical. I go the parties, I like the products. And, in case you haven't noticed, know who's the WORST?? Oh, it's those awful Mommy Bloggers!  They're always wanting you to read this, or "like" that, or "Trust me, this is a great deal!"
I remember the first time I got a comment on my blog from someone I didn't know. I summoned Todd to the computer with the "kill-this-massive-spider" tone to my voice.
"Look, honey! Her name is Kaitlyn, AND I DON'T KNOW ANY KAITLYNS!!! How did she find my blog!?? I'm so famous!!!! Do I write her back?!?"
From there (though I have always loved the writing) I'd frequently feel this subtle nagging to "be someone." I'd set these subconscious goals for myself…
If I could ever post THERE, I'd be it. It would be awesome.
When I make so-much money, or get so-many Facebook fans…
Man, if I ever got published by the Huffington Post – can you imagine??
No – I know this is it. If I finally get 100,000 hits in a month – THEN I'M A REAL BLOGGER.
And predictably, as life would have it – I reached all of these milestones, and more. And each time, it was shockingly uneventful.
I'd be happy for about three days, and then the excitement would fizzle, and I was, you know, "normal" again. I'd lose my inspiration to write, and I'd mope to Todd, Oh, I should give up, and other ridiculously self-centered and nonsensical things.
At times it was so painfully obvious. Jessica, when will it be ENOUGH? When will you just be content to write? You're always wanting, more, more, more – you just need to be content!
Now. There is nothing wrong with my writing. Blogging is good for me. But this compulsion for success…This about more than a hobby, a side job. It's about  (for me) a desire for accolades, fans, and fame – which I will never get for my "boring" work as a stay-at-home mom. 
At the root of it I believe, is something called "Stay-At-Home Housewife Angst." My friend Amy perfectly captured this phenomenon in her wildly popular guest post for my blog a few years ago. As Amy said it:
"The surge in network marketing companies can likely be traced back to (this angst) as well. Even Pinterest has spread like wildfire as we dream of doing much more than we are…. shaping our children's snacks into animal shapes, crafting all homemade Christmas gifts, redecorating our homes…This feeling results in over-designed bedrooms and over-engineered tasks.  Did our grandmothers all have "themes" for the baby nurseries and children's rooms, tying in all of the furniture, knick-knacks, wall-art and window treatments?  Did they use Microsoft Excel for grocery shopping and coupon-organizing?"
I can tell myself all day long that being a mom is enough, but the nagging desire to be "Successful" hearkens back to me all day long.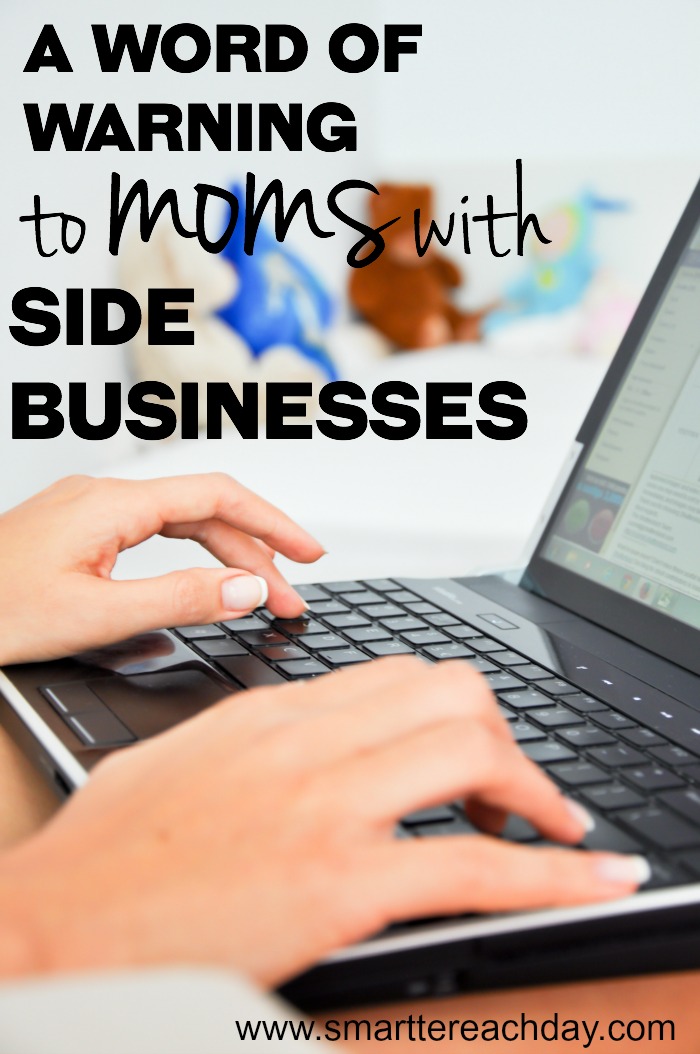 And let me be crystal clear, before I get loads of comments from defensive Tupperware salesladies.
It is not intrinsically wrong for moms to have side businesses.
I don't plan on quitting mine anytime soon. But fellow moms of little ones, we need to remind ourselves of a few things. (I do, anyway.)
Setting goals in life is great, but we need to accept that Ambition is a blood-thirsty, insatiable force that will never, ever be satisfied. At some point we need to say, Enough. I am happy with what I have achieved.
The little years are very short. We have the rest of our lives to conquer our dreams.
The Heroes in my life didn't sell me anything, or write me powerful blog posts. My greatest heroes did a lot of nothing. Thankless, boring, loving acts that nobody recognized on a giant stage. Thank you God for these heroes who raised me, and may I have the grace to see the humble treasure in loving my little ones like this, too.
Follow "Smartter" Each Day on Facebook!
Follow "Smartter" Each Day on Twitter!
Follow Jessica on Instagram!