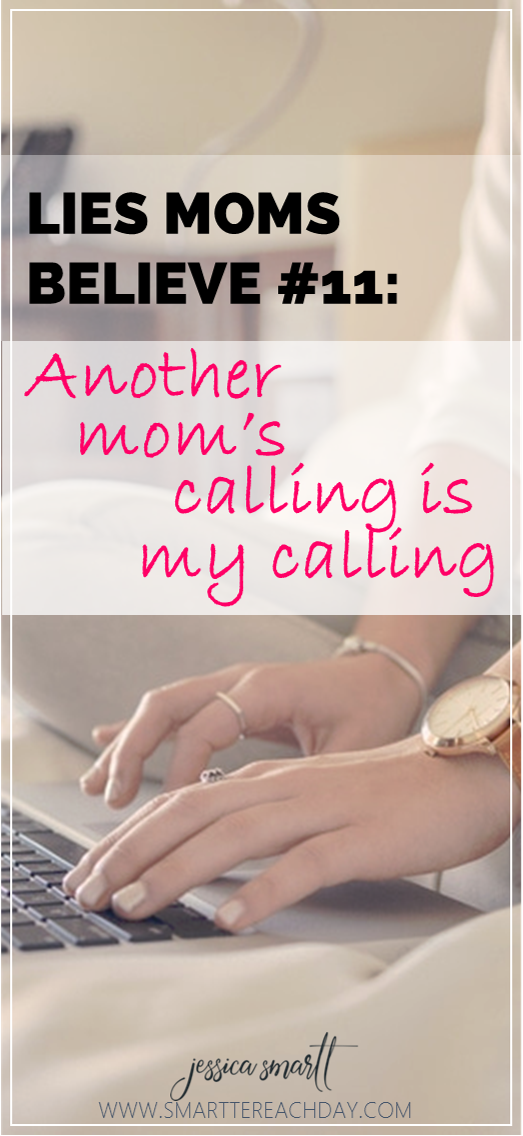 Note: The post you are reading is part of my October series, 31 Lies Modern Moms Believe. Read the rest of the posts in this series here!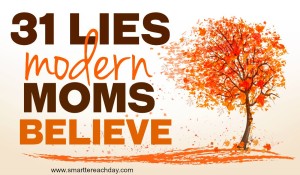 I have come up with a number.
60%.
I've thought about it a lot, and I think that's accurate.
60% of my "mental dialogue" as a mom is negative self-talk.
It's not always "talk," as you know. Sometimes it's just general feelings of being mopey, tense, sad, or down because of What I'm Not Doing.
It's not my fault, though. There are SO MANY MOMS doing SO MANY AMAZING THINGS. And I know about it, because I see their pins and posts on Instagram and Pinterest and Facebook.
They're making cookies and bringing them to fire stations. They're scrimping pennies in budget envelopes and saving money for college. They're running family 5Ks. Refinishing cabinets by lamplight at nighttime. Simmering beef broth, decorating pumpkin cookies, planting fall gardens, throwing family game nights, hosting exchange students, toning their abs at Burn Bootcamp, picking apples and turning them into cider, opening Esty shops, and teaching their daughters to sew.
They're reading Ann Voskamp, attending dinners, writing blogs, hosting community groups. They're sending letters to sponsored kids, singing their children the books of the Bible, showing them to pray, packing shoeboxes.
Their kids are reading chapter books, learning karate, riding without training wheels, reciting the presidents, building their own tree forts and captaining soccer teams.
And I have to confess to you that most of the time, when I hear of you Moms Doing Great Things, th response in my heart isn't, "Wow, what a beautiful fall display you created on your front porch. How wonderful you created something with such beauty! I love it!"
More often, it's selfish, comparative, poor-me type-of-thinking that says, "Why can't I be like that?"
But here's the truth about all of those Impressive Mom Tasks.
There is no human being on the entire earth who is doing all of those at one time.
We simply cannot achieve greatness in 670 different Motherhood arenas in one season. Or ever, some might argue. It is simply not possible.
At the same time, I don't think this is an excuse to issue a gigantic Motherhood Permission Slip For Mediocrity. 
I'm grateful for all of you mommies who are better than me, doing different things than me. You inspire me. You remind me of the mom I want to be. You give me hope, and an example.
But what's the trick, then? To not getting discouraged in the meantime, to knowing what YOU are supposed to be doing?
Guys, I think I know it. I think I have discovered the secret trick to living happily as a less-than mother. I actually think it is the only way to live, the perfect antidote to the Comparison Trap.
Here's what you do. When you feel that inside-stressed feeling because you see all the things other mommies are doing, you get alone. I suggest the bathroom, but do your own thing. Get good and quiet. And then say something like this:
God, I feel behind. I feel like I'm failing in so many areas. God, what do you want me to do? Will you make it very clear to me which things you want me to work on, and which things to let go? Help me to hear your voice and to know what to do. Amen.
As a Christian, I believe that not only does God exist, but that He is here and present and speaks to us. Even us mommies, wondering what task to put our energy is. And what he tells us to do, we can do. His burden is light and easy.
And He is the only one we have to please.
If you struggle with comparing yourself to other moms, and worrying about the tasks you might be overlooking, I encourage you to have this little talk with God. We cannot do it all, but we can do what He asks us to do.
And that, in fact, is the only thing really worth doing.
~
Follow "Smartter" Each Day on Facebook!
Follow "Smartter" Each Day on Twitter!
Follow Jessica on Instagram!