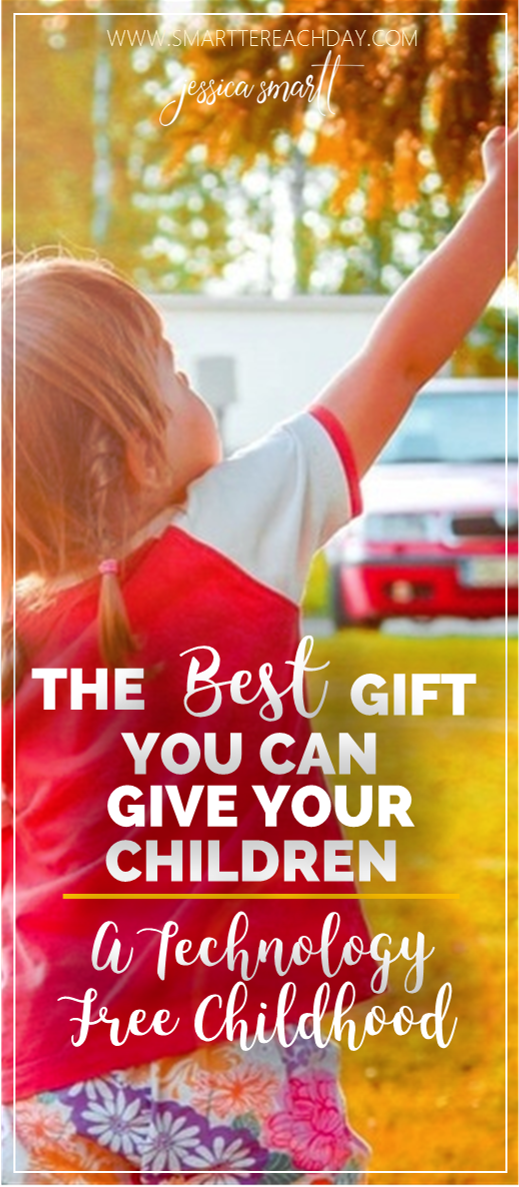 Note: The post you are reading is part of my October series, 31 Lies Modern Moms Believe. Read the rest of the posts in this series here!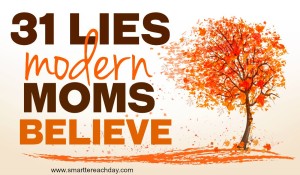 Lies Moms Believe #9: Technology Is Good For Kids
Disclaimer: I have attempted to write this post about 27 times. Each time, I cannot get past the title, without feeling like I am sounding judgmental, or annoying, or one of those moms who just "thinks she knows the right way to do everything." So I have stopped.
The truth is, though, I feel like I have something to say, and I feel like I cannot complete my "Lies Modern Moms Believe" without addressing the issue.
And here is what I have to say.
I think kids under 12 are better off without having known that the iPad (or apps on the iPhone) have ever existed.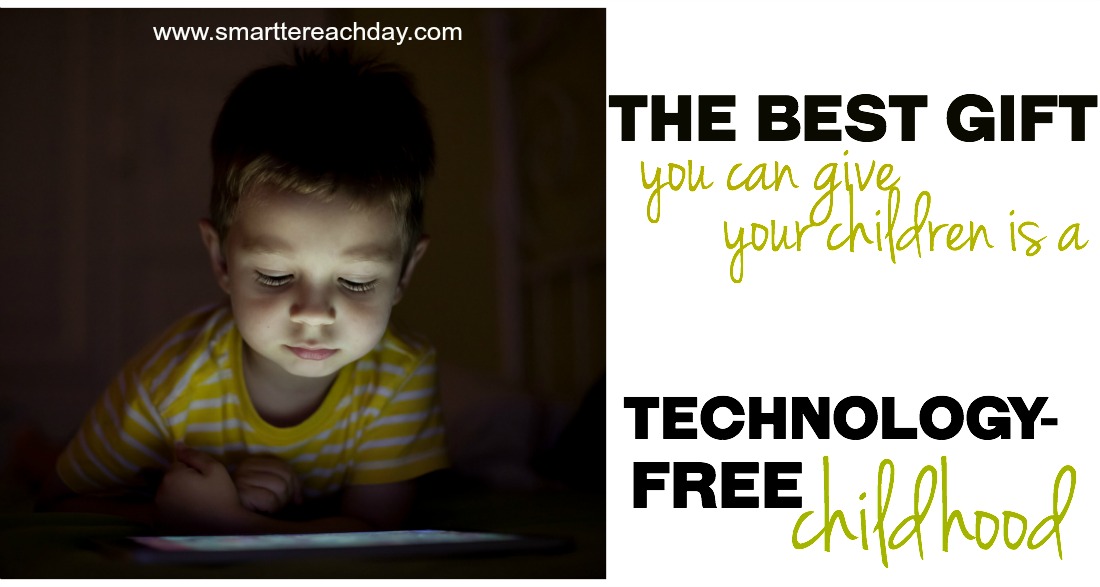 If you're tempted to feel judged or annoyed by this statement, let me say two things.
In no possible way do I feel like I have all the Parenting Answers. Just yesterday, I NEARLY BURNED THE HOUSE DOWN (like, so much smoke the fire trucks had to come) because I put rice on to boil and WALKED AWAY FOR 45 MINUTES.
I'd love to pretend like this spaciness and distracted mothering is a rare occurrence, but, alas, it is not. And there are a million other things I battle. I live in constant doubt about whether I am giving my children all they need. I lose my temper.
2. And perhaps most notably: I myself am horrible with technology. I think that's why I have passion for this issue. I have strong feelings about kids using their parents iPhones, playing games on their iPads, having their own "computer time," but I also have a lot of grace.
I know what it's like to feel like you've been doing something wrong in parenting, but have no clue how to fix it.
I know what it's like to feel like you've been doing something wrong in parenting, but be terrified of how the kids will respond if you change everything up.
I know what it's like to be so, so tired that you are tempted to resort to technology to entertain your kids.
I know what it's like to be willing to do nearly anything to stop hearing children fight.
But I'm going to ask you something. With this issue, as many others, it is helpful for us to just ask ourselves one question.
What does my gut tell me is right?
I will tell you what my gut tells me. My gut tells me ~
My gut tells me I don't feel great about my children being taught/entertained/absorbed in technology for too long. Period.
My gut tells me childhood is short. So few years for innocence, and curiosity, and digging in the dirt for worms. So few years for building things out of Legos, hammering down play-Doh, rolling around on the grass, playing UNO for hours on end, swinging so high you make the swingset jump. There is so much to be done in childhood.
My gut tells me technology is addictive. A few months ago, my Sam (6) was curious how much a pretend bow and arrow would cost. I introduced him to the world of Amazon.com, and we browsed a few different types. SINCE THEN, NOT A DAY HAS PASSED THAT HE DOESN'T WANT TO "GET ON THE COMPUTER" TO SEE THE TOYS. Even with something so ostensibly innocent as browsing items on Amazon, it is shocking the additive effect it had on him. It is like something "clicked on" in his brain. And I don't need Sam to tell me this. I know this myself.
My gut tells me that technology, literally, changes your mind. There are oodles of studies to back this up (this article was interesting, for one example). They tell us screen time lowers children's attention span, takes away their time to daydream, pretend, and imagine, that it actually lowers problem-solving skills, squashes communication abilities, and even makes them feel lonely. But you know, I don't need any study to tell me all this. I am a different person today because of technology, and frankly, I miss the Jessica who was 12 and filled her spare moments with books, and journaling, and casual conversation, who went days without the compulsion to "check" anything.
And finally, my gut tells me that children don't need to "learn" technology, and they don't need technology to learn. One of the biggest "objections" I hear is, "Oh, but they need to learn how to use technology, or they'll be behind!" That's nonsense, and I can prove it. I run a successful blog, and make money doing it. UNTIL I WAS 20 YEARS OLD, I HAD NEVER USED THE INTERNET. How about you, parents? Do you feel "behind"?
Personally, my brain has done a remarkable job of somehow magically learning all I need to know. Way too good of a job, to be quite honest, as I'm addicted to the medium.
And kids, I submit, are just as adaptable. When the time comes that children *need* to know how to use technology, whether it's 13, or 17, or 21, they will VERY QUICKLY adapt, especially if you have provided them with actual intellectual skills – skills like curiosity, patience and problem-solving. My gut tells me they will be just fine without the PBS mobile apps to teach them shapes and colors.
Sometimes I envy my children, to be honest with you. Their life is the life right in front of them. Their funniest interactions and most relaxing moments are with the actual people around them. They don't know what it's like to feel the tug of technology ruin a perfectly good moment.
And I want to keep them that way as long as I possibly can.
~~~
A few practical notes on this issue:
You cannot address the issue of technology in your children, without addressing it in your own life. Over the past two days, Sam (who is 6) has read 150 pages of a Hardy Boys mystery. I am tickled – and convicted by this. Over the past two days, I have probably spent – I don't know – 40 minutes? browsing various useless and random things on the internet. What could I have read in that time?? As he gets older, and begins to use technology, I want to be an example of a grown-up who still reads books and talks to people, and isn't absorbed in a screen somewhere.
If you feel "the ship as sailed" with this issue, because your kids are too old, or you just haven't made habits you wanted to – IT IS NOT TOO LATE (read this). Kids are much more adaptable than we give them credit for. The first 24 hours will be the worst, but they soon will adapt to the new changes, find new hobbies, and be the better for it.
Especially if you are right there with them.
~
CLICK TO SHARE THIS POST ON FACEBOOK
Note: The post you are reading is part of my October series, 31 Lies Modern Moms Believe. Read the rest of the posts in this series here!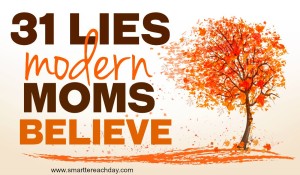 Follow "Smartter" Each Day on Facebook!
Follow "Smartter" Each Day on Twitter!
Follow Jessica on Instagram!