disclosure: this post contains affiliate links.
I've known about Stitch Fix for several years and NEVER tried it. Until this week!
What It Is
If you don't know what Stitch Fix is, you sign up and do a survey, and then you get five articles of clothing in the mail that someone has personally picked out for you, based on that detailed survey. A personal shopper, online. It costs $20, but if you buy any of the items, that fee is waived.
Why I Finally Caved
I've had SO many friends try it. Some of them ending buying everything in their boxes, some of them none. And in between. I've heard negative things ("It's so expensive!" "Nothing fits!" "They didn't listen to my requests!") And I've heard people who wear their items like crazy. The reason I finally took the plunge is that my sweet sister, Julie, gifted me the sign-up costs for a birthday present…so I thought, "What the heck!" I just was so curious to see what they'd pick for ME!
So…are you curious? Here are my five items.
Item #1 : Knit Shirt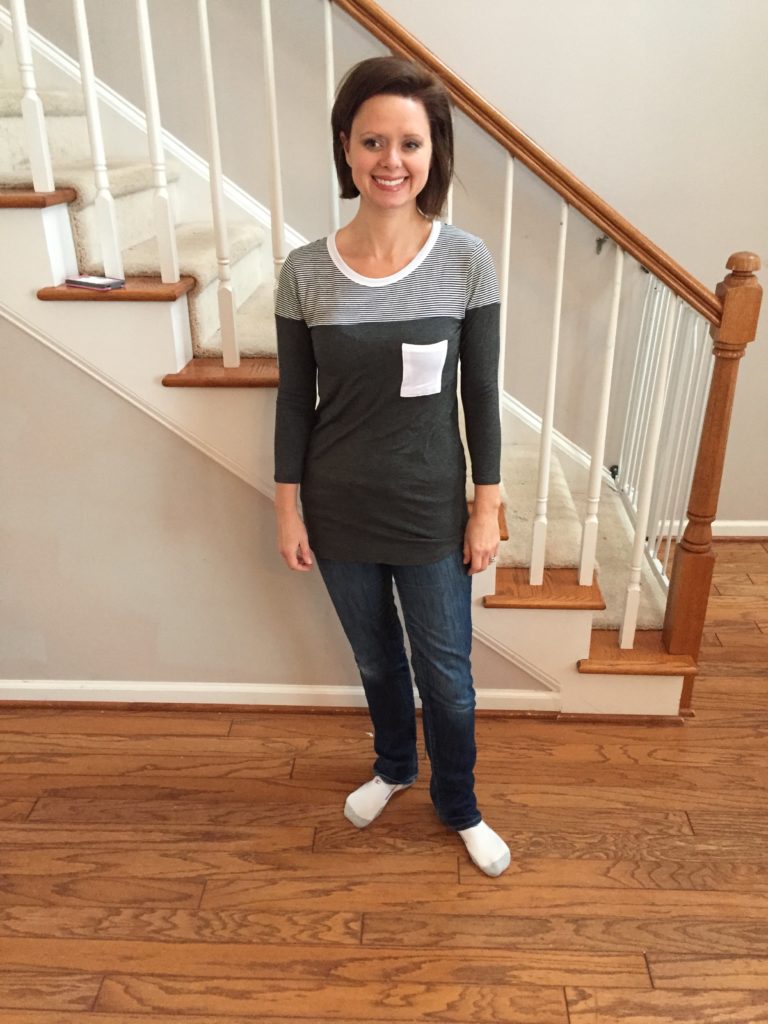 Okay so ignore the socks. This is item #1. The shirt. Initially when I saw it in the box I thought it was my favorite, but I pictured it bigger! It's a little snug. Todd said, "Isn't that the point?" (Men.) The style is right up my ally but I wish it were longer and looser and I could wear leggings underneath it. Verdict is still out.
Item #2 : Trendy blazer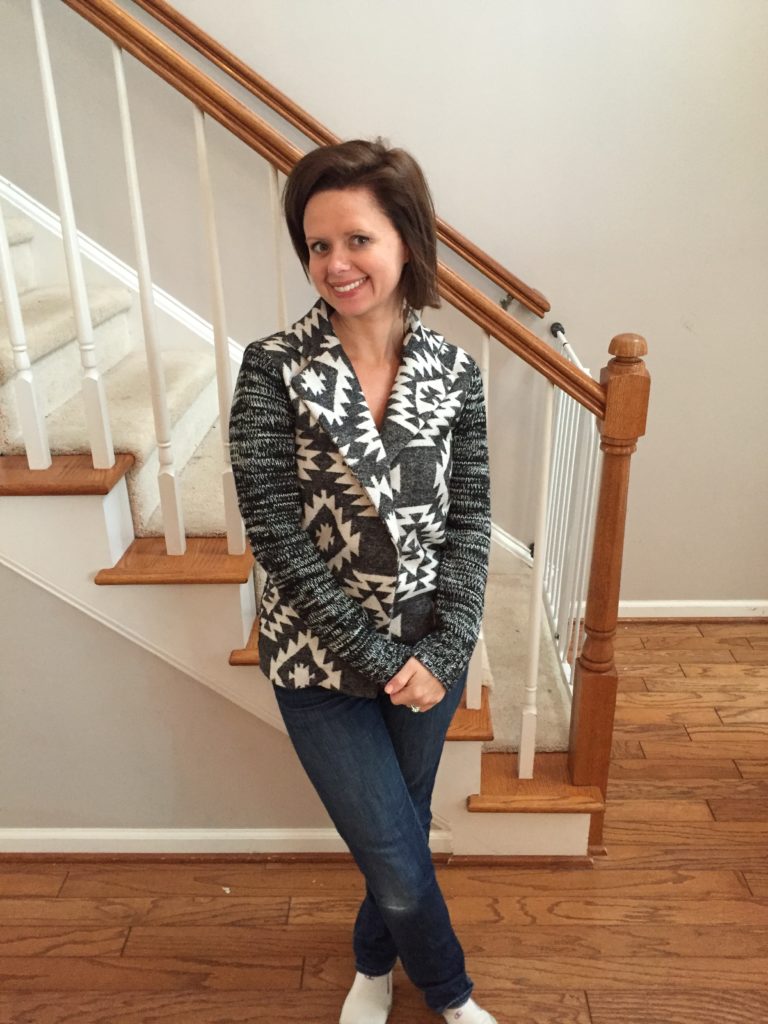 So this is actually my favorite item. It's so cozy! Feels like a soft sweater, but looks dressier. Todd said it looked like a "mom sweater." I am going to chose to take that as a compliment. Also, I feel like my hair looks like Laura Bush in this picture. I just got it cut. I was not intending to look like Laura Bush, if you're curious.
Item #3 : Dress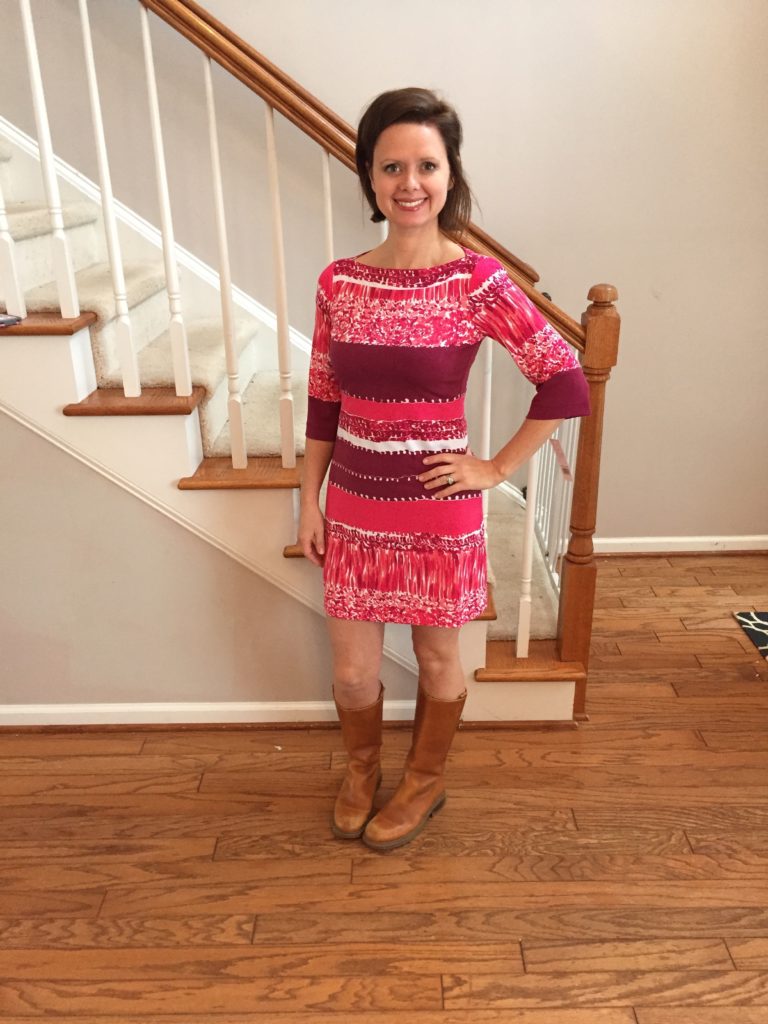 More Laura Bush hair. So I actually did not love this dress. It's not really my style. But more importantly, I feel like it's too tight. Like if I go out to dinner and eat too many rolls, everyone will see the rolls. Todd, incidentally, really liked the dress. Hmmm.
Items # 4 and 5 : Jeans and Shirt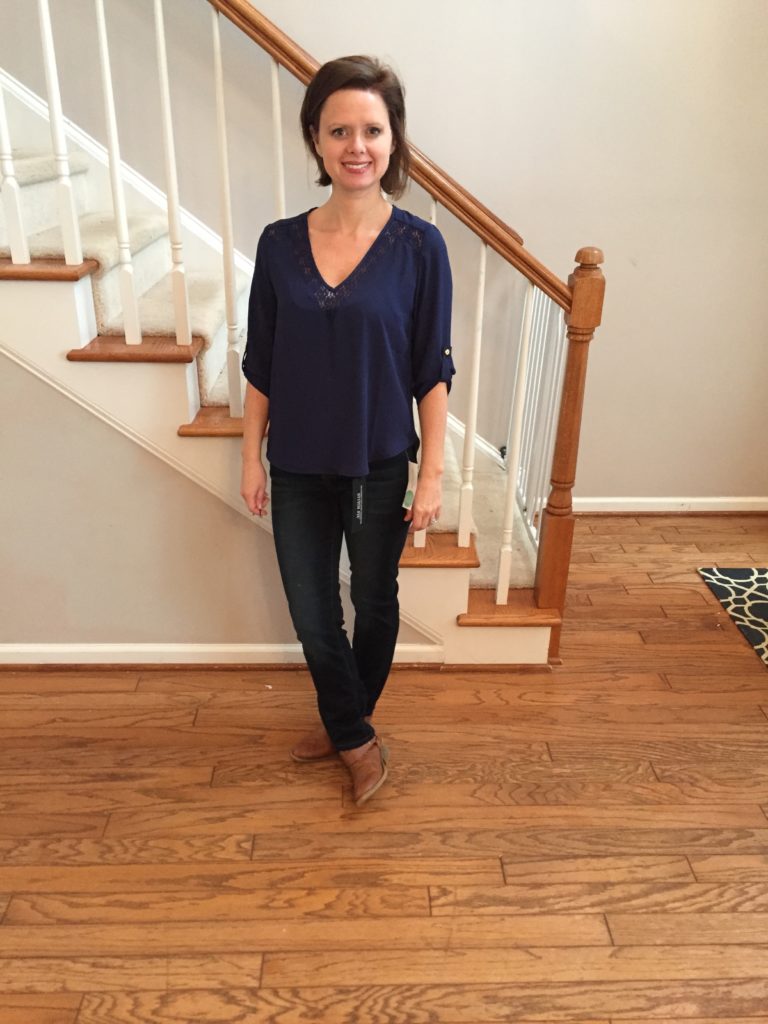 So I don't remember when I last had this problem…BUT THE JEANS ARE TOO SHORT! I'm 5'2" and that never happens to me! I think I put "petite" in my options, but really I never buy petite jeans. 🙁 The jeans don't look horrible with these boots, but they definitely look too short with flats. The shirt, I do like. A little low-cut, so I think I'd put it in the "date night" pile and not so much the "church" pile. If you get my drift.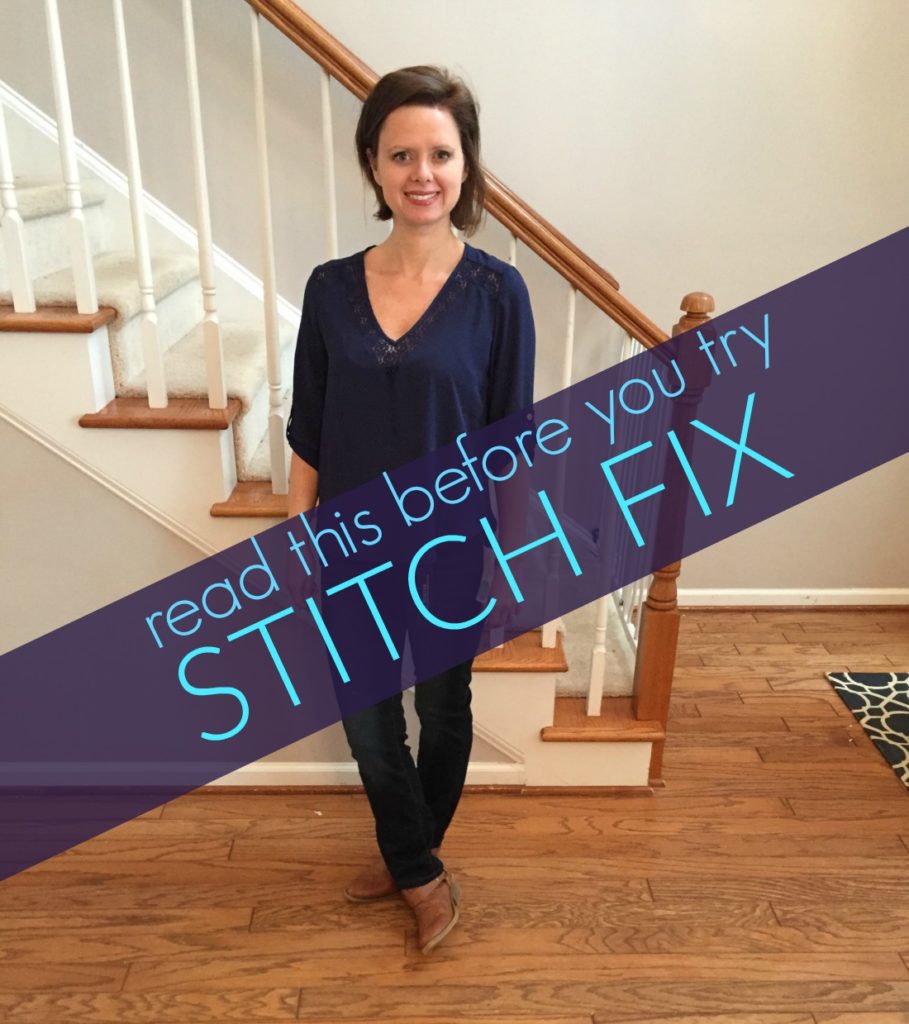 Okay, so if you are intrigued a teensy bit by what they'd put in YOUR box, here are five things you absolutely MUST know before you try it.
It's expensive. I chose the "cheapest budget friendly option" for my box. My items range in price from $48 (the shirts) to $98 (the dress). If I bought all five, I'd spend $242.50. This is more than I usually pay for clothes. BUT!!! VERY IMPORTANT "BUT." I have learned a good lesson in my 34 years about clothing. In college, my friend Kara one day showed me her $98 Gap jeans that she was so excited about. In my mind I looked down on her like, "I would NEVER spend $98 on jeans!" I always bought them on sale at American Eagle for like $29. But guess what? I never liked my jeans. I always found reasons to not wear them, and kept buying more. My friend Kara would wear the life out of her jeans, year after year, and looked great in them. (Do I need to tell you that three years ago I bought my own pricey Gap jeans, and I have worn them over and over? I love them so, so much.) All that is to say – don't spend money you don't have. BUT – if you love an item and it is good quality, that's what money is for. But you do need to know in advance that the Stitch Fix items will probably be at least $50 an item.
Take the time to learn names for silhouette styles and style trends. i.e., check out this picture of dress silhouettes and this list of style trends. Be clear in your survey about which is you.
Use the Pinterest board option to show them your style tastes. They say in the survey to give the link to your Pinterest style board. BUT – my sister found out that if you pin from their own Stitch Fix board, you have better luck. Because these items are actually in their warehouse. So browse the Stitch Fix Pinterest Board for ideas, then pin them to your own board (I created a specific "Stitch Fix" board.) And send that along.
Take the time to do your measurements. Moms, you might THINK you know your measurements. Measure again.  You can't get annoyed if it doesn't fit if you don't ACTUALLY know your sizes. I should have gone in my closet and looked at the shirts I'm currently fitting in well, and then listed those sizes.
They want to work with you. My sister didn't like a single thing in her box. She got a personalized email from a stylist asking her specific questions ("Give us another chance!" "What do you wish was in your wardrobe?" What silhouettes do you love? etc.") So when you take your first survey, use the "notes" portion of the survey liberally. Tell them all kinds of things – especially what fits you HATE.
The bottom line is, the more *work* (though I actually found it fun) you do filling out the survey, the better your chances will be of liking your box. I don't know which items I will keep. But I feel like I want to send the stylist an email (you have this option after the first box) and be more specific. I feel like this concept has potential, and I want to give it another try.
So, what do y'all think? Which items from my box should I keep? 🙂
If you want to get your own Stitch Fix (mine came in like 3 days!) then click here!
Follow "Smartter" Each Day on Facebook!
Follow "Smartter" Each Day on Twitter!
Follow Jessica on Instagram!