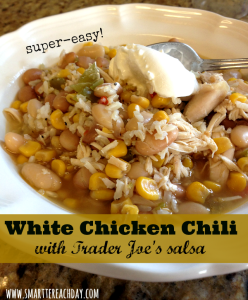 I *love* Trader Joe's. And I'm not just saying that because it's cool, in an underground, health-sub-culture way.
Clearly, I have lost most/all semblance of cool since becoming a mom. I wear my pants at my waist now, for crying out loud.
But back to Trader Joe's. It's the real deal.
Awhile ago I was searching for unique Trader Joe's recipes (here's a great site), and I found this gem of a recipe online for "White Lightning Chili," made with Trader Joe's corn salsa.
Our whole family loves it, and now both of my sisters make it regularly. I've tweaked it just a bit to our tastes.
Here's how I make it.
Ingredients: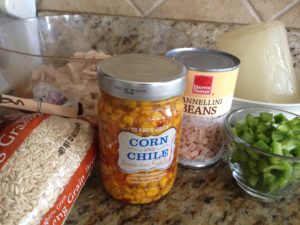 2-3 cups of shredded, cooked chicken
one green pepper, diced small
2 cups chicken broth (I always make homemade!)
2/3 c. of long-grain brown rice, uncooked
1 can red kidney beans, drained and rinsed
1 can Pinto Beans, drained and rinsed (pictured are white beans, but I recommend pintos)
1 jar of Trader Joe's Corn and Chile Salsa
Instructions:
Here's the best part! So easy! You literally dump everything into a pan, put the lid on, and simmer for 30 minutes! To avoid overdone chicken, I often add the chicken ten minutes after everything has come to a low boil. This recipe is amazing! I love it with avocado, cilantro, and sour cream.
Because my son has dairy allergies, he can't top his with sour cream. To cut the spice for him, I crush up a few wheat crackers or tortilla chips, and add a splash of unsweetened coconut milk.
If you liked this, you might enjoy:
Follow "Smartter" Each Day on Facebook!
Follow "Smartter" Each Day on Twitter!
Follow Jessica on Instagram!