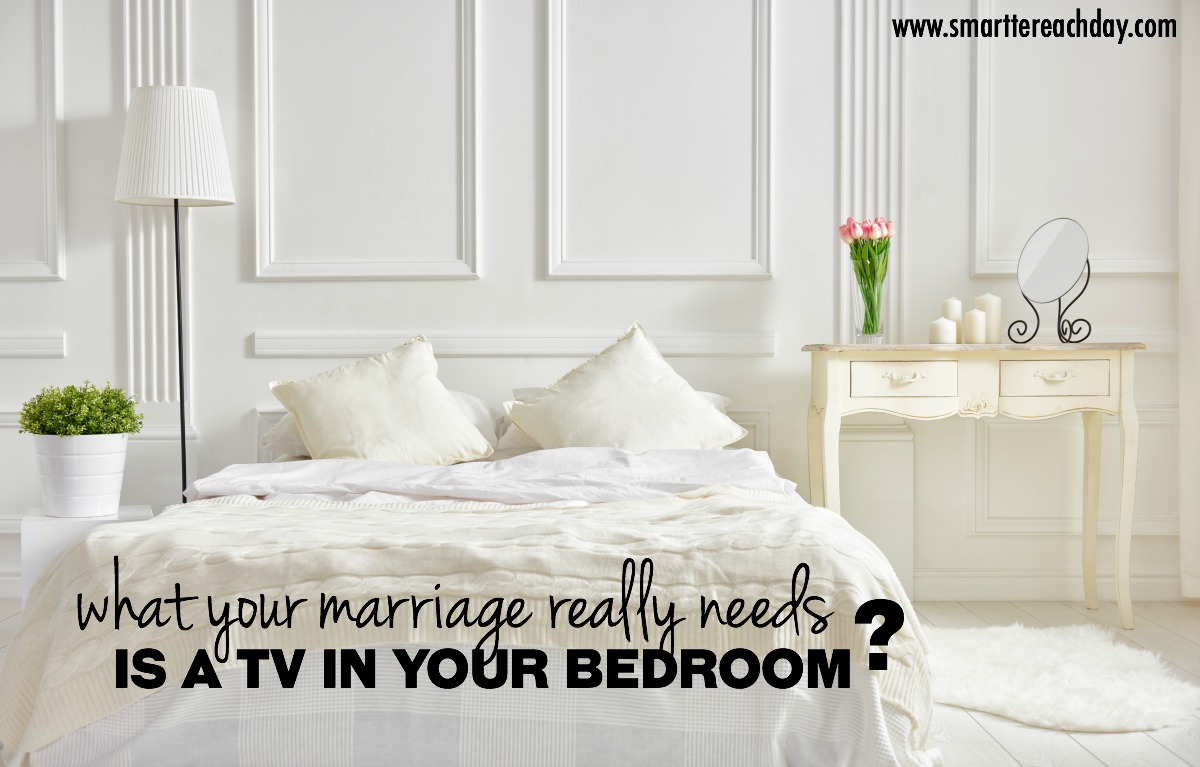 When Todd and I were in pre-marital counseling, we read all the marriage books. Since I'd already had one broken engagement, I was working overtime to make sure WE DID EVERYTHING RIGHT!! AND TOOK ALL THE TESTS!! AND TALKED ABOUT EVERYTHING!
I was such an excellent fiance. Right, Todd?
Well, several of the books made it very clear that married couples should avoid putting a television in the bedroom. There was just no need for it in a healthy marriage (wink, wink). And it was just not wise.
I wasn't sure I completely saw the severity of such a decision, but it was said in the same sort of tone as, "Don't keep texting your ex-boyfriend after you're married." So who was I to question?
In the first year of marriage, we obeyed this rule thoroughly. Instead of having that Big Evil Thing distracting us in our sacred marriage quarters, if we wanted to watch TV, we lounged in the living room.
It was really fun until Todd fell asleep.
Which was every time.
First I'd try to nuzzle him sweetly and coax him to the bedroom. Rubbing his back, whispering sweetly into his ear. When it became clear that he was still basically a hibernating bear, I upped my tactics. I'd poke him, beg him, and then yell at him from the bedroom.
It was a really special time.
After we'd been married about a year, my sweet sister-in-law gifted us with a portable DVD player.
We dug up some "24" DVDs from Todd's bachelor years, and we'd huddle together in bed with the thing on our laps. Yes, it was simply miniature, with a screen about the size of a large iPhone. But of course at the time it was cutting technology, and we were thrilled.
And of course, it wasn't an actual TV, so we weren't breaking the Cardinal Marriage Rule.
One day my mom was dropping something off and she saw the doll-sized DVD player. "Is that what you're watching these shows on??! I think you need a TV!"
It's a sad state of affairs when your mother makes fun of you.
And a few months later, there we were at Best Buy, using some scraped-together Christmas money to buy it: our first ever Flat Screen TV.
And yes, it was going in the bedroom.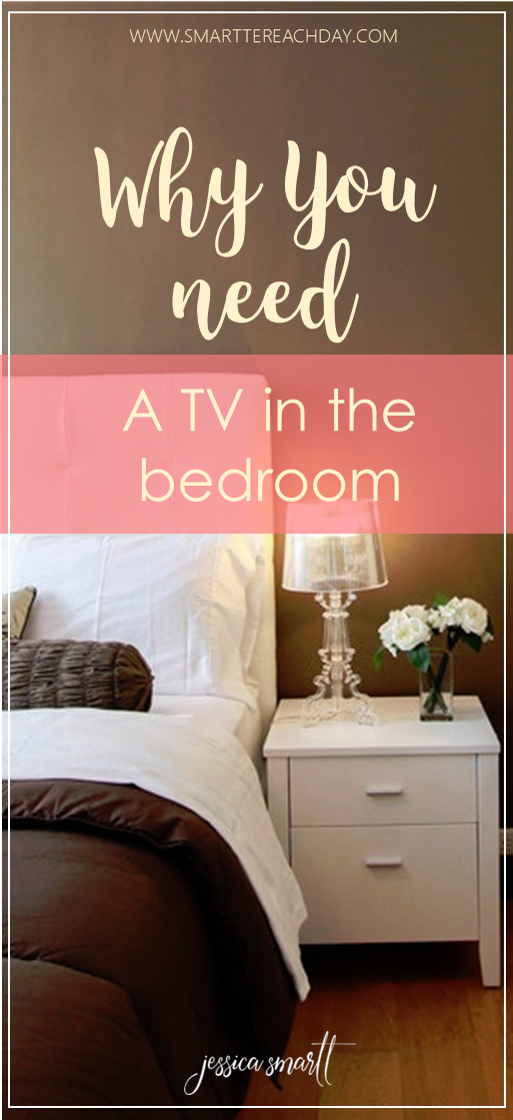 I did feel a titch guilty about it, and kind of nervous about all the dangers we were potentially doing to our marriage.
But it has since been six years.
And I'm ready to come out in the open and share our little secret:
A TV in our bedroom has been the best thing for our marriage.
Here is why.
We go to bed each night at the same time. Not that either of us are the type to stay up late in a dark room cyber-chatting with a stranger from Oregon, but just in case I ever get the inkling, Todd would miss me. And so would Coach Taylor.
We have a hobby together. Let me fully acknowledge how lame this sounds. (Watching TV = hobby.) Trust me, I dream of the day our shared hobbies are Instagram-worthy and Glamorous. I know that deep down inside of us we have the gumption for spelunking or mountain-biking. It's there. But for now, at the end of a very exhausting day of child-raising and plucking cheerios and Legos from the far crevices of your home, it just feels nice to plop down like a lazy walrus and let someone entertain you.
Yes, that special time every day – when we get in our wonderful, child-free bed and take a deep, communal breath and watch "Our Show" together – it is widely regarded as our Most Favorite Time of the Day. It is a sacred and special time.
And speaking of. Whoever said TVs are bad in the bedroom, I would gingerly submit that it's typically a good thing for couples to snuggle in their beds. I'm just going to leave that here and back away slowly.
And finally, the TV in our bedroom helps us pray together as a couple. Yes, that's what I said. A few weeks after I heard this statistic, Todd and I began saying our joint prayers before we started the show. It is the one time of the day when we are always together, awake (mostly), and undistracted. We know we *have* to say our prayers before we start the show. It's accountability and a great reminder.
And this (*sigh*) is why no one would buy my marriage book.
Step 1: Put a TV in your bedroom.
Step 2: Choose one of these shows on Netflix.
Step 3: Say your prayers, and watch it together.
That's all I got. But, trust me…it just might work. 🙂
Follow "Smartter" Each Day on Facebook!
Follow "Smartter" Each Day on Twitter!
Follow Jessica on Instagram!