An open letter to the woman who fears the worst will happen ~
I know you. I know what it's like. But you need to hear what I'm about to tell you.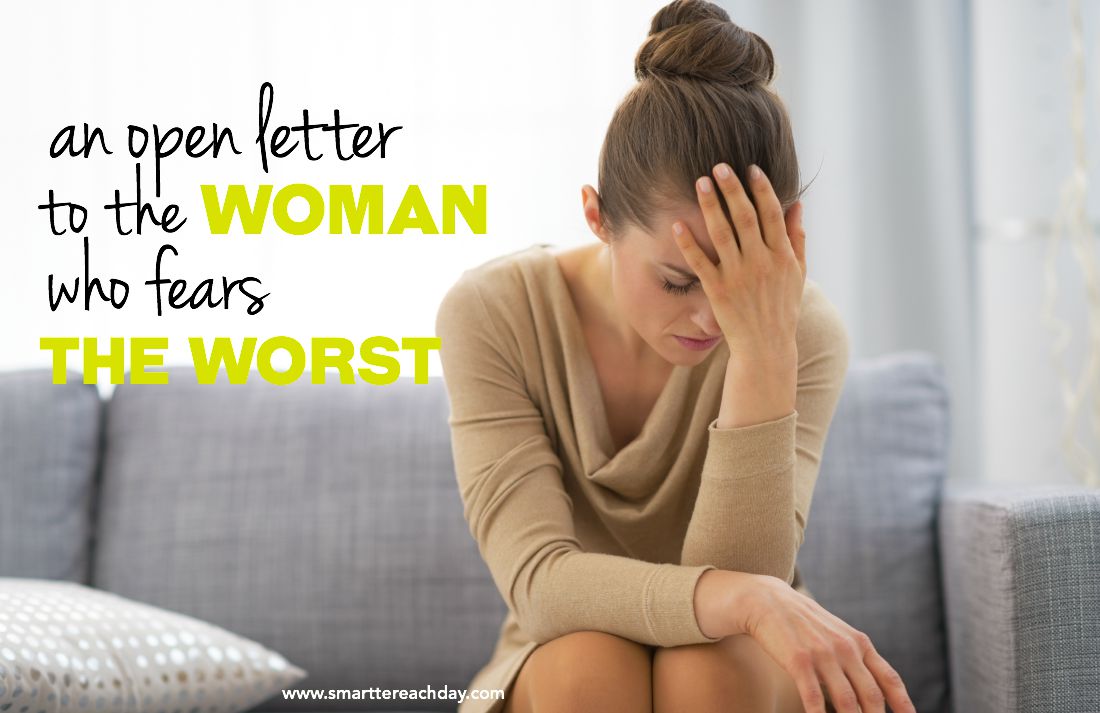 Two weeks ago, we started a Sunday like every Sunday. Smoothing the church clothes, pulling out snacks, sipping the coffee.
In one split second, it would not be a Sunday like every other Sunday. In 99.9% of all homes, it wouldn't matter that someone ate the wrong breakfast. But we are not 99.9% of all homes. My son has rare, life-threatening food allergies, which many of you know.
I realized it a second too late. He'd hardly swallowed it before I had the epi-pen out, and then accumulated a very long list of My Worsts, incarnate.
Sam ate the wrong food.
I give him the epi-pen.
We call 911.
The epinephrine doesn't work.
Ride in an ambulance.
I need to give him a second epi-pen.
EMTs are horrible and won't take it seriously.
The SECOND epi-pen doesn't work.
We are in the ER.
Sam has trouble breathing.
We get sent to ICU.
And you have it. I have listed 11 of my "worst-case" scenarios, all happening in one morning, on one Sunday. For six years, I have lived nearly every waking moment dreading these moments. Preventing these moments. Being terrorized by these moments. Can we all agree these are some awful things? And one Sunday, they come true. 
Can I tell you the deep, dark secret about this Worst, coming true?
It was okay.
It was okay.
No. "Okay" is the wrong word. Like a neutral. Or a nothing. And that is the wrong idea. The truth is, it was hard and unreal and scary, but at the same time, it was special, and holy, and there was community and people praying and loving us and God Being There.
Like my college professor from a decade ago, when I asked him about his battle with colon cancer.
"There were nights," he wrote me, "when I was in such excruciating pain that I wasn't sure I would make it to the morning. But God was there. And these moments – while I would not wish them on anyone, I treasure them for myself."
Yes. That.
The truth is, when I look back on the two days in the ICU, I do not see fear and badness and pain. I see God, working through me, to save Sam. I see everyone praying, churches all over town, in their Sunday morning services. I see our pastor, rushing across town to be with us, to kneel down beside the bed and pray with Sam. I see myself praying in that side room with CNN droning, and God, right there. I know he was. I see my parents arriving, needlessly dressed in church clothes, chatting with Sam, bringing us food. I see us making jokes, even as the numbers and the swelling came down, and we could see him getting better.
Guys, it wasn't awful.
And if I'm honest with myself, I can see the same refrain sung over my life. The hardest moments of all – the ones I dread and fear and stay up at night, sick stomach stewing – in the moment, It Is Fine. It's almost like He gives us the strength at the time, and not before. It's almost like that.
Can you see it, too? Has it been true for you?
Sweet friend who fears the worst might happen ~ can I ask you – ask us – a question?
Is it possible (could it be?) that in carrying tomorrow's burdens, that in living in the torment of the what-ifs, that in dreading and planning and scheming to keep it from happening – it is possible that we are suffering a torment for more lonely, more terrifying and longer-lasting than The Awful Thing itself?
Put simply, it is possible that our Fears are the worst thing that could happen to us?
I think it is possible. It has happened to me.
When I look back on my life, the worst and most horrible burden I have carried is anxiety. Fear over things that never actually happened. Fear over things that – when they did happen – I had the perfect amount of strength to do it.
Therefore do not worry about tomorrow, for tomorrow will worry about itself. Each day has enough trouble of its own.
It is the hardest thing, to live in today just in today. Even now, I write this post, and my mind jumps to, "Sure it was okay. But what if next time…" And do you see it? There it is. Me, inventing new problems, picking up new burdens.
I can do today. I can.
And so can you.
Hear me, worried friend. If you want something to fear, fear your anxiety. If you want something to work on, work on your worry. Of course I can't see the future – and most of you, I don't know at all.
But I can tell you, deep from the wells of experience, that the problem we dread or wouldn't even imagine we would go through, He will carry us through. There is no strength for imaginary burdens ten years from now. Carry today's. It is perfectly sized. You can do it.
~
 I would love to hear from you. Have you seen this to be true? Have you found that when something difficult came, you had the strength to face it?
Follow "Smartter" Each Day on Facebook!
Follow "Smartter" Each Day on Twitter!
Follow Jessica on Instagram!