I do a lot of important things. I do a lot of good things. I was talking to my mom last year about all my Important Things and Good Plans.
I still remember it. Her voice held pause.
"What you do is good. But you need to speak up. There is a large group of people largely abandoned by your generation, by the Church Today."
As she continued, my skin flushed. My throat tight. Conviction – she is right.
Many of them are lonely, afraid. Many are uncomfortable, neglected, sad, hungry, in pain, confused. And we ignore them, forget them; they do not have a seat at our table.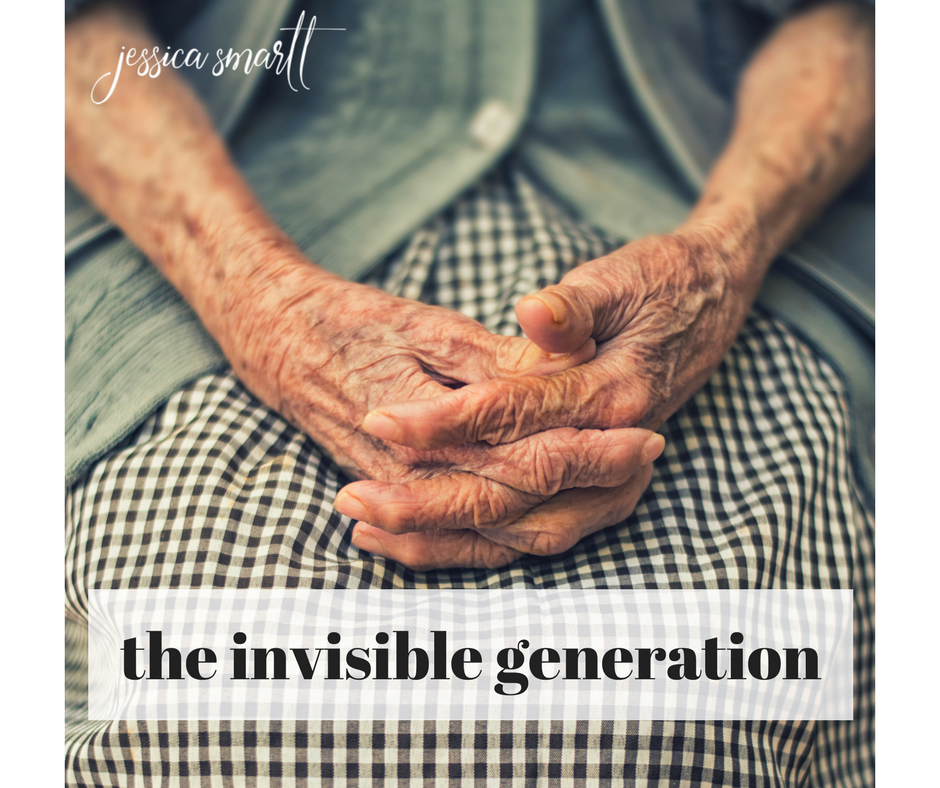 They are the elderly.
I know how your breath just let out, disappointed kind of? Could I have picked a more unsexy cause than the elderly? (Google informs me the politically correct term is "older adults.")
Whatever the terminology, this older generation suffers from the misfortune of being terribly unmarketable and out-of-date in our image-based, style-obsessed culture where we bow at the altar of youth and beauty. No one is posting social media pics of hospital-gown visits, wheelchairs down corridors, mashed potato dinners lonely and cafeteria-style. It's just not on trend.
Plus, it takes patience to sit and chat with someone different. (Remember that art? I think we lost it somewhere between DVR and the iPhone).
As the Gen X / Y Church, we have our "trendy ministries": the ones that make good t-shirts and hashtags. A few of my favorites: parenting / missions / refuge aid / adoption / homeschooling / orphan care / cancer cures / ministries to the poor…
Do not misread me – these are absolutely valuable, needed, laudable. We need not less of these.
But we need more.
I don't know your reasons for delicately forgetting older people, but here are mine.
I hate remembering I'm going to die. As I pounded in the elevator button to visit my sweet Grammy in Surgery Recovery Center, I thought with a vengeance, I HATE HOSPITALS. I hate so much thinking that I may be here one day – for me – needy, weak, confused. I turn 36 this week: vibrant, strong, aware. I will be that forever I think.
I am self-absorbed. MY LIFE is very present and important, and it takes goodness who knows how many wasted hours to put a puzzle together, when I could do Other Things.
It is uncomfortable. So much of aging is a great reversal, a reverting to toddlerhood, no? And yet, as life and skills unravel, with it the dignity. It's not so cute anymore.
I counted: there are eighteen assisted living centers within ten minutes of me. EIGHTEEN. Ask me how many I have visited. There are ONE MILLION residents in the United States in assisted living facilities. Ask me how many I have touched.
My friend September – she takes her kids once a week to the local center to play games. They bring homemade bread and Bingo and play concerts on the piano.
The irony – WHICH IS NOT LOST ON ME – is that while I sort of convince myself I will never be poverty-stricken, orphaned, or a refuge – mostly likely I will be old someday.
How would I want to be treated?
I would want a friend. I would want beautiful things to look at. I would want someone to stand up for my needs if I were being mistreated. I would want to be warm, comfortable, and fed with delicious, nourishing foods. I would want to be treated with dignity. Not to be left alone.
Our changing view of the older generation smacks in contrast with how we formerly viewed the elderly, as well as how other cultures do. In much of the East, growing old is seen as an asset. The elderly are asked their advice, their wisdom is sought in family decisions, they are kept in the home as long as possible, and involved with family life indefinitely.
In America? Largely – (if they are thought of at all) the elderly are viewed a health care burden to financially support, an awkward social moment, an inconvenience.
This is not only sociologically dangerous footing, it is also the un-Gospel. And we ourselves are losing THE GIFT – READ IT AGAIN – THE GIFT of caring for the literal needy all around us.
One year ago, my Grammy moved in with my parents. As I have watched my parents, and especially my mother, offer her the most kind, generous, and unselfish care, I have hoped a million times someone cares for me this way. In bits and pieces we care for Grammy, too. What I have learned – I am the blessed one.
I have befriended a beautiful, intelligent recently-widowed woman in my neighborhood. This sweet gem has become a dear friend – and again, I am the blessed one.
And yet, still – so many opportunities to offer Christ's love, in my very community, with my children – to offer an example of loving the least, the longing, and the lonely.
May we care for the elderly in our family who need us. May we care for the ones in our church and neighborhood. God, convict us deeply to enter those strange buildings just brimming over with lonely people. Forgive us our ignorance, our busyness, our neglect. Jesus, take the blinders off of our eyes TO SEE  / TO LOVE this invisible generation.
—————–> share this post
~~~
Follow "Smartter" Each Day on Facebook!
Follow "Smartter" Each Day on Twitter!
Follow Jessica on Instagram!