Hey moms?
Are you dreading summer break a teensy bit? Are you kind of wondering how to keep your kids busy for three whole months? I am a homeschool mom, and I HAVE MY KIDS WITH MY 24 / 7.  I promise you, I AM NOT SUPER WOMAN.
What I do have is a few tips and tricks that make my life a bazillion times easier.
Do you want to know them?
These are six small but specific things I do in my school days that any mom, anywhere, could implement on any day. 
I am offering these Six Secrets of Homeschool Moms for free during my SECRETS TO SURVIVING THE SUMMER BOOTCAMP.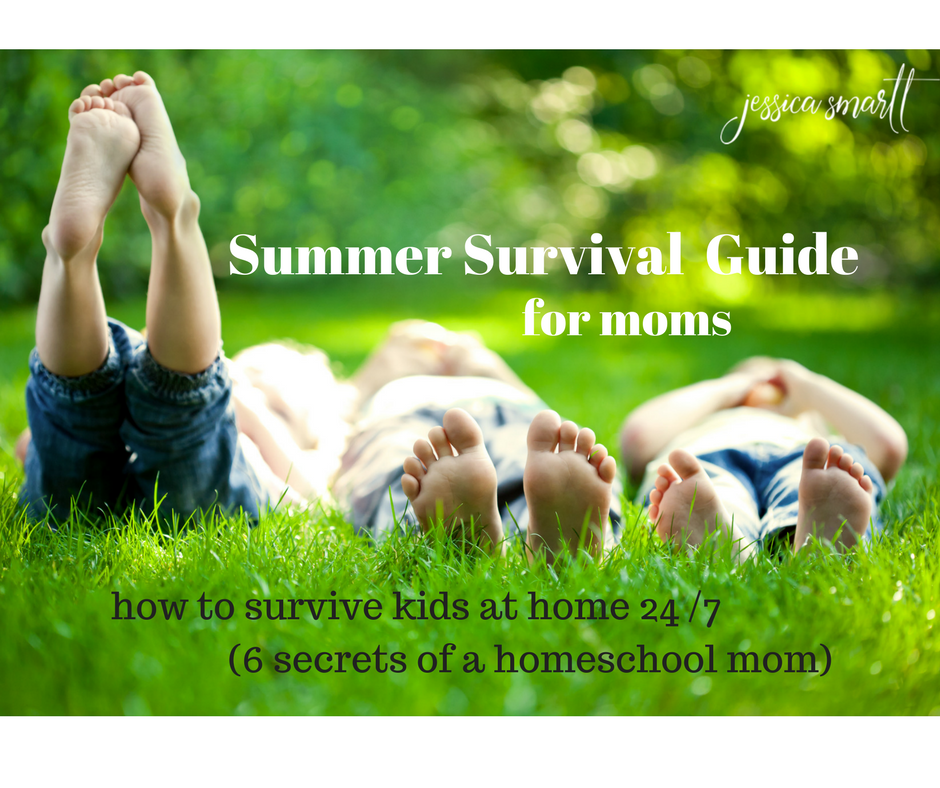 Do you ever feel like you dread Summer Break?
Do you find yourself "counting down the days" in your head until school starts again?
Do you want suggestions for fun, independent activities kids can do that are tech-free?
Do you want to enjoy this summer more than last?
If you answered yes to these questions, consider joining my SECRETS TO SURVIVING THE SUMMER BOOTCAMP for moms. In this summer bootcamp, I will reveal my six steps to survive and enjoy the time home with your kids. Less arguing, less boredom, less frustration.
So here are your choices. You can wait until June 28, when it's 430 degrees, and the kids are kicking each other in the kneecaps, and swatting the asphalt with pool noodles at a truly surprisingly loud decibel, and running the hose for 95 minutes in a row…and you can think, WHAT IS WRONG WITH MY CHILDREN??? THIS IS SUPPOSED TO BE THE FUN SUMMER PART, and so WHY DO I WANT TO CRY?
And you can wonder, man, I wish I knew what that weird homeschool mom with the blog was going to say.

Or. you can join this challenge FOR FREE.
Again, all this material is totally free, BUT IT WILL NOT BE AVAILABLE ON MY BLOG. To join, all you have to do is sign up below and wait for the tips to arrive in your inbox.
Summer Survival Bootcamp starts Monday, May 15. You'll receive seven lessons over the next two weeks. Together, we will:
Design a summer morning routine that sets everyone on the right foot
Implement the genius plan for handling arguing that your kids will actually LOVE (all you need is TWO ITEMS YOU ALREADY HAVE IN YOUR HOME!)
Have a doable gameplan for handling rainy days (or days when it's 895 degrees outside).
Create reasonable, helpful chores for your specific-aged kids
Learn how to get your kids on board with all this. (It is actually a very simple step, but cannot be overlooked.)
PLUS, you can access to my private Facebook group where I (and other commiserating moms 😉 will personally walk you through Implementing the Six Secrets!
If you want these FREE Six Tools for Surviving Summer, sign up below to join the challenge, and watch your inbox around May 15 for the tips to arrive.
Follow "Smartter" Each Day on Facebook!
Follow "Smartter" Each Day on Twitter!
Follow Jessica on Instagram!