I thought I'd put together this handy list for moms, grandmas, Vacation Bible School organizers, party planners, soccer team moms…anyone who may have a large group of kids to feed with multiple allergies. And it comes with a handy-dandy free list of food-preparing tips from a psycho hyper-anxious mom of how to not give someone's kid an allergic reaction!! Isn't that priceless!! You're welcome! 🙂
Here are our favorite summer snacks! They are totally free of dairy, tree nut, peanut, egg, and wheat.
Fruit – Is it just my kids who devour fruit? I think they would fight til they bled over a carton of blueberries. Fruit is the perfect summer treat. We love bananas, pears, watermelon, grapes, berries, clementines, and apples. See my instructions below for safe practices of cutting and serving to allergy-kiddos.
Fruit Kabobs – what's better than fruit on a stick to a kid? Nothing. Nothing is better than fruit on a stick.
Rice cakes with Sunbutter
"Orange Creamsicle" – orange juice mixed with coconut milk frozen in popsicle molds! Mom/Neighbor/Hostess of the year!
Raisins/Craisins
Tortilla chips with guacamole
Baby carrots with hummus (Sabra recommended brand or homemade)
Plain potato chips (recommended brands: Lay's, Cape Cod)
No-Nuts Yum-Yum Trail Mix: Rice Chex, raisins, Enjoy Life chocolate chips (available at Target), sunflower seeds, mini marshmellows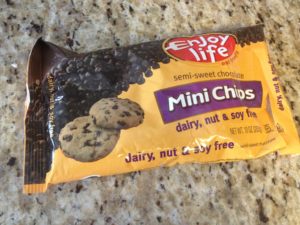 Individual applesauce
"Ants on a Log" – banana slices, Sunbutter, raisins, Enjoy Life chocolate chips
"Veggie Stix" – available at most supermarkets and super-stores
Tips for preparing food for people with food allergies:
Individual packages are great!
If you touch the food, wash your hands first!
If cutting and preparing food, take extra caution that everything the food touches is clean. To be safe, I'd recommend pre-washing your knife, cutting board, tupperware container, and your hands beforehand, even if they all look clean! Even small amounts can cause a reaction – things like residue from butter or cheese on your hands, remaining cheese on the cutting board or knife, etc. I've had friends say to me, "Honestly, I'm not sure everything was totally clean…can you bring a safe snack for Sam?" I'm thrilled to know that, and happily bring my own!
Do you spend time with kids who have food allergies? What are your kids' favorite summer snacks?
This post is linked to www.thefrugalgirls.com, www.abowlfulloflemons.com.

Follow "Smartter" Each Day on Facebook!
Follow "Smartter" Each Day on Twitter!
Follow Jessica on Instagram!