Last fall, my sister got the brilliant idea to do a fall recipe exchange. Seriously, where has this idea been all my life? A bunch of our friends each made a dish, brought them to my house, and we ate them and voted for our favorites. It was basically my favorite day of the year, second to Thanksgiving. (No, I'm not obsessed with food. Why do you ask?)
This recipe is my twist on my friend Kara's dish. Her dish was less spicy, and the topping was a Jiffy corn muffin mix, another Southern "delicacy." My version attempts to include more veggies and be less processed. I'm not going to lie to you and tell you that the Jiffy version isn't AMAZING. Just like I wouldn't ever lie and say that cookies and cream milkshakes aren't the bomb.com. Do people say that anymore? No? Anyway.
Not only did I steal the idea from my friend Kara, but I also stole the cornbread technique from Pioneer Woman. I adapted it to make it allergy-friendly. And I added sugar, because I like sweet cornbread. Does that make me bona fide southern? My husband would like to think so.
Anyway, this dish is a hit with the whole fam. Here's how you make it.
Ingredients for chili base: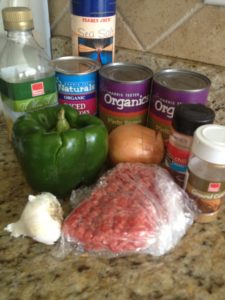 1/2 lb grass-fed meat
one large pepper, any color
two cans of pinto beans, rinsed and drained
one can of diced tomatoes
olive oil
an onion
garlic, a few cloves
tsp cumin
T chili powder
salt to taste
Instructions: Dice pepper and onion. Saute in olive oil two minutes. Add ground beef and cook until done. Add spices and salt. Mix in pinto beans and canned tomatoes and simmer for 30 minutes or more.
Then make your cornbread mix. Ingredients: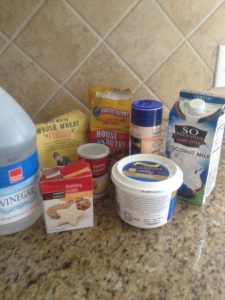 1 cup Yellow Cornmeal
1/2 cup All-purpose Flour
1 T sugar
1 teaspoon Salt
2 tsp Baking Powder
1  1/2 cup coconut milk, unsweetened
2T white vinegar
1/2 teaspoon Baking Soda
2T Shortening (I use organic palm oil shortening – the healthy shortening!)
Instructions: Mix together cornmeal, flour, sugar, salt, baking powder. Mix coconut milk, baking soda, and vinegar. Let it all bubble up like a science experiment. You're basically making a buttermilk, which will substitute for the egg and milk in Ree's original recipe. It looks like this: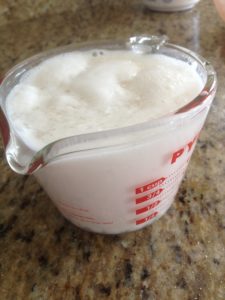 Cool, right?
Melt the shortening, and add the melted shortening and buttermilk concoction to the dry ingredients. Stir until blended. Not too much.
Then, what you're going to do is pour the chili mixture into a casserole dish, and dump the cornbread mix on top. It looks like this: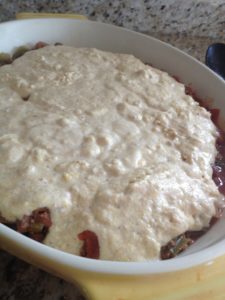 Bake it at 350 degrees for 35 minutes. Be sure the topping is fully cooked. When it's done, you've got some delicious, cornbread casserole.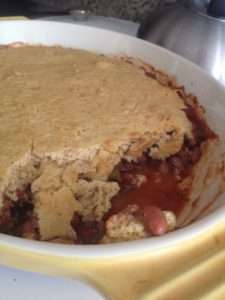 I like to drizzle a little honey over the cornbread part, and a little sour cream over the chili part. My husband likes to drown it in sour cream and submerge it in hot sauce. Either one works.
Follow "Smartter" Each Day on Facebook!
Follow "Smartter" Each Day on Twitter!
Follow Jessica on Instagram!