Are you looking for an quick, yummy side dish for the fall? Have you ever made homemade sweet potato casserole? My recipe is vegan, but you could easy adapt it for your our tastes. It is so perfectly yummy…it melts in your mouth!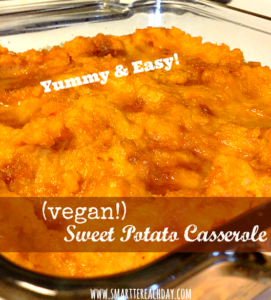 While we're talking about sweet potato casserole, there is something I need to address. I did not grow up in the south. Don't get me wrong, I love the south. But there are some things that still strike me as odd.
Like the marshmallows on sweet potato casseroles. Y'all. What is up with that?
I think that is very weird. Rest assured, this casserole has no marshmallows. Although, if that is important to you, I suppose you could add them. Just don't tell me.
Here are the reasons this recipe is just perfect.
It's so easy.
Tastes divine.
It is the perfect side dish for just about anything! Try this with a simple roast chicken, pot roast, meatloaf. Even tacos! Okay, maybe not tacos, but you could the point.
Here's how I made my vegan sweet potato casserole.
Ingredients: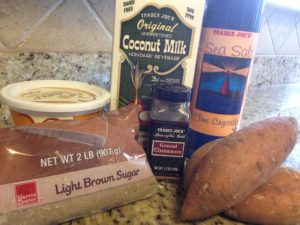 3 large sweet potatoes
3/4 cup of unsweetened coconut milk (possibly less depending on the size of your sweet potatoes)
2T of coconut oil, or vegan butter
1 tsp. of salt
1 tsp. cinnamon
2T light brown sugar
Instructions:
Peel and chop your sweet potatoes. I usually leave the pieces to about the size of…well, a large marshmallow, while we're on the topic. 🙂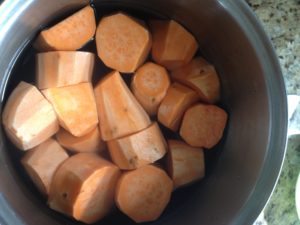 Put them in a pot, and cover with cold water.
Bring to a boil, and then turn it down to a simmer for 20-25 minutes (until the pieces are soft when you poke them with a fork).
Strain the sweet potatoes and put them back in the pot.
To the pot, add the salt, cinnamon, and coconut milk.
Now, use a hand mixer to blend. Be sure to add enough coconut milk so that it's a fairly runny consistency. You want them slightly more runny and pour-able than the consistency of mashed potatoes.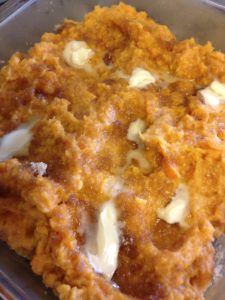 Now, pour your sweet potato mixture into a greased casserole dish. On top, sprinkle the brown sugar and dollops of butter.
Bake at 350 degrees for 20 minutes or until the sides are bubbly. Enjoy!
If you liked this post, consider following "Smartter" Each Day on Facebook or Pinterest!
If you like this recipe, you might like:
Follow "Smartter" Each Day on Facebook!
Follow "Smartter" Each Day on Twitter!
Follow Jessica on Instagram!