this post contains affiliate links.
For a long time I felt like moms should get up super early and read their Bibles before their kids awoke. That seemed like what "good moms" would do. Great plan.
Except.
For like 6 years, I was clinically sleep-deprived. "Clinically" maybe isn't accurate, but that makes it sound worse, so we'll go with it. I'm 100% in favor of a powerful morning, but I also know that I am a kinder mother on enough sleep, so that made the decision easier.
If I needed sleep, I slept.
So to be honest, many years went by where I wasn't studying my Bible like I had all the rest of my Reading Life. I felt like I was going backwards in holiness.
Because when could I do it? Surely not WHEN MY KIDS WERE AROUND??? HOW IN THE WORLD???
Well one day, reading a Sally Clarkson book, she said something totally crazy.
I COULD, in fact, read my Bible while my kids were there.
Sally shared how one of her "educational" goals for her kids was for them to learn how to have a quiet time. I had literally NEVER thought of that until that exact moment, but I realized I totally agreed! I DID want my kids to learn how to spend time with God.
And so I could show them!
The first time tried it, I was so excited and also super proud of myself. I mean, I was doing what Sally Clarkson did! I was teaching my kids to read the Bible! Hello, #mompoints.
Here is what we did.
First, I made sure it was when the kids were a little more tired and had had some good exercise. It was after a nice big lunch and bout of playing outside.
I rounded up a bunch of kids Bibles. Storybooks, picture ones, ones with maps and charts…I laid them out on the floor and let them choose one.
I had the kids choose comfy spots, each with a pillow and a blanket. Do I need to mention they couldn't be on the same couch? If you're ever had kids or been around them for 7 minutes, you understand why.
Then I got my coffee ready and gave them their "coffee." (I always drink my coffee in the afternoon. I know…weirdo.) Then I poured them some orange juice into a fun kids' mug. We have some child-sized Virginia Tech Hokies mugs for the boys. I think a fun mug is really important. They need to know, like you, that this time is special. You can find fun mugs for kids all over – here is a cute set.
Then I told them the rule of our quiet time: You can't talk when we read our Bibles! I told them I was setting my alarm for ten minutes, and they had to be totally quiet!
Then I read my Bible while they read theirs! Guys, it is like a Christmas miracle. It really works.
Full disclosure: my toddler was napping. If you don't try that tactic, I would include a super fun snack, and expect the "no talking" rule to be followed rather loosely.
I'd gotten out of the habit of our shared quiet time recently, and a few days ago my son said, "Mom, you know what we need to do? We need to do that thing when we all read our Bibles together." (Um…wow.)
This week I cried when I saw my sister's picture on social media.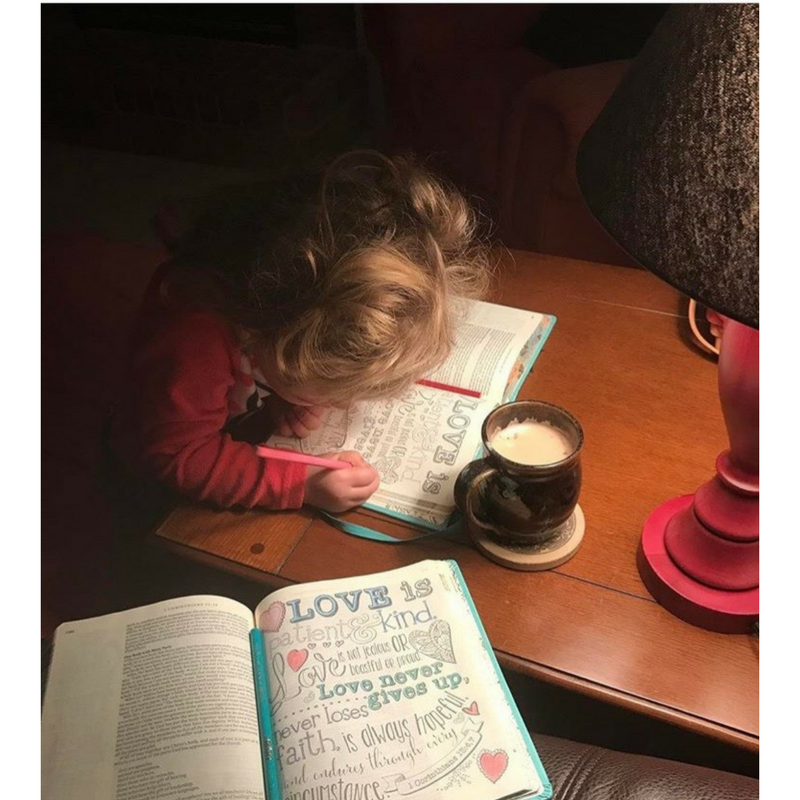 Here was her caption: "When I got two of the same Bible for Christmas, I thought long and hard about which one of my friends would benefit from it…not sure why it took me so long to pick the perfect friend."
Yes, Jenny.
Yes, those HOUR LONG book-of-the-Bible studies may have to wait until bedtime…Or the next decade…one or the other.
Yes, it's more work, less calm, and three times the effort.
But it's worth it. So worth it!
ps. Here's the Bible Jenny and her daughter use 🙂
Have you ever done "joint" quiet times? Any other tips?
Follow "Smartter" Each Day on Facebook!
Follow "Smartter" Each Day on Twitter!
Follow Jessica on Instagram!