Whatever part of the brain it is that is a good decorator, I do not have that part. Or I have it, but it's struggling. You get my drift.
My laundry room has been bugging me for centuries about a year. It should actually be called the "laundry room/mudroom/foyer/entry way/extended living room/back hall/dumping grounds/the part that all my neighbors see when their kids have to go to the bathroom."
Anyone else have one of those types of laundry rooms? I see it everyday, at least 5,246 times a day. And every day, this is what I saw.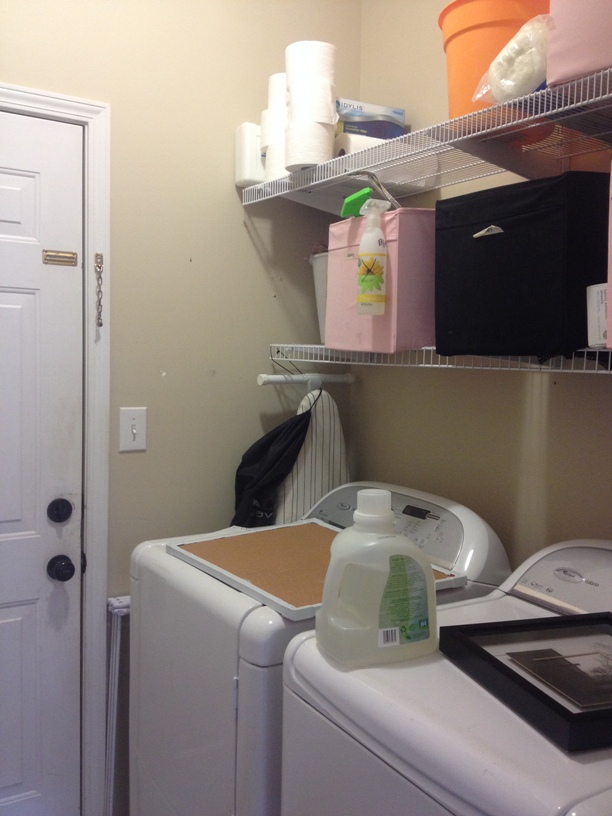 I mean it could be worse, but it's certainly not a pleasant scene. What's that, you ask? What are those random things on my washer/dryer? Oh, who knows.
Because there are always random things on my washer/dryer.
As I said before, I'm no decorator, but I do know this. In order to fix something, you have to know what's bothering you. Here is what I decided.
Too much "extra" stuff that I didn't need to see everyday, and that had actually nothing to do with laundry.
Way too dirty. Everything.
Nothing cute on the walls.
And that about covered it.  Someone very, very wise (who I cannot remember) said this about decorating:
The best thing you can do for a room is clean it, and get the junk out. If you don't care for what you have, there's no point in buying a bunch of new stuff.
Taking that advice, I:
Got rid of everything that didn't belong.
Painted the door because it was gross.
Scrubbed the walls, floor, washer, dryer.
Things already looked way better, and then I added some printables for the walls. Mine were free from Hope Ink when I purchased the Ultimate Homemaking Bundle, but you could print some for free online, too. For frames, I found some cute white ones for $12.99 at a discount home store. I had the baskets above the dryer, but if you don't have bins I would even suggest the Dollar Store for some colorful crates, if you're on a budget. Just something to organize your stuff.
And just like that, things were looking much, much better!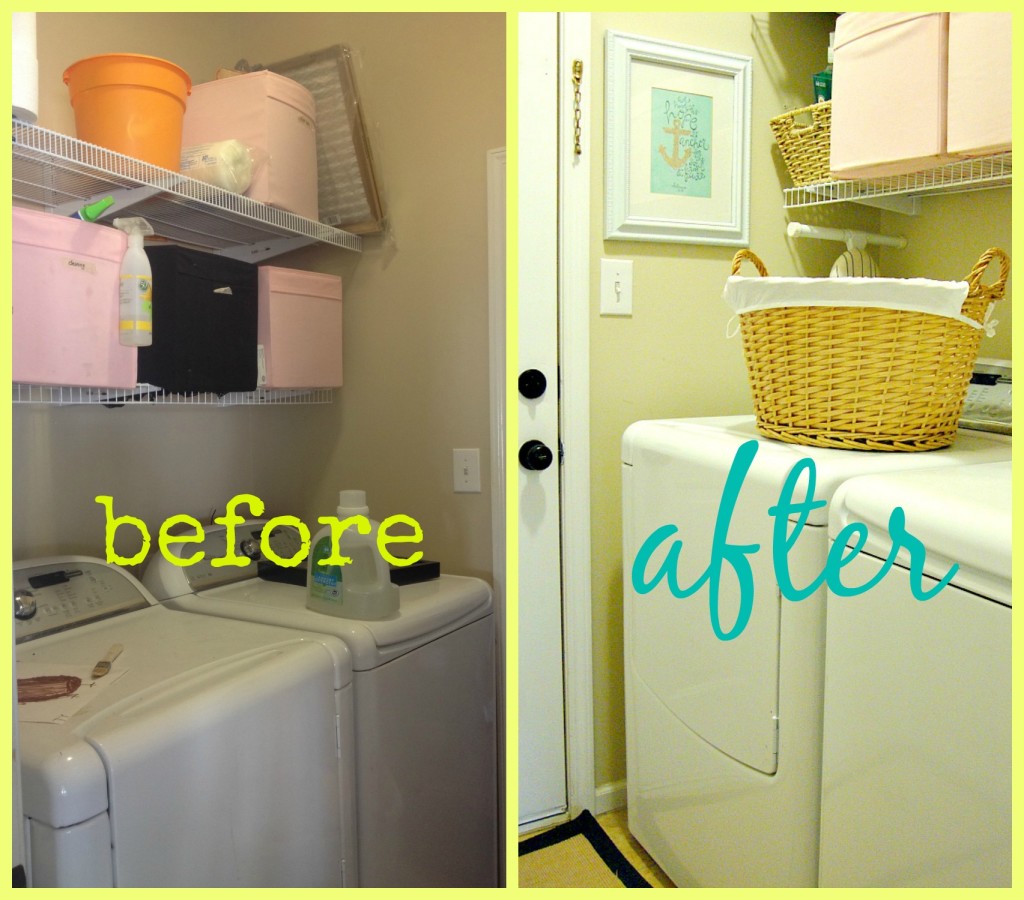 Looks great, right? Honestly, sometimes I come up with reasons to visit my laundry room now. I actually hope my visitors accidentally come through the garage and see it! 🙂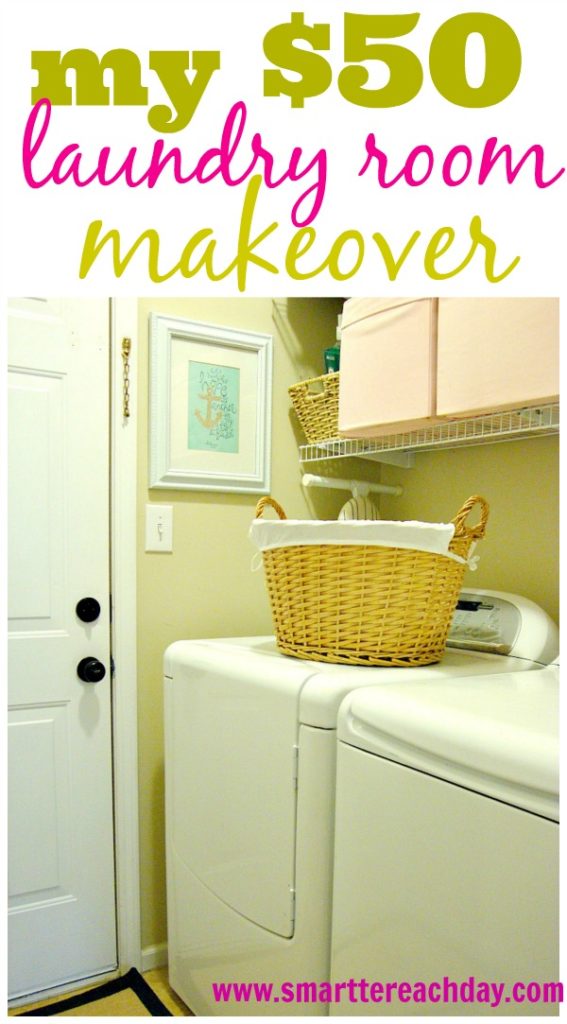 But I have to admit. After my beautification, my old clunky, dark, ugly laundry detergent was starting to bother me. Fortunately, I was recently contacted by method to help promote their new method 4x Laundry Detergent. with the never-been-done Fully Transparent Bottle!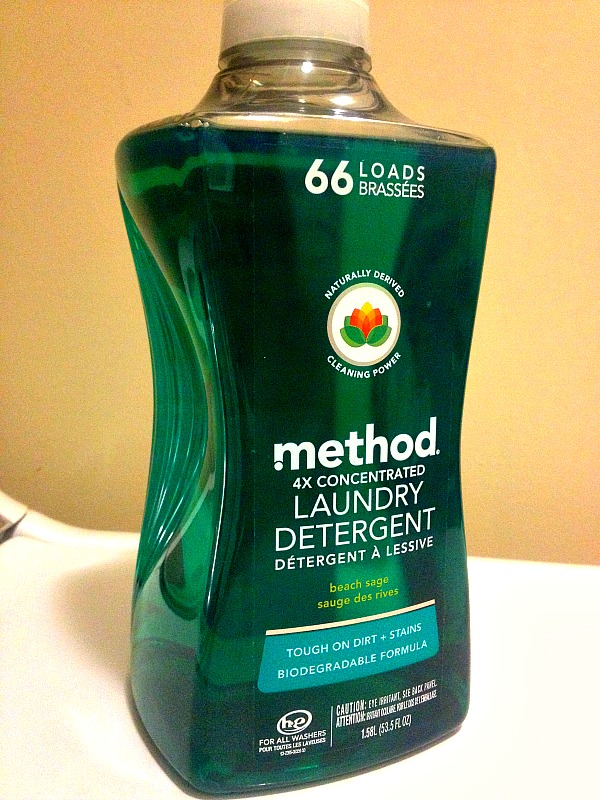 This little bottle looks amazing, totally brightens up the room, and was the perfect compliment for my mini-renovation. But I'll be honest. I would never purchase a cute bottle if the detergent didn't work well. (Who would?)
I have always loved method products, and this one was no exception. It uses naturally-derived cleaning power to remove tough dirt + stains, and boy did it work – even on my messy baby bibs, dirt-stains, and ketchup droppings. (Okay, so some of the ketchup stains were mine. What can I say.) Oh, and it works in cold water, so energy savings. Cha-ching.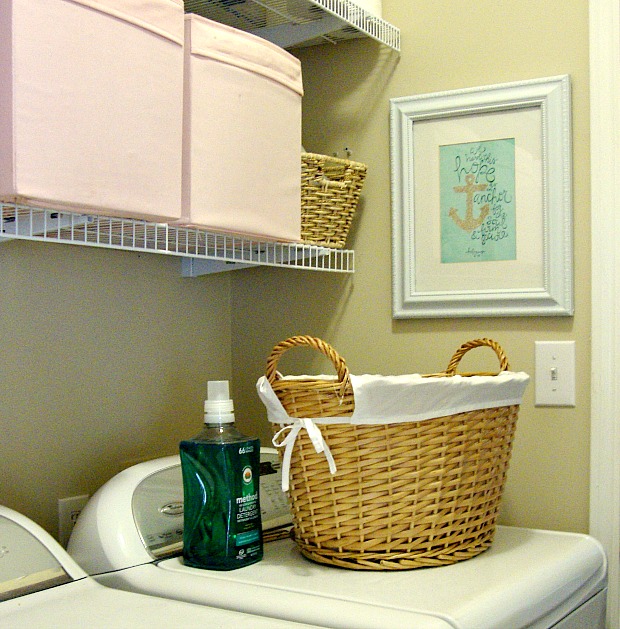 Doesn't it look so crisp and happy? Plus, method 4x Laundry Detergent is a biodegradable and hypoallergenic formula. (And the allergy moms said, "Hurray!")
and psst.! I love this line of boutique clothing by ASOS that is insanely adorable, and ALL machine washable!! Why has no one thought of this before?? These pieces are adorably unique and so, so cute!
I was selected for this opportunity as a member of Clever Girls and the content and opinions expressed here are all my own.
Follow "Smartter" Each Day on Facebook!
Follow "Smartter" Each Day on Twitter!
Follow Jessica on Instagram!