My sweet neighbor brought me some "Morning Glory" muffins this week – a new recipe she tried. I had never made these muffins, but always been intrigued by the idea – lots of fruits and even veggies in a muffin. When I tasted it, I was hooked, and had to try making them myself.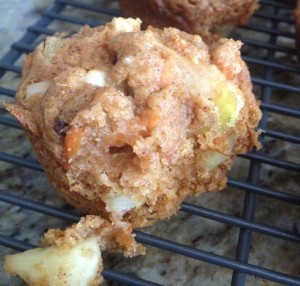 Of course, I made a few adaptions, trying to make them a smidgen healthier and, of course, allergy friendly.
They are amazing! In fact, as I was typing this I my mouth started watering for one, and I'm currently eating my second one of the day. So there.
I always try to keep muffins around for an afternoon snack for the kids, and for Todd's lunch. And for me. Whenever the heck I want them. When they cool completely, I immediately freeze them in plastic bag, so then they are fresh as can be throughout the week. I can reheat an hour ahead of time, or in the microwave in a pinch.
Ingredients: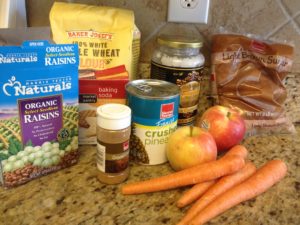 2 c. whole wheat flour
2 tsp. baking soda
2 tsp. cinnamon
1/2 tsp. salt
3/4 c. brown sugar (and I think I'll use less next time, as I am trying to limit sugar…they were plenty sweet)
2 diced apples (I did some peeled and some unpeeled, because I wasn't sure…They were fine peeled, so I think I'll skip that step next time. The peeler hates me.)
1/2 c. raisins
1 1/4 c. shredded carrots
8 oz of crushed pineapple, undrained
2/3 c. of coconut oil
3 eggs, OR, as a substitute 3/4  c. coconut milk, plus 2 T white vinegar
1/2 tsp. vanilla
Instructions:
Prep your fruits/veggies, by peeling and shredding the carrots and dicing the apples. I made my apples about this big: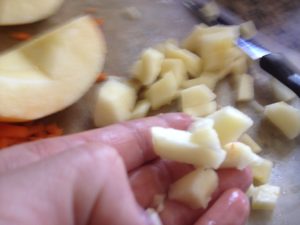 That blurry picture of my hand of unspecified size does not help at all, does it? They are about the size of…a pea? slightly larger? The apples, that is, not my hands.
Anyways. Mix flour, soda, cinnamon, salt, and brown sugar in a large bowl. Stir in the apples, raisins, and carrots. It looks like this: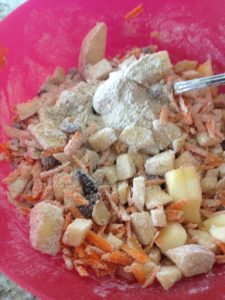 Kind of "thick" for a muffin mix, but don't despair.
If you're making your allergy friendly adaption, mix the vinegar and the coconut milk and let it sit for about five minutes. Then melt your coconut oil, and mix it to the coconut milk mixture, the pineapple, and the vanilla. (I did this in my standing mixer.) Otherwise, you will just mix the eggs and other wet ingredients together.
Then, add the dry to the wet ingredients and stir until moistened. Drop batter into greased muffin tins and cook at 375 degrees for 16-18 minutes. Makes 18 muffins.
Follow "Smartter" Each Day on Facebook!
Follow "Smartter" Each Day on Twitter!
Follow Jessica on Instagram!