Thank you to CVS for sponsoring this post and hosting this giveaway. All opinions below are 100% mine.
The last time I posted, I was telling you about my son's severe allergic reaction and visit to the ICU. I've been meaning to share my "Mama Medical Kit" with you all, and now is as good of a time as any.
Because it saved my son's life.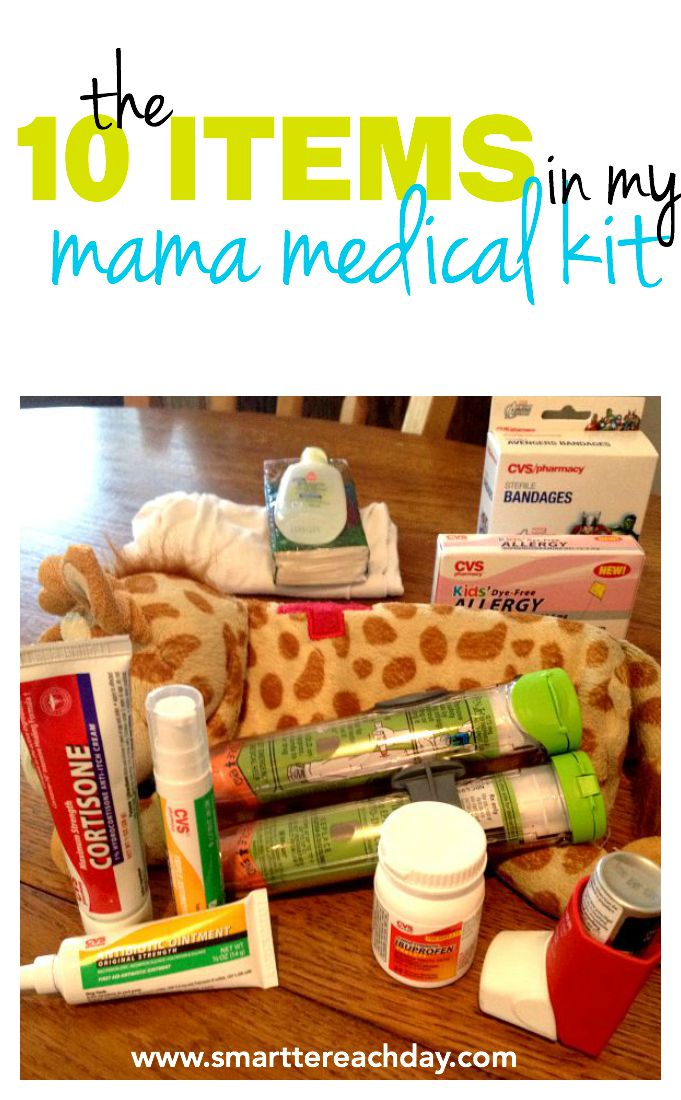 I bring this medical kit everywhere, and use it frequently! Not always – obviously – for life-threatening situations. But still, this is has saved the day for our family – and our friends! – more times than I can count!
I keep mine hanging in our entry way and grab it anytime I'm headed out – in the car, the diaper bag, the pool bag, or in the stroller.
Here are the 10 items you shouldn't leave home without:
Antibiotic Ointment – I use this under bandages when a wound needs to be cleaned. The ointment is easy to spread on a specific area.
Antibiotic Spray – I like the spray for larger scrapes and cuts. My youngest son ALWAYS asks for this for his various injuries. I think the cool spray actually feels good to the wound. You can also get an antibiotic spray with a pain-relieving ingredient for extra soothing.
Ibuprofen – many various uses
Cortisone Anti-Itch Cream (1% hydrocortisone) – Bug bites, skin rashes, contact with allergen, etc.
Kids' Dye-Free Oral Allergy Medicine – Allergy medicine is just helpful to have on hand for allergy situations that may arise, large or small. You never know when you might need it.
Bandages – You knew this was going to be here, right? I love the CVS Avenger Series Bandages. I think a have a few boys who might fake an injury for one of these. 🙂 But seriously – there is no reason to not carry bandages with you. They take up no space, and there is no substitute!
Any medicine your child has ever needed. Okay, maybe not "ever," but if it's something that could be needed again, include it. For my oldest, this is epinephrine and albuterol. My second child gets growing pains in his legs, and I have an essential oil roll-on that really helps him. When I was nursing, it was gas/colic drops. Think about YOUR CHILD. Is there a medicine your child has needed in the past? An allergy medicine? A medicine he/she takes daily? An injury or type of pain he/she gets sometimes? Throw it in.
A change of clothes, or at least a t-shirt. When I need this, I am so thankful I have it. Especially if you have a child who has allergies – whether it's seasonal outdoor, pet, or food – it is an essential to carry an extra change of clothes for when they get into something that is irritating them.
Tissues – Running noses, scrapes, etc.
A travel container of soap or small bar of soap. This might sound like an odd ingredient for a medical kit, but it's a great idea. Aside from being a handy thing to have for clean-ups (and again, taking up barely any space) it is very helpful if there's a messy injury or contact with an allergen.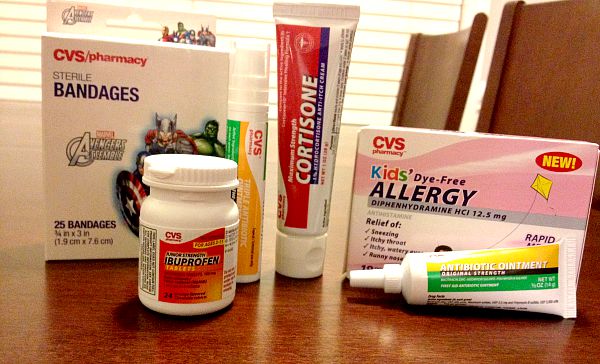 You'll notice that I've picked up the CVS-brand of many of these products. I've been a CVS shopper for years, and when there's a CVS-comparable product, I always grab it. The CVS-brand products are typically much, much cheaper, and the exact same ingredients of name-brand health and safety products. Check the products for yourself and see!
I have always been very pleased with any of their products I've used. And there is no risk to try them, because if you aren't perfectly satisfied, CVS offers a money-back guarantee of these products.
For storing my kit, I love using a soft, insulated lunch bag – I grabbed this one for a few dollars during back-to-school shopping. It's super-light and molds to fit everything I need.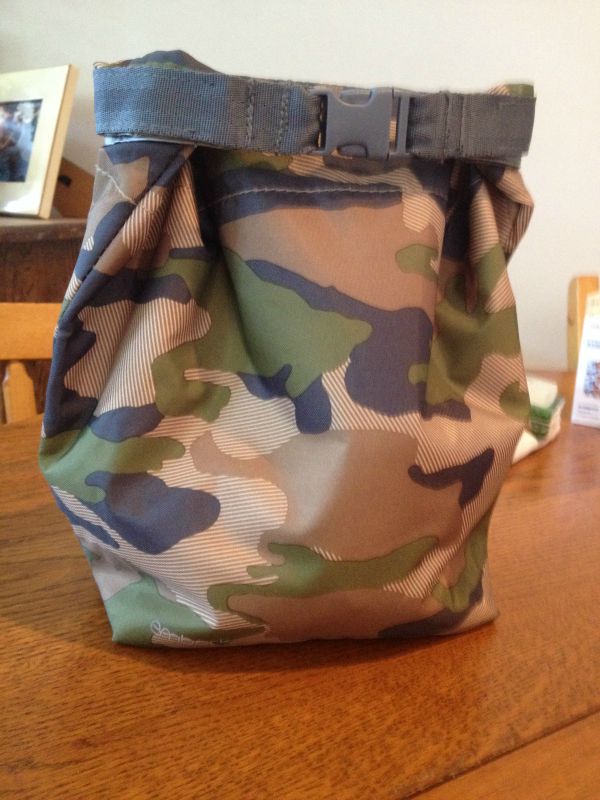 Do you carry a medical kit? If you don't, or if you'd like to replenish your stash, you're in luck. Today I'm partnering with CVS to share my medical kit with a reader. You don't get the epi-pens (ha) but you'll get all the items listed below, plus they're throwing in a $25 gift card so you can grab anything else your family needs for your kit! If you have a kiddo with asthma or allergies -seasonal or otherwise – check out the Asthma & Allergy product line. I particularly thought the homeopathic blends were interesting!
If you'd like to enter to win your own little traveling Mama Medical kit, see below!
Thank you to CVS for sponsoring this post and hosting this giveaway. All opinions are 100% mine.
Follow "Smartter" Each Day on Facebook!
Follow "Smartter" Each Day on Twitter!
Follow Jessica on Instagram!