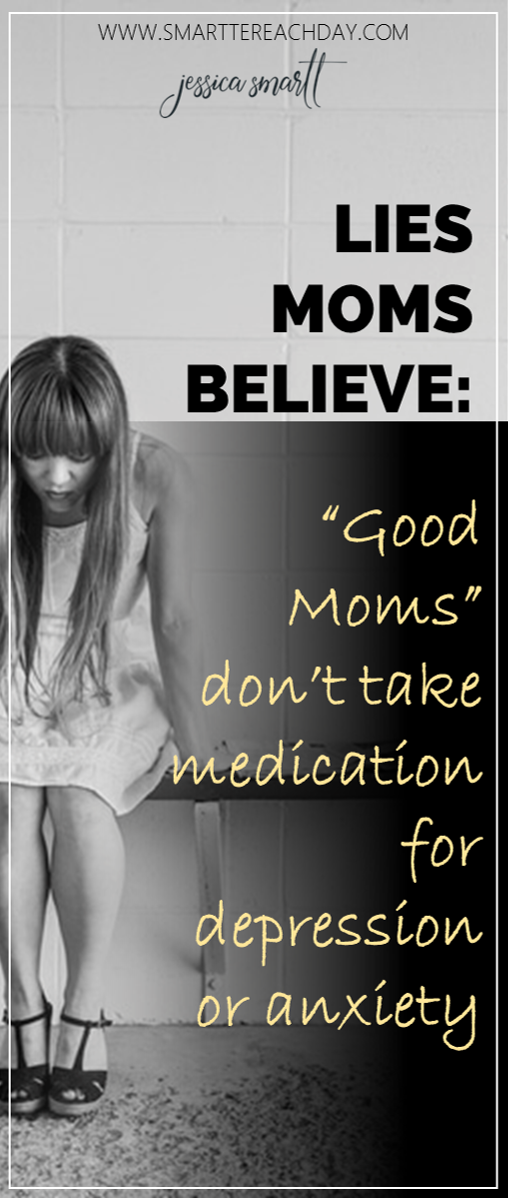 Since I have "gone public" with my battle with anxiety, I receive usually 1-2 emails a week from women who are battling anxiety. It would almost be funny (if it weren't) how very similar these emails are. They go something like this:
"Hi Jessica, I found your blog on ______." Thank you for your post about anxiety. I have been dealing with anxiety for ______ (usually, fill in the blank for most of the time they have been a mother…hmm..hormones, perhaps?). I have tried _________ (lists all the things they've tried) but I just can't seem to shake it. (Insert general sentence about how depressed they are for dealing with it, and how their family is upset, etc.). And then the kicker : "I feel like I need some help, but I really don't want to take medication."
I don't want to be trite about these questions. I read each one, pray for them, and answer questions. I completely understand that hesitation to try medication. They are not without side effects. They are not natural. And there is a stigma attached to them.
I wish I did not have to write this post, but I want to share my story. And my story is that in a very difficult period of my life, anxiety medications were a life saver. Literally.
This can be such a sticky, controversial topic, so I want to be very clear about what I am trying to say.
There are many things to try BEFORE medication. I have a lot of resources listed in this post. I'm always learning new things that help me deal with my anxiety, or hearing about new supplements, oils, etc. that I'll try the next time I battle my anxiety. In no way am I saying that medication is the only, or best solution. If you have something else that has helped, PLEASE, comment below and share with us.
BUT WHEN THESE THINGS ARE NOT WORKING – I believe that the proper medication can in some cases be extremely helpful in coping with certain mental issues.
Any conventional medicine can have unintended side effects, some that are dangerous. You shouldn't proceed alone, but with the presence of family and a doctor as you are trying the medicine.
It can take some work to find one that works. Don't get discouraged if you try one and it isn't helping. Some people don't agree with certain medicines. Find a psychiatrist who is well-recommended. Don't give up if the first one doesn't work. It is true – some people do not respond well do these. But many people do. (I have talked to many!)
Ideally, the goal is to get O.F.F. of these medicines. I'm not saying everyone should be medicated for life.
So, for the practical "to do list."
Remember this post. You may feel this does not apply to you right now. But it might in the future. In no way am I saying that every time you feel down, you should start popping pills. BUT – if you find yourself facing a season of darkness and despair that cannot be kicked, despite a long list of things you have tried first (supplements, sleep, exercise, healthy diet, counseling), then before you assume you are destined for a miserable rest of your life, just remember this blog you read one time about medications, and consider taking them.
Remember this post, and if a friend is struggling deeply with anxiety or depression, do not feel ashamed to suggest that this crazy girl's blog you read said medications can be very helpful. Encourage her to try, and keep trying, to see if one might work.
Mental health is a complex issue (understatement of the century) and I am always learning new things that help me in my own tendencies towards anxiety. Medication is not the ideal answer, or the only answer.
But they for some, they can very much help. I am grateful for a kind Christian counselor who encouraged me to at least try and see if they would help the anxiety attacks I was having. I did, and they made a tremendous difference in my life during a very bleak period.
Follow "Smartter" Each Day on Facebook!
Follow "Smartter" Each Day on Twitter!
Follow Jessica on Instagram!