Do any of you remember going to church as a Non-Mom? I do.
Since I am a huge nerd, going to church as a Single Woman was actually one of the big highlights in my former life.
I looked incredibly put-together and well-rested. As I should, because I slept in past the absolutely luxurious hour of 7:45.
I'd take a liesurely shower, with plenteous time to shave each leg (imagine!). It was nice and quiet as I got ready, save for some nice "Worship" playlist (super spiritual) that I relished while drinking my hot coffee. Then I'd slip into a perfectly coordinated Ann Taylor Loft outfit – with heels, of course!
I mean, come on! It was important to look good for church, because – hello! That was like my prime chance of meeting some good Christian banker to marry! (ps. that never worked. ps. here is what really happened.)
In church I took notes, and followed along in my Bible, and sang with my eyes closed, and all those Very Spiritual Things. Afterwards – who knows? I might have brunch with a friend and discuss Our Spiritual Lives. Or take my journal to a coffee shop and meditate on The Word. I was a VERY good Christian back then.
Now as a mom, it's basically the same exact thing.
Except completely the opposite.
Like last week for example, when I was coming home from church, and was basically in tears / feeling like The World's Worst Mom / ready to take a long nap / ready to never go back to church again.
Yes. This coming from the Children's Ministry Director.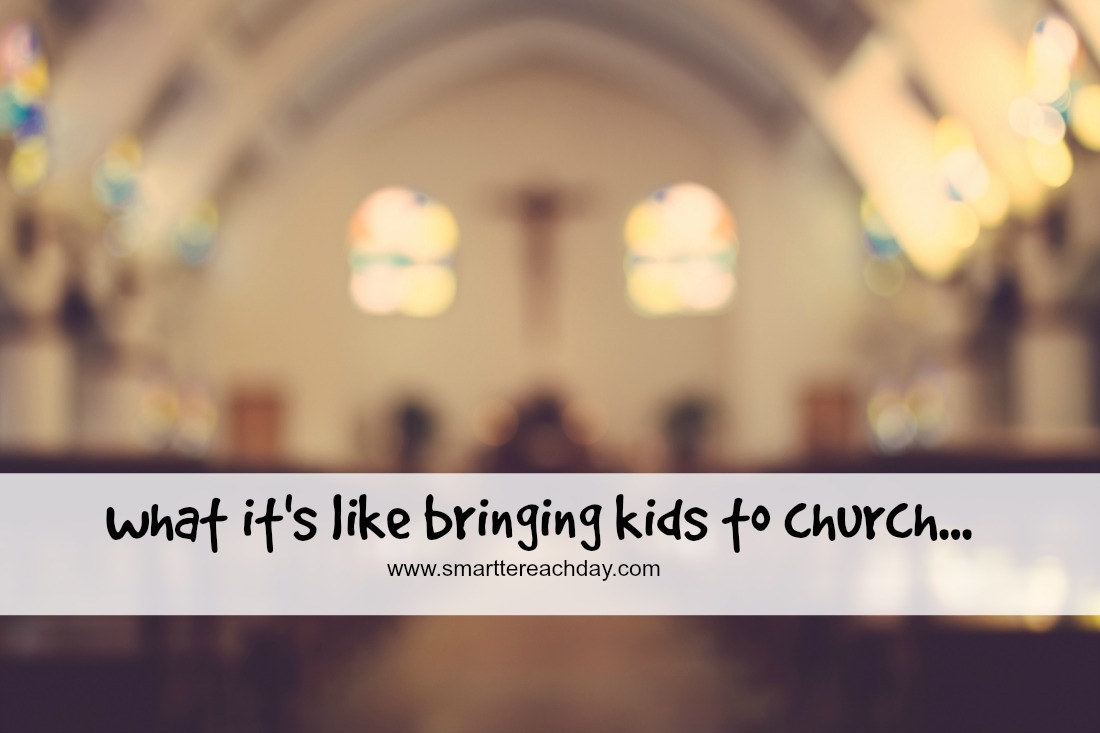 Getting ready for church is hard. Really, really hard. Sure, there is that one mystical day when everyone floats down the stairs early, already dressed in actual church clothes that actually match, and everyone enjoys a deliciously healthy breakfast, and then giggles as they strap themselves in their car seats, early.
Yes…there was that one time.
Usually though, there are 74,569 things to do before church, and someone has grown three shoe sizes since last Sunday, and there are NO CLEAN CLOTHES THAT FIT THESE PEOPLE.
To top if off, Little Sunshine is ready for his/her nap at 9:50, but that's unfortunate, because he/she should actually be getting strapped into the carseat at 10:00. So that's fun.
On the way to church, one or all of three things will happen.
Someone will kick the back of your seat incessantly.
You will remember you forgot something really important at home.
There may or may not be a tense/masked "discussion" between you and your husband about Something Unpleasant, which you will pretend did not happen.
Once you've arrived at church, don't worry – the battle is only half begun!
If you have a toddler, you have my very deepest sympathies, because I know that you will hear very little of the service, what with the rummaging through the diaper bag for something fun (which is never there), making laps around the lobby, and pacifying your over-tired child with random bulletins and coffee stirrers.
Chances are, your older children will suddenly realize they are ravenously hungry at some point in the service. (We serve bagels and juice at my church, and mine are like Pavlov's dogs. See church doors = want bagels and juice.) If you have a child prone to tantrums, they will throw one a few times a year, in church. But it will feel more frequent, as dragging a crying child out of a sanctuary tends to stick in one's memory rather painfully.
Once it's over, by the time you have gathered up your three book bags, 17 markers, one diaper bag, four water bottles, one change of messy clothes, five children's worksheets including a 4-pronged paper mobile ("It's special, Mom! Don't crumble it!), you will feel like a heavily-burdened Pack Mule who has crossed a mighty desert.
You will probably look like one, too.
As you get in the car, you will feel, not so much holy, per se, but more…how do I say it..
LIKE YOUR SPIRIT HAS BEEN TRAMPLED BY A MILLION WILD STALLIONS.
You may, if you are like me, secretly, in your deepest of Mom Thoughts, have wondered one or two of the following:
What is wrong with us that church is so difficult?
What is the point of doing this?
Am I doing something wrong? Because this is really hard.
Well, today I am here to lift your spirits, and to break the self-inflicted silence we have imposed about Moms in Church.

Here is the truth about kids and church.
Yes, it is very hard. And no, there's nothing wrong with you. I'd bet EVERY SINGLE MOM IN THE PLANET who attempted to bring children to worship has felt overwhelmed, embarrassed, exasperated, and fruitless. It just is very hard to get ready, to keep everyone behaved, and through some miracle, to learn something in the process. You are not alone.
It is not pointless, even if it feels like a waste of everyone's time. It Is Not A Waste. And here is why: It is fruitful because I am obeying God's commands to honor the Sabbath, to keep on meeting together and not give up. And I am modeling this to my children. 
As it turns out, my ability to "do" church well hasn't changed one iota from when I was an undistracted single girl taking meticulous notes.
Because, going to church isn't about us. And it never was.
Let me say that another way. Even if there is nothing *enjoyable* or *productive* about church anymore, it doesn't matter one speck. We don't do church to feel more relaxed, or to meet a special someone, or to feel holier, or more peaceful.
We go to church to show honor to God, and to obey Him, and to teach our children to do the same.
Mama who feels overwhelmed at church, I feel you. In your sweaty wrangling of overtired toddlers, in your plucking of Cheerios from church cushions – in your jamming people in carseats and Sunday shoes –  may you offer it all up as Worship to your Father. 
And may you not become weary in doing good, for at the proper time we will reap a harvest if we do not give up. ~ Galations 6:9
Follow "Smartter" Each Day on Facebook!
Follow "Smartter" Each Day on Twitter!
Follow Jessica on Instagram!