This week, my oldest has golf camp. This means we all need to be fed, matching, and out the door at the ungodly hour of – wait for it – eight o'clock. IN THE MORNING. (I know, right!?)
A few minutes before go-time this morning, I was yelling at some child to GO GET YOUR SHOES ON. FOR THE LAST TIME. I was scraping oatmeal mush into the sink with one hand and filling a water bottle with the other –  when it hit me.
I could never do this regularly.
My house, when I arrived back home (sans one golfer) was a disaster. It looked like a tornado jumbled the contents of the breakfast aisle and a CVS. Toothbrushes with paste, stuck to the counter. Pajamas, lone shoes, and hairbrushes littering the sofa.
I felt frazzled, but I couldn't let the mess linger for too long of course, because by bedtime I'd have a whole other list of packing/prepping/organizing/preparing to do…again. As much as this one loves golf camp, I find myself counting down the days until this week is over…and life is quiet again.
And I have time again.
I've heard it said – thought it myself, truthfully – that homeschooling is a lot. Takes a lot. Requires a lot. And that's all true. It is hard.
But the thing I'm coming to realize?
I just don't think I have time not to homeschool.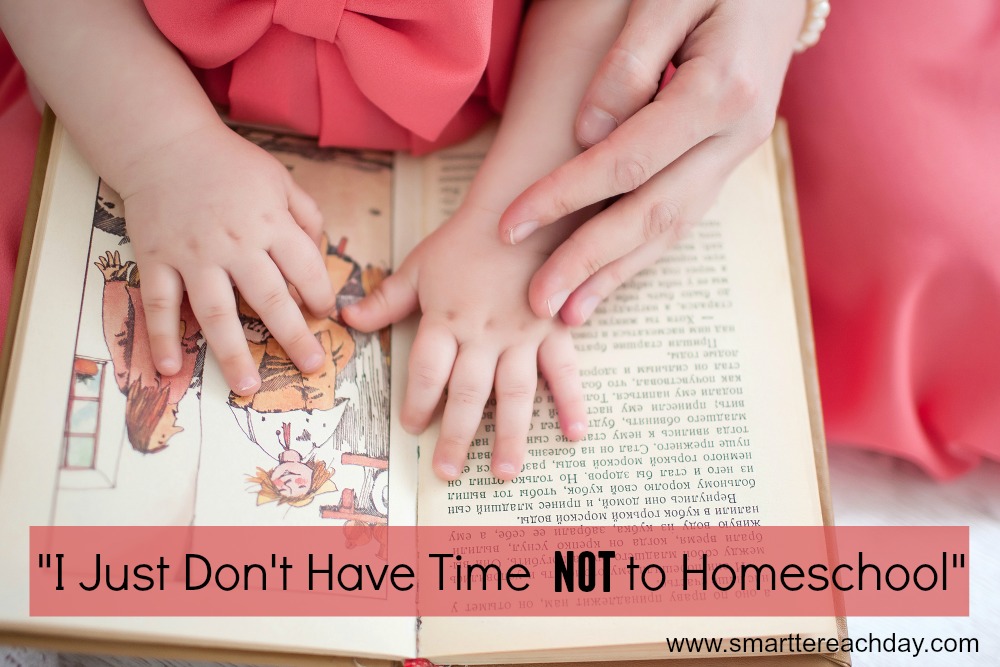 I don't have time to pack backpacks, wash lunch boxes, make lunches or ransack the house every single day for someone's coat/shoes/water bottle/folder/paper that absolutely must go with us or the world will come to an end.
I do not have time for the afternoon chaos. The unpack/snack/I'M SO HUNGRY/when is dinner/do your homework/do a chore/clean up this mess/three hour rodeo before we shower and do it all again.
I do not have time for the traffic. Whenever I have to leave the house during the morning rush, I always think, WHERE IN THE WORLD DID THESE PEOPLE ALL COME FROM??? IS THERE A HURRICANE? ARE WE EVACUATING?  Although I want to be one of those moms who plays car games and shares prayer requests on the interstate, driving, unfortunately, turns me into a she-devil. I just want it to be over.
I do not have time for homework. I cannot imagine sacrificing the beautiful sunset hours at the altar of worksheets and D.E.A.R. Time. If I had to do anything important, requiring patience, with my child between the Witching Hours of 3pm-5pm, I would surely turn into a dragon. Afternoons, in case you were curious, exist for two reasons – playing with neighbors, and climbing trees. Or drinking a second cup of coffee while watching the aforementioned. (Ahem.)
I do not have time to micromanage my child's education. I cannot speak from experience, but I get physically exhausted thinking about attempting to decipher what my child's curriculum covers, how it's being taught, what gaps there may be, and how to fill those gaps (while not confusing said child.) Knowing me, I'd be tempted to just assume they're fine.
And last, I do not have time to fit in the Real Parenting on weekends, 3-7pm, and a very brief summer. Because I know me. I am so. stinkin. distracted.
I would become a School Momster (mom +monster), positively obsessing over missing homework folders, socks, waters. Angrily herding everyone into the car to the tune of FOR THE LAST TIME, IT IS TIME TO GO!
I know me. And I know that by the time everyone is dressed and properly pack-muled into the car with his appropriate bags (or un-pack-muled, as the case may be), I would have very little time left.
To just enjoy them.
To listen really listen to their little stories.
To teach them things I believe in.
To do nothing. Because the nothings are what real friendships are made of.
Goodness knows I already feel like I haven't paid them enough attention. And they are here with me nearly every waking minute.
Frankly, I just do not have any more time to lose.
I don't have the time not to homeschool.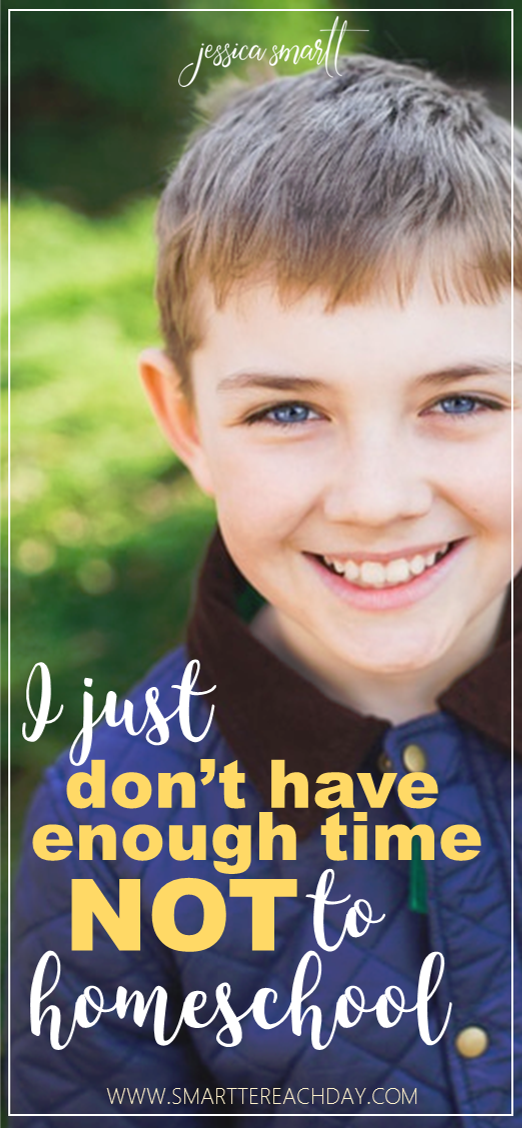 ~
*Disclaimer. Let's get the elephant out of the room. This is not an attempt at being divisive or guilt-inducing. There are women who send/have sent their kids off to school who surpass me as a mother in every single way. By no means does good parenting require homeschool. Parenting, good parenting, is in any capacity very hard work. And that is my whole point. You are afraid of the stress homeschooling would bring you? Well you may, perhaps, be surprised at how much it relieves.
jessica
Follow "Smartter" Each Day on Facebook!
Follow "Smartter" Each Day on Twitter!
Follow Jessica on Instagram!