Part of becoming a parent is realizing you don't know the answer to millions of "dumb" questions. Or you do, but it's hard to explain.
Mom, what makes it rain?
Mom, how do they know who wins a war?
Mom, where does the poop go after the toilet?
(Etc. etc.)
I think the concept of Christmas is in this category. Of COURSE I know what Christmas is about. But somehow, I about break a sweat and get a migraine trying to fully explain it to my little ones. I mean, guys, it's Christmas!!! You know, it's about Jesus! His birthday! Get it, guys?!
I realized we might have a problem this year when I casually asked Ty (who is 4), Ty, what happens on Christmas.
"Um…Santa comes????"
Nice. Mom score. (ps, we don't really even "do" Santa, so I love how that is what he has clung to about Christmas.)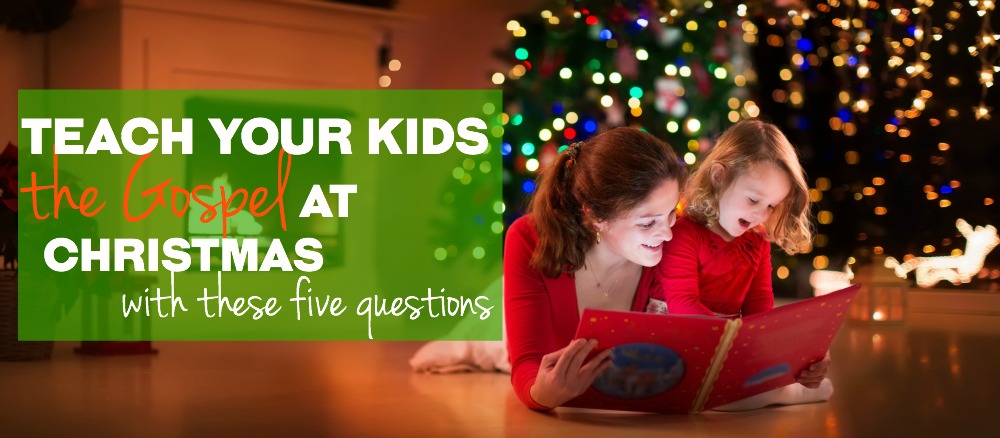 That's when I came up with these questions, to sort of guide him through the meaning of Christmas. We rehearse these a lot.
Perhaps you don't share my sentiments. But if you are like me, and sometimes "draw a blank" trying to explain the obvious about Christmas, and even Christianity itself, then perhaps they will be helpful to you, too. As you'll see, you can reuse again at Easter. This is a very simple explanation of both of these, in a way that kids will hopefully remember and understand.
Here's how we do it.
First, you need a prop. I think the Jesus Storybook Bible works best. Question one.
"Ty, what happened on Christmas?"
You point to a picture of the manger scene to try to get the answer: "Jesus was born!" Great! Now.
2. Before Jesus was born, do you know where he was? He was in heaven! And it was perfect and wonderful up in heaven!
You go over these two questions until they have them down. Then ask the next one.
3. "Ty, heaven was so wonderful, and so nice. Why in the world would Jesus want to come down here?"
At this point I found a picture of Jesus dying on the cross. I pointed to that, and said, he came to die on the cross. I wouldn't want to die on the cross, but that's why Jesus came. To die on the cross.
Then, question 4.
4. Did Jesus do something wrong that he died on the cross? Was he getting punished? No. He didn't do one single thing wrong.
5. Who did something wrong? Whose punishment did Jesus take? Answer: He took our punishment. He came down at Christmas to die for our sins.
I told this little story to draw this point home: Ty, imagine that you and Sam were bouncing the ball in the house, and I came in and said, guys, do NOT bounce the ball anymore. Imagine if I left and you DID NOT LISTEN, and you bounced the ball AND BROKE A GLASS OF MINE. If I came back, what would I say? Well, imagine that Sam said, Mom, don't punish Ty. I want you to punish ME instead. And imagine that Sam got a spanking instead of you. Could you imagine that?
That is a little bit what Jesus did. He took the punishment that we deserved. That's why he came at Christmas! I am so glad that he came, aren't you? This is his birthday that we celebrate! Do you think we should have a big party? Etc. etc.
If you have any other tips or tools you use to talk to your kids about Christmas, please share them below!
Was this post helpful to you? Share it on Facebook!
Follow "Smartter" Each Day on Facebook!
Follow "Smartter" Each Day on Twitter!
Follow Jessica on Instagram!