Note from Jessica: This is yet another fabulous post from my "unofficial" contributing writer, Amy. Amy homeschools something like eight kids (maybe it's four but it seems really overwhelming), runs her own blog, and in her spare time has co-written a book on turning little boys into men. Are you impressed? I am. If you have boys – listen up. This idea is brilliant, and I hope she makes enough money to send all 12? of those kids to college. Be sure to check it out!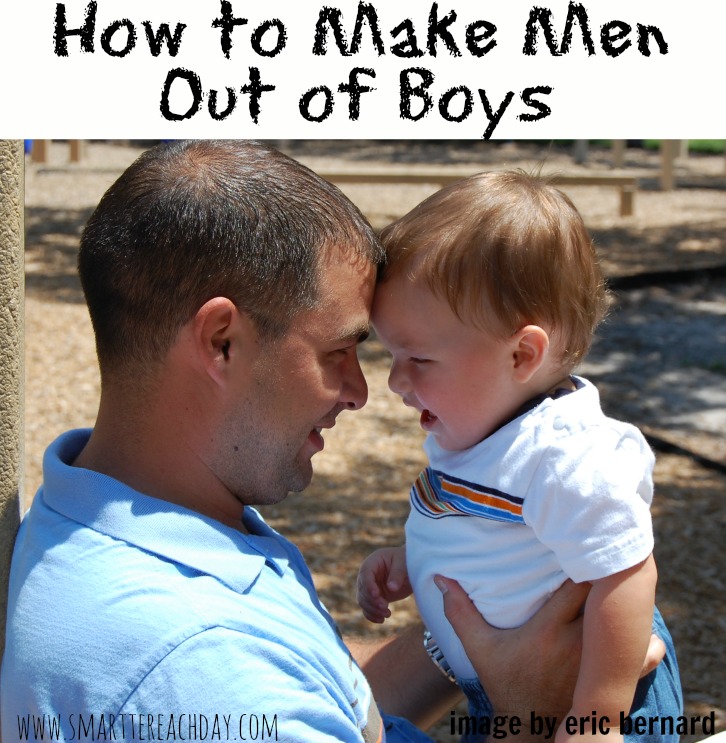 Does anyone else find the challenge of raising our sweet little sons into courageous, godly men rather daunting?
Little boys present their own difficulties – from the moment they arrive they have already learned how to pee directly into our faces when we change their diapers!  Then as they grow they find ways to introduce dirt into unimaginable places, both in the house and on their bodies, and they keep getting louder and crazier and faster…
But sometime in the midst of this whirlwind, we find that they are quickly approaching something resembling a MAN!  Will they be prepared?  Will they know what a godly man should be and do?
It is no secret that our culture is full of all kinds of false messages about what a true man is.  Boys don't know how to be godly men, nor do they know when they should be men.  Adolescence seems to be getting longer and longer as kids flounder and are unsure how to take responsibility.
So what is to be done?  How can we teach our boys how to become the men they are called to be?
The training for manhood can actually begin at a pretty young age.  Boys seem most eager and ready to learn about the skills and characteristics of manhood when they are approximately 11 to 14.  During that time, they are mature enough to sit and learn, old enough to wield guns, fishing poles, and power tools, but not so old that they are off working part-time jobs, dating and studying for SAT's.  So that 11-14-year-old window is prime.
This is a great opportunity for fathers to pour into their sons – to teach them all kinds of skills and practical abilities, but also to do some intensive teaching about the characteristics of a godly man.
Most dads, bless them, are eager to raise their sons in good and godly ways, but look like deer in headlights when you ask them how they are going to do this.  It takes some thought, some intentionality, some organization…. And who has time for that in between working all week, mowing the lawn, and, of course, wrestling with one's sons?
So, we have created a ready-to-use, simple program that dads can adapt for their sons!
In the historic Jewish culture, boys at this age underwent specific training in preparation for their Bar Mitzvah, a special rite-of-passage ceremony.  Using this loosely as a model, we have developed the GateWay program as a 9-month training time which culminates in a significant blessing ceremony for the boys and their community.
During the 9 months, the boys will be challenged to learn about 8 different character traits of a godly man (taken from 2 Peter chapter 1).  In addition, they will be exposed to many different practical skills that may be helpful in their journey to manhood.
Groups of fathers (ideally 6-10 of them) can band together and go through the GateWay year together with their sons.  By learning and growing as a group, extra benefits are realized.  Perhaps most importantly, the men can begin to know one another's sons, mentoring them and building relationships that can last for years to come.  Also, each man will bring his own individual abilities and perspectives to the group, from which the others can learn.
Our oldest son completed his GateWay year about a year ago, walking through the program with 11 other fathers and sons.  He grew and learned in significant ways, giving him a solid foundation that will help him as he approaches manhood.  The ceremony at the end of the year involved the whole community and will be milestone we will all always remember as the boys received powerful blessings from their fathers.
The role of a dad is so key in raising sons.  We hope and pray that this GateWay program will be a tool that the dads can use as they pour into their boys and train them in the way of manhood.
For more information on what GateWay is, or to see sample pages from the Handbook, please visit www.gatewaytomanhood.com.
Follow "Smartter" Each Day on Facebook!
Follow "Smartter" Each Day on Twitter!
Follow Jessica on Instagram!