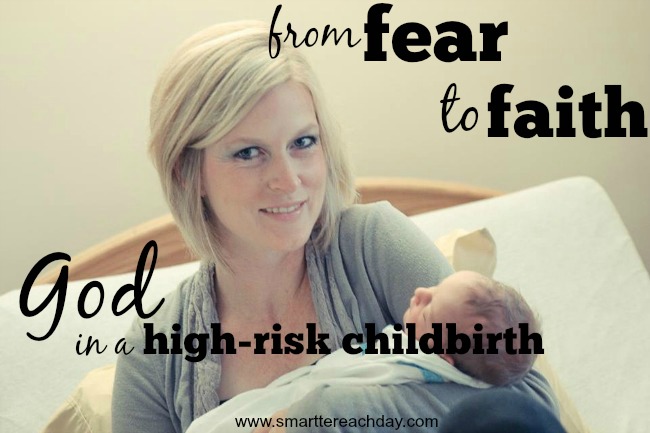 Have you ever wondered if it's possible to have a natural birth after two, even three, c-sections? I hope this inspirational story is helpful to you!
Note from Jessica: When I asked Jaimie to share her story, I had no idea how much it would touch me, inspire me. I had no idea it would bring me to tears. Friends, I hope this blesses you as it has blessed me.
Shy, timid, chicken, scaredy-cat, people-pleaser. Those are the terms that could have been used to describe me. Yes, I was that girl. Pretty much afraid of everything, pretty much addicted to worrying.
You know, the girl who is in seventh grade and screams on the Tilt-O-Whirl at the county fair and everyone (including the rednecks and carnies) stares in awkwardness as she nearly has a panic attack? That was me. I like to play it safe. I like things to be predictable and comfortable and definitely would rather please people than argue with them.
So, if anyone were to say to me, "You, Jaimie, in a few years will have a VBAC….a natural delivery after three C-sections." I probably would have not believed them. And even if I did, I most likely would have just been plain scared and would have started to worry about it right then and there.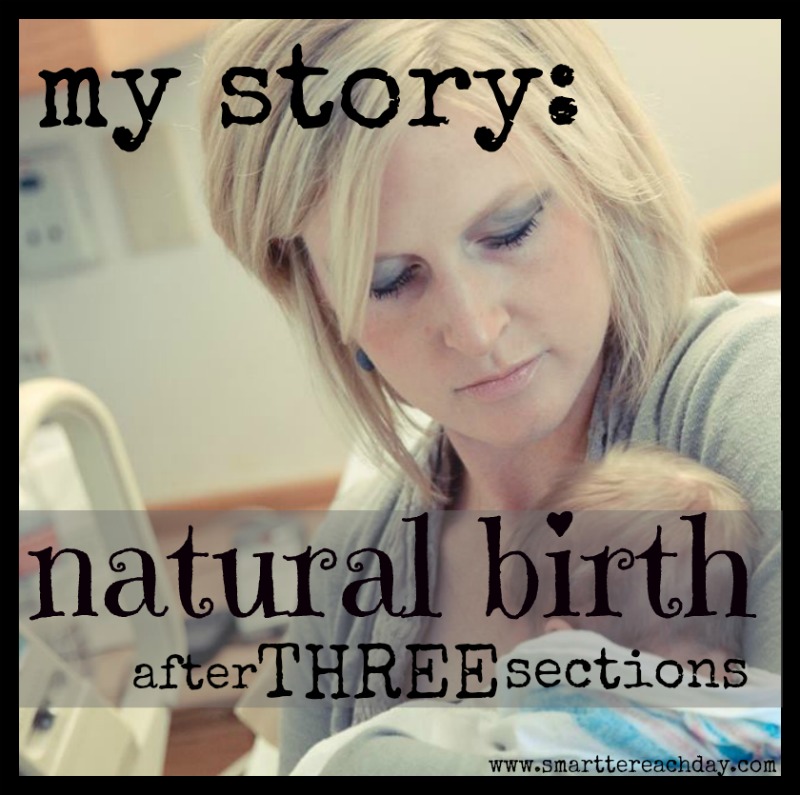 But it happened. I really did end up walking down that path. Just me and God. It was a journey I had to walk alone. Don't get me wrong, I had friends and family and awesome Husband by my side. But no one could do it for me. I had to totally rely on God in this season.
My first baby was breech and delivered by cesarean section. As my local hospital didn't allow VBACS as that time, my second and third babies were delivered the same way in the years following.  So, when I found out I was expecting our fourth child, I knew I could not consent to another section. I had no peace in my heart about it.
My current OB who I thought might make an exception for me said that it would be extremely dangerous for me to go into labor as there was risk of  my uterus rupturing. The thought that comes to mind immediately with a ruptured uterus is the most catastrophic – death or injury to mom and/or baby. I also met opposition from well meaning people in my life. But when I looked at the facts, I found that a  "VBAC is a reasonable and safe choice for the majority of women with prior cesarean. Moreover, there is emerging evidence of serious harms relating to multiple cesareans…" The problem was, I had trouble finding a doctor to support me in this (of the women interested in VBAC, 57% are unable to find a supportive care provider or hospital).
How hard can it be, you ask?  I had looked online and found other women who had found doctors, but there weren't that many stories out there for ladies that had three sections. Let's just say I called every doctors office that I could get ahold of that was within an hour and a half of me. After many days of phone calls, everyone told me no.
And then finally God lead me to the doctor who would support me through a trial of labor.
Little timid, shy me had to drive out of the country where I was surrounded by the cows in the fields, to downtown Cleveland and parking garages, often with my three kids in tow. So foreign to me… my heart would beat fast and my blood pressure would rise for every appointment as the city life was just not what I was used to. I had to continually fight my own thoughts and doubts whether I really could make it through labor. There was a lot of fear of the unknown.
But, my desire to birth my baby naturally, to hold her before anyone else did, to look in her eyes and have all those hormones flowing through my body from the birthing process, to not have major abdominal surgery again, and to leave the door open for more children motivated me more than my fear. 
For sure I treated this like I was training for a marathon –  quality nutrition, good old faithful red raspberry leaf tea, working out daily, chiropractic care, awesome doula and very real mental preparation. But really, those were all good things, but I believe that it was the Lord's hand and guiding in all of this that allowed me to have the birth I wanted.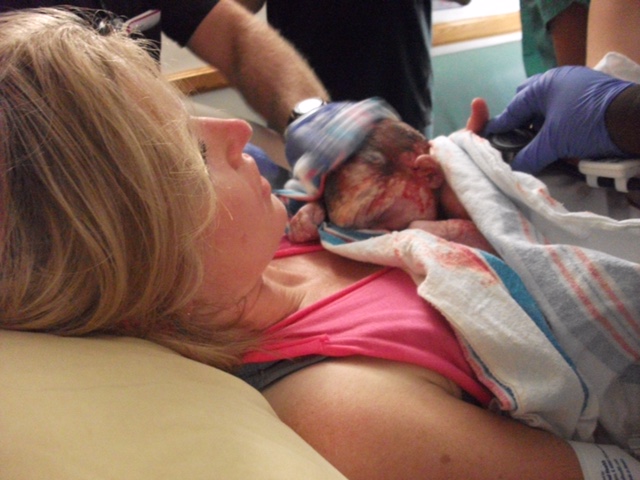 I leaned on Him, I had to trust Him in ways I never did before. I had to trust Him to take care of me as I followed what I knew He had lead me to do. Even if many others weren't doing it. And I had never done it before.
Her birth touched my soul so deeply in ways I could not have fathomed at all. It was true physical, emotional and spiritual work. I pushed out my baby and reached down and took her from the doctor's hands. I brought her to my chest and held her there in disbelief, her wet little dark haired head cupped in my hands.
I got to be with her. In those moments where is should just be mom and baby. I got that. She got that. And it still makes me cry. It was what I wanted, what I dreamed of. Like the anticipation of Christmas morning after you have prayed and begged and wished and couldn't sleep. What I desired for many years came to be and it has rocked my world ever since.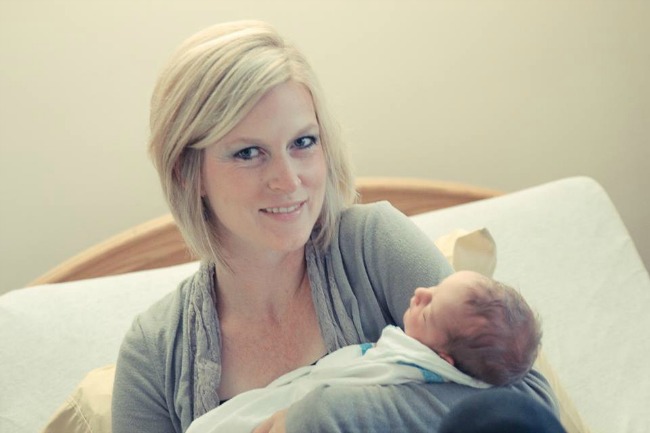 The journey. It changed me. She was born. And so was I. A new me. No longer afraid. Through the process I grew and learned how to face the things that held me back in the past. No longer worrying about what other people thought. Not afraid to tell my doctor what I wanted and what I didn't.  God led me. He guided me. He blessed it. I did what I felt like I was supposed to do. In the end, I was able to have the birth I wanted. I learned, it doesn't matter what man says. When I am with Him, I am safe and secure.
The wind and waves surround me
And I'm tossed, Feel like I'm drowning
I am tired, I am weak
I need You here with me
'Cause I can feel the rising tide
But I don't have the strength to fight
I feel clouded and confused
I need You here with me
Then through the shadows
Your light appears
I've known You're with me
But now it is clear
I can feel You
Jesus All around
Now hope is rushing through my veins
With everything You've rearranged
I am peaceful; I am brave
When You're here with me
All my questions find their answers here
When You come You change the atmosphere
I am focused; I am clear
When You're here with me
Bio: Jaimie Schrock is a child of God, wife to Ben, and homeschooling mom of four. She loves her life, being with family and friends and spending time alone with God.
Follow "Smartter" Each Day on Facebook!
Follow "Smartter" Each Day on Twitter!
Follow Jessica on Instagram!