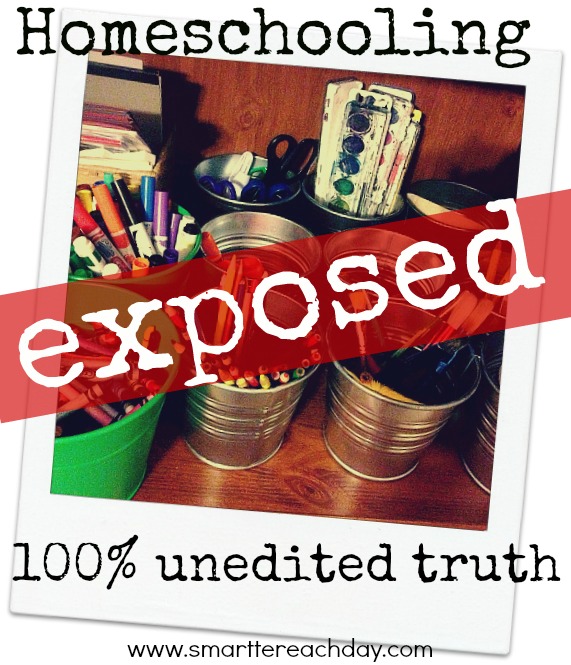 Since the beginning when we announced our decision to homeschool, I have resolved to tell the 100% truth about our journey, in a grace-filled manner. I don't think we are "better" than anyone else. Sometimes, quite frankly, I've wondered if we were doing the right thing at all.
As we are nearing the end of our first school year (my son's kindergarten year), I'm giving the final verdict:
How was it? Will we be doing it again? What was good and what was hard?
Long ago when I would tell people I wanted to homeschool, they all said the same thing: OH THAT'S WONDERFUL! You were a teacher, right? You'll be great! Y'all will be great.
Which I took to mean: You will never have one moment of negative thoughts while homeschooling. Not only will it be a breeze, but you will enjoy each learning-packed, tender-spoken moment.
I forgot something, though. It didn't dawn on me until around February, but WHY, YES I was a teacher. And I loved it. But you know what? There were days, plenty of them, where we "good teachers" would huddle in the conference room, lamenting that HOW IN THE WORLD COULD IT ONLY BE 11:15 and THESE KIDS, AREN'T THEY AWFUL TODAY.
Which of course, had little to do with our calling or our gifts. It's just hard, and that doesn't mean it's wrong. So it's taken me until April to get over the potential embarrassment of admitting to you that I have not "loved" every single minute. I could see you all gasping, in your living rooms, "Did you see that? She didn't like it sometimes. Can you believe she kept doing it? Obviously she's made a horrible, horrible mistake. Scoff, scoff."
I don't know if there are others out there, who might also feel ashamed and confused by the hard days of homeschooling, but if there are, I am writing this for you. Here is the truth. My truth.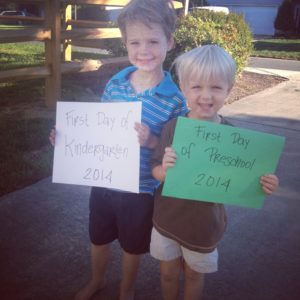 What I do like about homeschooling: Time with my kids. Amy Roberts says, "There's something to be said for quantity and not just quality time with your kids." These words keep ringing in my ears. Homeschooling is motherhood, on crack. It's motherhood to the extreme. It's motherhood, more. More time to teach them. More time to play with them. More time to work on their character traits. More time to see how they stick out their tongues when they're concentrating, and how their eyes light up when they (finally) make a "y." If there are things you like about motherhood, you'll like similar things homeschooling. If you enjoy your kids, you will enjoy them homeschooling.
What I do not like: Also, time with my kids. This is my flesh talking. But my flesh is a real part of me. It is A.L.O.T. to be around your kids 24/7. I feel ZERO need to elaborate on this point, because if you have ever had kids, or been around one for 15 minutes, you understand exactly what I am saying.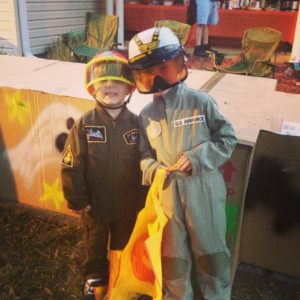 What I do like: The relationships my kids have with each other. My daughter was born three weeks before school started. If Sam had started kindergarten, he would be absent until 3:30, at which point Ellie is basically ready for bed. More than that is the two boys. My boys are best friends. They have time to play the most elaborate games with each other, and they are such good buddies. I am not saying this couldn't be accomplished with a school schedule. I am just saying I am giving my children an incredible gift by giving them each other.
What I did not like: Being The One in charge of my kids' education. The constant pressure of wondering, IS MY CHILD DOING ENOUGH can be oppressive and exhausting.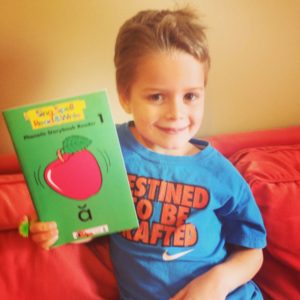 What I did like: Being The One in charge of my kids' education. Sam is reading incredibly well. He thought he hated math, but really hated the curriculum. So I changed it. It is a relief to have the power to adapt your curriculum to your actual child's needs. It is a blessing to really know what they are doing in school, and to actually have the power to change that, immediately.
What I did not like: the loss of personal time. I've heard of this thing called "the carpool line." I think it sounds wonderful. I fantasize about the carpool line. So often during my day, I'll look over at some project, interesting book, email or disorganized closet calling my name, and I will have to remind myself: You chose this life. You chose to be doing this now. The other stuff can wait. Maybe other homeschool moms don't struggle with this, because they just enjoy every minute of teaching so very much. But I definitely do.
What I do like: All the things I get to do with my kids. Before, there were so many things we never did. Maybe I just wasn't as disciplined in activity time as other moms are. But now, we paint together. We go to the aquarium. We play the silly little games in the Chick-fil-A kids meals. We drag out every last board game in the closet. We read books. School time is actually the best, most calm part of our day, because it's just me and them, doing something purposeful.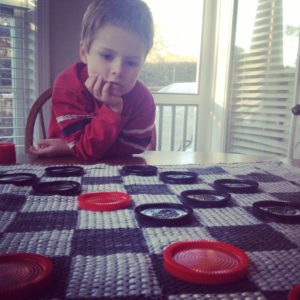 What I do like: The simple, unhurried pace of life. A month ago I had an appointment…at 9am. OHMYGOODNESS it was so chaotic. The planning the night before. The lunch-making. The waking everyone up and breakfast and getting dressed and teeth brushed and faces cleaned off and NO YOU CAN'T PLAY WITH THAT GET IN THE CAR. I said to Todd after, "Wow. I cannot understand how people do this every day." I imagine like anything, you get into your groove. But it made me realize what a treat, really, to snuggle before breakfast, to linger in our PJs for a little, to eat meals when we want them and snacks in between, to not have to interrupt sleeping-in-mornings or afternoon naps…Of course it's not all picnics and snuggles. I still have many lessons to learn in relaxing and enjoying my children. But it's nice to not have to fight a schedule to do so.
What I don't like: The lack of schedule. Sometimes if  my kids are still in their pajamas at 9:15, and we haven't started school, and someone is under the table pretending to be in a submarine, I think, "I'm ruining them. Think of what all the other kids are doing right now. They're sitting at tables, like perfect little angels, and my rugrats aren't even dressed." Needless to say, I'm not a member of the "unschooling" camp. I feel the need (at this point) to get my kids to learn some structure, and I wish I were better at creating it.
My final verdict:
My final verdict is that while I wish I were a better homeschool mom, I haven't ever second-guessed my decision to do it.
I just need more help, more grace, more Christ, more sleep, and more support. A teacher on an island cannot stand, no matter if she teaches three or one or twenty.
And isn't this just the same with parenting? Parenting without encouragement, without direction – it can be lonely, unnerving, and exhausting.
If you are raising little ones, you probably know what I mean. What keeps you going in the down days of parenting? If you homeschool, what do you love most?
Follow "Smartter" Each Day on Facebook!
Follow "Smartter" Each Day on Twitter!
Follow Jessica on Instagram!