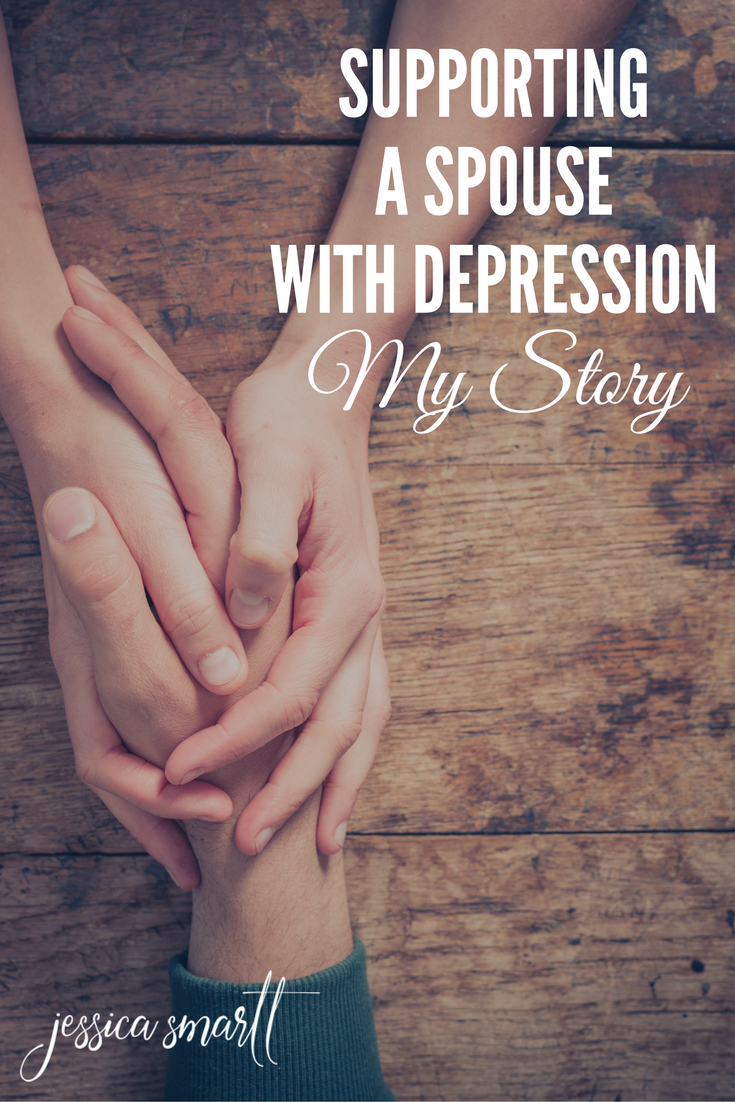 note from Jessica: This post was submitted by one of my dear friend, Jen. Thanks for sharing your friend Cindi with us, Jen!
I met Cindi shortly after I moved to southwest Michigan nine years ago. We were both in our late twenties and had moved to our small beach town for our jobs. She was married, and I was working on finding Mr. Right.
We ended up in a women's small group together through our church. As we began to share more about our lives, I learned that Cindi's husband was struggling with severe anxiety and depression. This was something he had battled for several years prior to their marriage, but as time went on, the struggles seemed to worsen and intensify.  He felt called to be a pastor and studied in California, but had to come back to Michigan be close to family when his depression became debilitating.
Cindi would tell us about the various doctors, therapists, treatments and medicine that they were using to try to help Matt. We prayed for him often. At times, he seemed to have a breakthrough and make some progress, but most of the time he was in a deep struggle that kept him from being able to work and function "normally."
Cindi was steadfast in researching treatment options and supporting Matt in his battle. I could tell it was hard on her, but she focused on choosing joy, trusting God and praying for his healing.
When Cindi became pregnant, they were overjoyed. Cindi is one of those people that was just made to be a mom. She's tender and nurturing, fun and creative, patient and full of grace. She had a daughter, and then a pair of twins.
I know that Cindi's heart's desire is to be home with her kids, but the circumstances of Matt's mental illness doesn't allow for that. She has accepted that for now, she is the one that will support their family financially.
Over and over again, I have been inspired by the strength that Cindi has shown as they have traveled down this very difficult road. Matt has had to spend extended time away at treatment centers, leaving Cindi to be a single, working parent to three very young kids. I have watched her sacrifice so that Matt could get the treatment he needs. I have seen her relentlessly pursue a childhood for her kids that is filled with God, and laughter and innocence while she and Matt deal with something very heavy on a daily basis.
Her true strength has shown through as she has had to humbly ask for LOTS of help. I have seen the beauty of the church as people have cooked meals, watched the kids, folded laundry, tackled major house projects and countless other things. It's not easy to ask for the kind of help that invites people into the thick of your heartache, but Cindi has done that. She's given the body of Christ the opportunity to share her family's burden, just as it was designed to do.
I'm inspired by Cindi in so many ways. Though Matt has not yet been fully healed, she continues to trust, to love and to live a life that is a testimony of unconditional love, joy and hope.
Cindi: There's nothing glamorous about the service you're doing, but it's beautiful. I agree with Jen: your family is blessed to have you. I'd love to meet you some day. 🙂
Follow "Smartter" Each Day on Facebook!
Follow "Smartter" Each Day on Twitter!
Follow Jessica on Instagram!