Has it been difficult for you to make "mom friends"? Looking for creative ways to build real relationships with other moms? Today I'm sharing my thoughts on mom-friends and how to host a feel-good girls' night. 🙂
My husband and I often talk about how different "the real world" is from college life, especially with friendships. I had at least 35 BFFs in college, most of whom I met the first few days of dorm life. Welp, welcome to the real world, where it actually takes an estimated 11.5 years LONGER to find the same kind of friends. Life just isn't about you anymore!
One thing I realized was that if I wanted friends as a mom, I had to be proactive in making them.
So…I would come up with events, and invite people. Anyone. Literally, anyone I knew, with a child, I thought, what the heck, she's probably lonely, too! My opinion is that the best events have a purpose. Here are 20 of my ideas. Take these and run with them!
Collect school supplies for underprivileged kids in your area.
Pack shoeboxes or stockings for needy kids around the holidays.
Make some freezer meals for a pregnant friend (or for yourselves 🙂 ).
Have a game night, and everyone bring a canned good for a local shelter.
Host a Clothing Swap. We've done this for years. Love it!
Get together and all clean an overwhelmed friend's house. I know, I know. Real love.
Baby shower for a local pregnancy shelter.
Paint one or your rooms. This is fun and helpful!
Help someone move in (or out). I heard someone say you find out who your real friends are when you move. Ha! So true!
Have a busy bag swap.
Have a book club.
Have a cookie-making party and then bring home the cookies to take to your neighbors. I love this idea around holidays.
Bring your laptops, and have a gift-shopping party. This is super-fun around the holidays, but you can also do it for birthdays!
Have a canning party and take home the abundance of your garden.
Do a craft night, such as wreath-making, glass-painting, frame-decorating.
Make your own beauty supplies and split the costs.
Have a "favorite things" party. Everyone brings a "favorite thing" $5 or less – one for everyone in the group!
Host a "fun work night," where you all bring along some dull draining task and have fun doing it! (writing thank-yous, grading papers, sewing buttons…you get the drift!)
Have a kids' clothing or toys swap.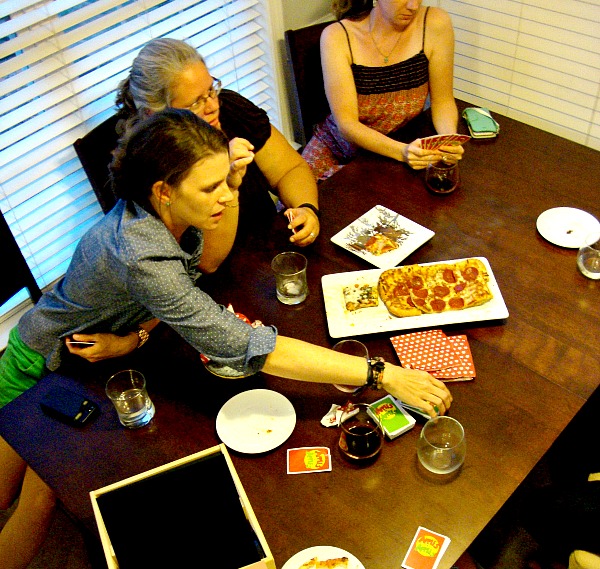 If you're intrigued by my girls' night ideas, here are my four essential tips:
Don't be afraid. Just ask. You might think, will my friends/people I hope are my friends WANT to do this? You just have to ask! I have always been pleasantly surprised that people do indeed come! Even if it's a few!
Cast a wide net, but realize it is perfectly fine (often better) if only 2-3 friends come!
Delegate. I recommend finding a co-host. At the very least, assign tasks to others. Then you know you at least have them coming 🙂
Serve food. Always! But…KEEP IT SIMPLE!
This week I invited over some girls from my church. I was excited to serve them DIGIORNO pizzeria!™ thin pizzas. Excited, because I love pizza, and also – what a relief to not have to make a bunch of appetizers!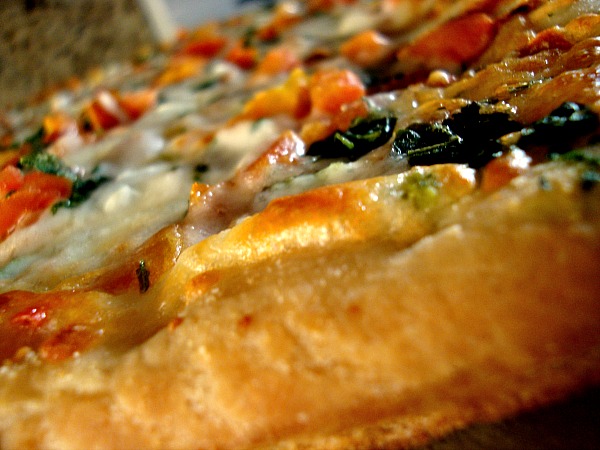 The DIGIORNO pizzeria!™ thin pizzas were a win/win for girls' night. I'd totally do it again!
It was so, so easy. I literally popped them in the oven 20 minutes beforehand (I cooked two at a time, even) and then, done! The main dish – totally taken care of. I served with some baby carrots and a dish of chocolates.
The new flavors of the New DIGIORNO pizzeria!™ thin pizzas are fun combinations…that feel a little more special than an ordinary pizza!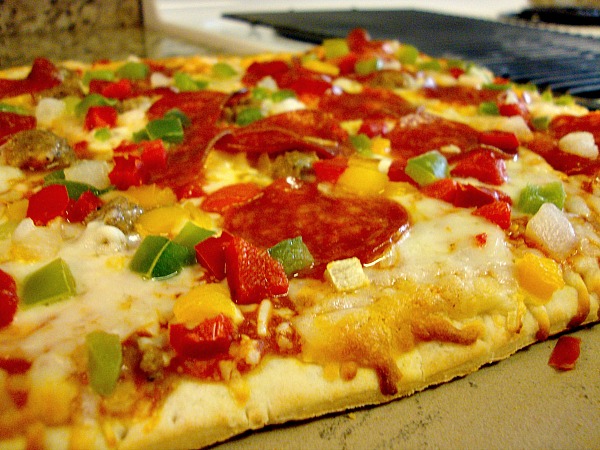 Supreme Speciale: Topped with caramelized onions, red & green peppers, premium pepperoni, Italian sausage (this was my favorite!)
Primo Pepperoni: Topped with premium pepperoni
Margherita: Topped with diced roma tomatoes, basil, and mozzarella, parmesan, romano and asiago cheeses
Spinach & Mushroom: Topped with spinach, garlic, mushrooms.
What I really love is that the ingredients are REAL – a preservative-free crust, 100% real cheese, premium meats, vegetables picked at the peak of ripeness and have no artificial flavors.
And get this – DIGIORNO is offering a "Love It Or It's Free Guaranteed" refund. My personal opinion is that they will not lose much money on this program…because it's stinkin' delicious. 🙂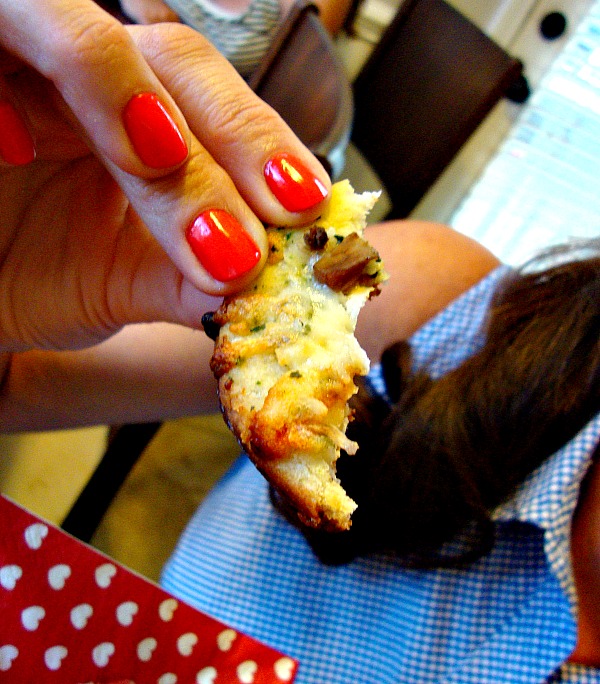 I love the idea of picking up these different flavors for your next girls' night, but imagine all the other occasions these delicious pizza would make SO MUCH EASIER (and yummier):
Kids' birthday party
Date night at home
Game night
Bridal or baby shower (Oh, yes – I'm serious. I would be THRILLED to come to a shower with hot, yummy pizza vs. the same-old cold munchy snacks!)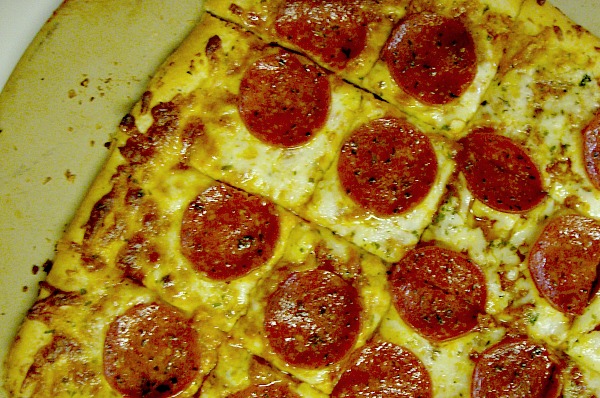 DIGIORNO is excited to hear what fans think of the new pizzeria!™ thin pizzas. It is asking consumers to taste for themselves and then visit the DIGIORNO Facebook or Twitter page (@DiGiornoPizza), to share feedback and pictures using the hashtag #YouBeTheJudge.
I'll tell you what I think. I think I ate about half of a pizza the night my friends came over, and then when I was making my eggs the next morning, I decided a few pieces would be an acceptable breakfast option (it was the Margherita, so it did have tomatoes…). Oh, and don't worry, there were still a few pieces left for my afternoon snack. *Burp*
I think I have a pizza problem.
Have you ever hosted a unique girls' night event like this? What's the most fun "girls' event you've been to?
I was selected for this opportunity as a member of Clever Girls and the content and opinions expressed here are all my own.
Follow "Smartter" Each Day on Facebook!
Follow "Smartter" Each Day on Twitter!
Follow Jessica on Instagram!