this post may contain affiliate links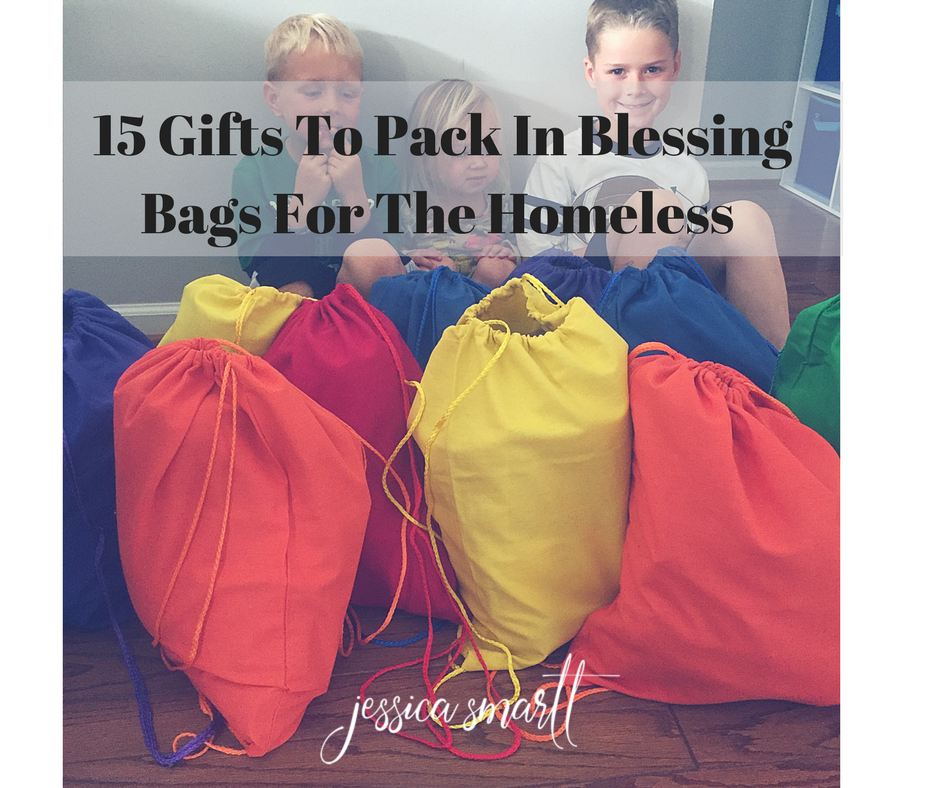 We have an intersection in town by a shopping center where there are frequently people holding signs and asking for food or money. One afternoon I was driving with the kids when we saw a family there together. I got on the highway to head home and just could not stop thinking about that family. I left the kids in the car, ran inside, and quickly threw together a bag of miscellaneous objects that they might need. We made another lap around and dropped it off.
I wished I had been more thoughtful in what I gave them, instead of throwing together the "leftovers" I had laying around. So we resolved to put together some bags to pass out when we saw someone who might need it.
It has been a SLOW process … we went shopping for the contents in November, and finally put the bags together six months later!
Years ago I ran across a blog post on blessing bags for the homeless, and tweaked her idea a little.
We went to our local dollar store first, and really were amazed at all we were able to get there without it being crazy expensive. From the dollar store we bought:
toothbrushes
toothpast
trail mix
crackers
bottled water
socks
hand wipes
soap
chap stick
band-aids
umbrellas
combs
gloves
note: we intended to give these out during cold weather, but if you were doing summer bags, you could omit the warm stuff and instead add sunscreen, more water, a hat, sunglasses…
I really wanted to put the stuff in a nice bag that they could reuse. I found this set on Amazon for about $2 a bag. They are sturdy and the perfect size for all our stuff.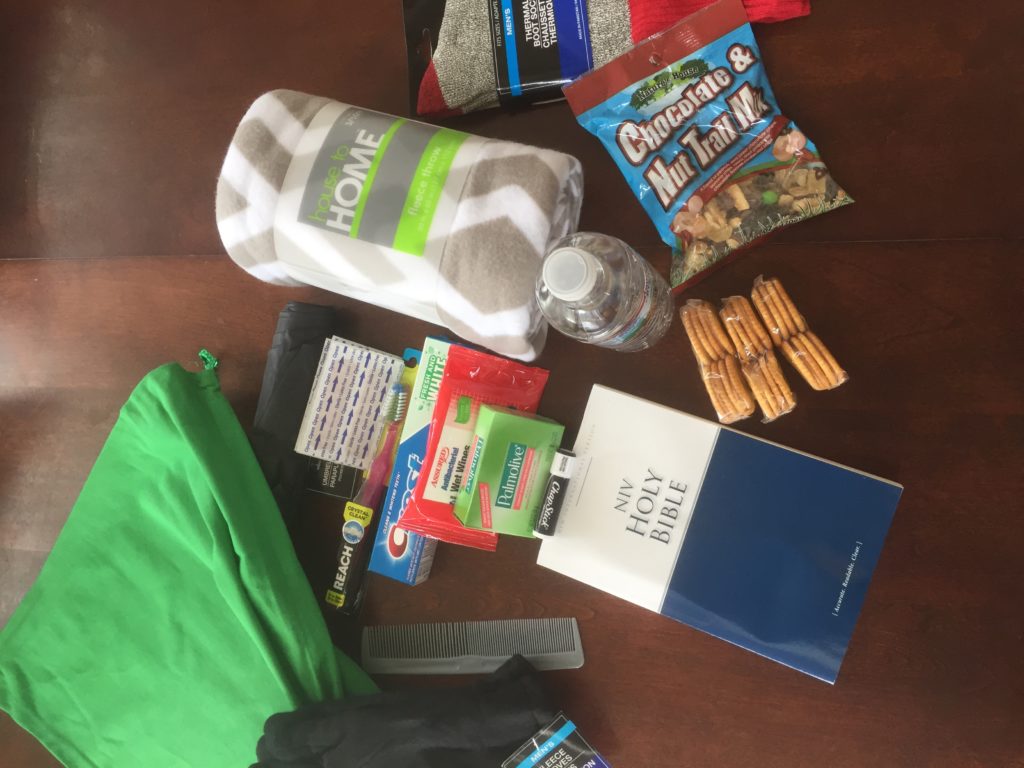 Another thing I wanted to include was a Bible. I got a dozen for a discount price at Christian Book Distributors, but I don't love what we got! The writing is too too small! The next time we do this, I'd order a smaller book or tract (suggestions, anyone?) instead of the whole Bible. Something more readable.
Another thing we are including is a laminated card with the phone number and address of our local Christian halfway house or homeless shelter. I have always felt like I wanted to point someone in the right direction in addition to giving them some temporary help. I make these cards myself, just type up the phone numbers!
And the final item was a fleece blanket. We felt like that would be so useful. It took forever to find  good ones that weren't $10 each…I finally found a ton on clearance at Walgreen's for less than $2.
When we finally had all the items together, we had a packing party! The kids LOVED it! We will definitely do this one again.
We were able to give one away
Follow "Smartter" Each Day on Facebook!
Follow "Smartter" Each Day on Twitter!
Follow Jessica on Instagram!