You're just not going to believe how lip-smacking delicious these Gluten Free, Egg Free Dairy Free Salmon Cakes are. I give this dish the highest compliment I give my food. "I would order this in a restaurant."
I know, right? 🙂

This is the perfect, perfect meal. Here's why:
My kids loved it.
My husband loved it.
Omega-3s…amazing for you.
Took 15 minutes!
Dairy, gluten, and egg-free!
Did I mention…scrape-the-pan delicious?
Perfection in a food, right?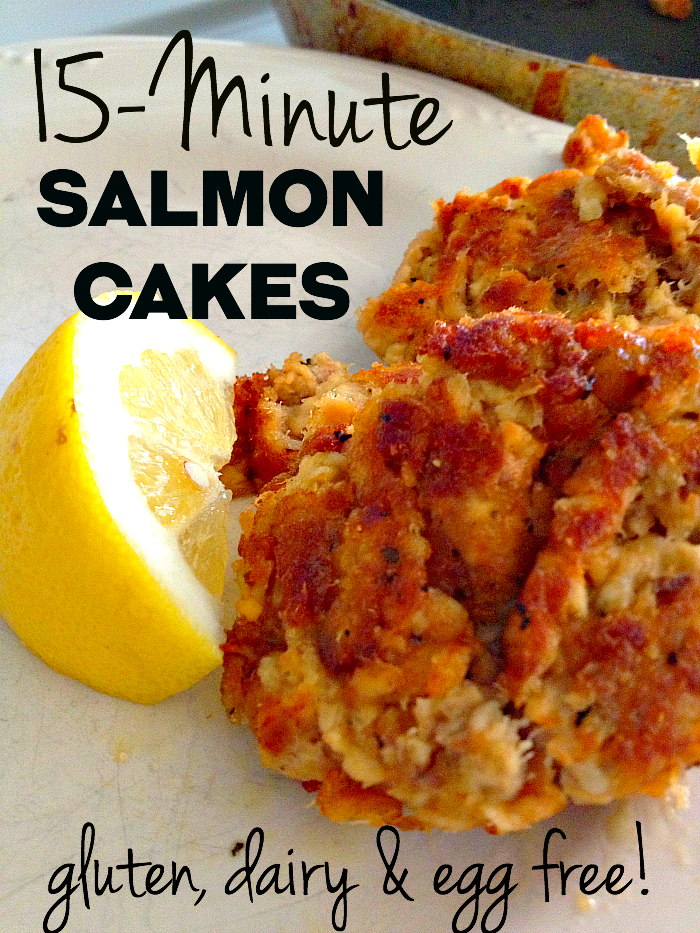 Here's how I made these little bundles of wonder.
*Note: We have food allergies here. But if you're able to eat eggs in your family, simple omit the coconut milk and buttermilk, and substitute one lightly beaten egg.
Ingredients: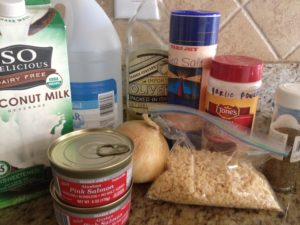 Slightly less than 1/4 cup of unsweetened coconut milk + 1 T white vinegar. (If you are not omitting egg, you could substitute one egg for these two ingredients.)
2 5-ounce cans salmon meat (I get mine at Trader Joe's!)
3T minced onion (be sure the onion is minced pretty small)
2/3 c crushed rice crispy cereal (or crushed wheat crackers or bread crumbs, if you prefer)
olive oil
1/4 tsp salt
1/4 mixed seasoning (mine is an all-seasoning blend. You could also use fresh parsley.)
1/4 tsp garlic powder
Instructions:
Fully drain salmon. Dump into mixing bowl and smooth out the flakes with a fork.
Mix together your coconut milk and vinegar and set aside for five minutes. If you're using an egg, lightly scramble.
Add the egg or egg substitute to salmon meat, and mix with fork.
Stir in bread crumbs, onion, salt, seasoning, and garlic powder.
Form into patties. If you're trying to form them into patties and they are falling apart, add more bread crumbs.
Generously pour olive oil into bottom of pan. When hot, place patties into pan, and cook for five minutes on each side. Make sure you have enough oil in the pan to ensure a nice brown coating!
Sprinkle with fresh lemon and enjoy immediately!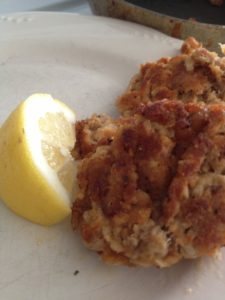 If you liked this post, consider following "Smartter" Each Day on Facebook or Pinterest!
Follow "Smartter" Each Day on Facebook!
Follow "Smartter" Each Day on Twitter!
Follow Jessica on Instagram!