Looking for an AMAZING dairy free mashed potato recipe?? Look no further!
When I was dating my husband, I ran across a Rachel Ray recipe called "You-Won't-Be-Single-For-Long Mashed Potatoes." I made him dinner a few weeks later…let's just say it worked.
I know you're all going to think I'm a liar, but these dairy free mashed potatoes taste just as yummy as their butter-laden counterparts. I know, it's crazy talk. But I'm for real!
Of course, I make these because of my son's food allergies.
But this is an important recipe for the world to know. You may not think you need this recipe, but you do. What if…
you develop a lactose intolerance?
the stores are out of milk?
you realize someone you deeply love (and are making mashed potatoes for) is allergic to butter???
See?? What will you do????
You're welcome for saving the day.
Here are the ingredients for the B.E.S.T. dairy free mashed potatoes:
*Note: I use a commercial dairy free butter in my mashed potatoes which I purchase at Target. It really adds an authentic mashed potato-taste. Updated to add: I love the soy-free version of this earth balance brand."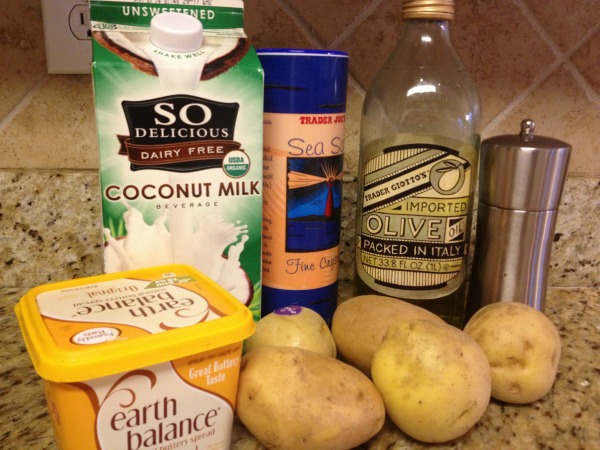 5-6 organic baby potatoes
1 cup unsweetened coconut milk (chicken broth is acceptable, but I much prefer the creaminess of coconut milk.)
3T olive oil
at least 1tsp salt, probably more
pepper
2 T earth balance vegan butter
Instructions: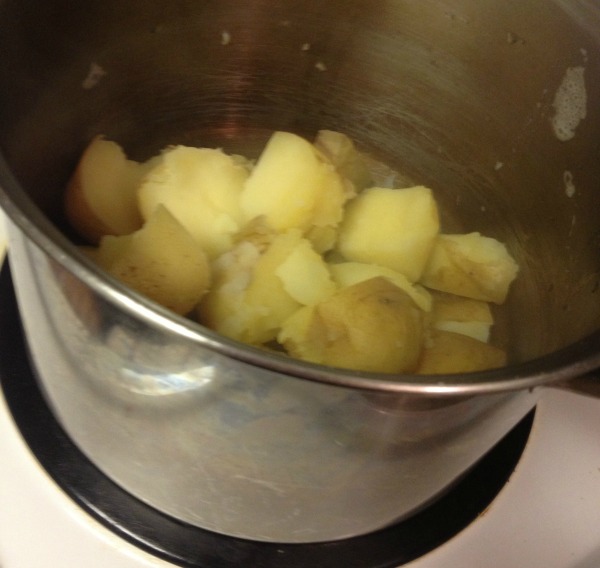 Quarter potatoes. I actually leave the skin on, but if you prefer skinless mashed potatoes, then by all means, peel away.
Place potatoes in a pot, cover with water, and bring to a boil.
Turn down to a simmer, and cook for 30 minutes, or until potatoes break apart when you poke with a fork.
Drain the potatoes, put them back in the pot, and then place the pot on the stove for 60 seconds to burn away any water in the pan. No watery potatoes here!
Now, add the remaining ingredients.
It makes me nervous to disagree with the Pioneer Woman and Cook's Illustrated, but I still prefer mashing my potatoes with the hand mixer. I just do. What can I say. I'm a rule-breaker. If you prefer a chunkier texture, then use a hand-masher instead.
Make sure you taste the potatoes. If they don't taste amazing, they need a little salt, and one more slab of "butter."
Enjoy!
Follow "Smartter" Each Day on Facebook!
Follow "Smartter" Each Day on Twitter!
Follow Jessica on Instagram!