As I planned my son's Thanksgiving menu (he's allergic to milk, egg, and peanut), I decided it was absolutely unacceptable that he didn't have a "safe" stuffing. In my extremely refined Thanksgiving opinion, stuffing is the reason we all sit down at the table.
Besides giving thanks to God, of course.
I tweaked an Anne Burrell recipe to create a dairy-free, egg-free cornbread stuffing that everyone would enjoy.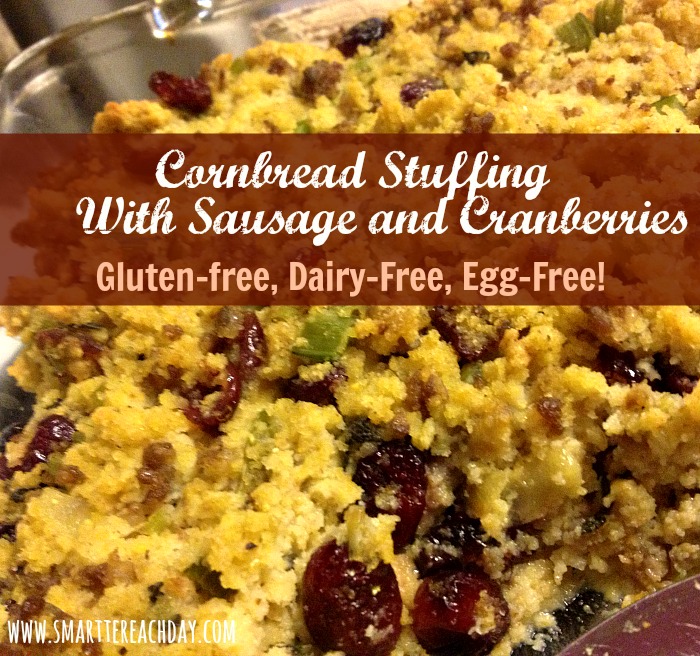 Depending on your own dietary needs, this is sort of a "choose-your-own-adventure" recipe as far as the cornbread is involved. Here are your options:
Buy a completely pre-made cornbread.
Buy a cornbread mix, such as "Jiffy" or Trader Joe's.
Make your own cornbread.
I recommend the last option. 🙂 You can add healthier fats and flours, and, I promise, it's a cinch! I could make cornbread blind-folded and asleep.
When you make your own cornbread, use this recipe. It can be gluten-free or dairy-free if you like.
The first step for your stuffing is to make the cornbread, and here are the ingredients you'll need. You can see the entire recipe here. *Note: Be sure to see my note in the recipe about omitting 1/4 cup of the coconut milk when you're making it for the stuffing!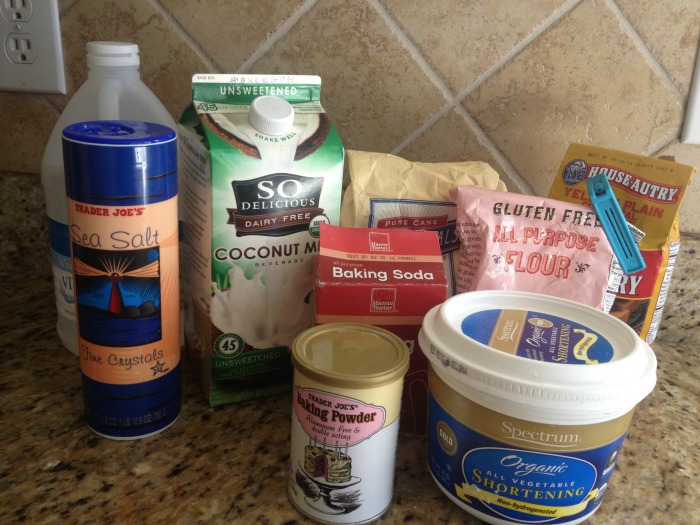 1 cup yellow cornmeal
1/2 cup gluten-free flour blend or whole wheat flour
2 T sugar
1 teaspoon salt
1 Tablespoon aluminum-free baking powder
1/2 teaspoon baking soda
slightly less than 1 cup unsweetened coconut milk, or regular milk

1T distilled white vinegar
1/4 c palm shortening or coconut oil
You'll want to make the cornbread at least a few hours ahead of time, perhaps even a day or two ahead of time.
Once you've made your cornbread and it is completely cooled, make large bread crumbs out of it. Cut it into one-inch cubes and arrange on a cookie sheet, then toast in the oven at 350 degrees for 10 minutes.
By the way, if your cubes are more like crumbles (which is what happens to me), no worries! Put all the little crumbs on the cookie sheet, too!
Here are the remaining ingredients for your stuffing: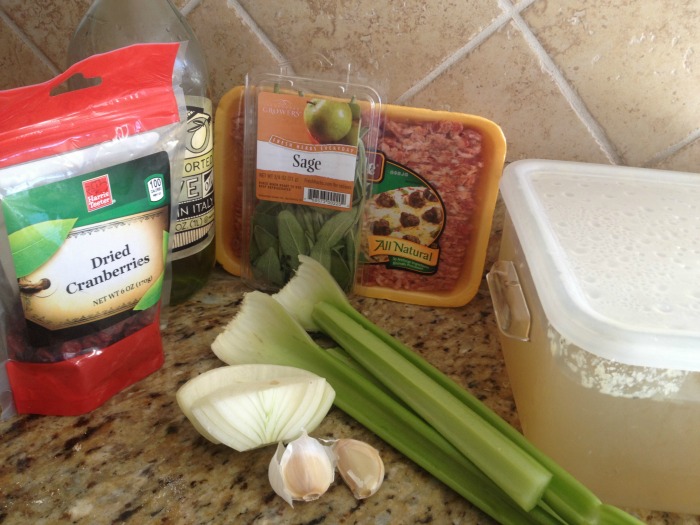 olive oil
4-5 cups of cornbread bread crumbs (see above)
2 ribs celery diced
one onion, diced

1/2 pound ground sausage (I prefer a country-style variety)

1/2 tsp each of salt and pepper

2 cloves garlic, smashed and finely diced

5-7 sage leaves, finely chopped

1 cup dried cranberries (or raisins, if you prefer)

1 and 3/4 cups of low-sodium chicken broth (I use homemade)
Instructions:
Saute onion and celery in olive for about 5 minutes.
Add sausage and cook until done.
Add garlic, sage, salt and pepper and stir.
 Set this mixture aside.
In a large bowl, combine the cornbread, cranberries, sausage mixture, and broth. Mix until moistened.
Put in a casserole dish and bake at 350 degrees for 30 minutes, or until the top is browned. Enjoy!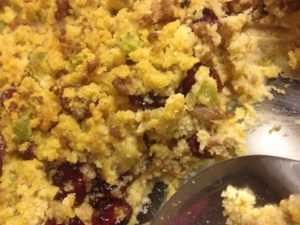 Follow "Smartter" Each Day on Facebook!
Follow "Smartter" Each Day on Twitter!
Follow Jessica on Instagram!