Jessica's note: I met Karen when she began attending our church several years ago, and she has become a true friend. I have so much respect for how she daily lives out her love for Jesus. I'm incredibly grateful that she shares her story so freely – with her friends, and now here as well. I hope she is as much an encouragement to you as she is to me. Karen – thank you for sharing!
Being Christian + Same Sex Attraction : My Story
My mere existence is offensive to many, both in the church, and out of the church.  I'm called a liar, judgmental, hateful, delusional…I'm made fun of, and often looked at with sincere pity.  What has heaped all of these judgments upon me?
Quite simply? my story. Living a lesbian lifestyle, meeting Jesus face to face, and coming out changed on the other side.
Mine is a story you don't get to hear very often as it flies in the face of political correctness and newly revised church doctrine.
For you see, I would claim that I have found freedom from homosexuality through my encounter with Jesus Christ.
To be clear, when I say freedom, it is defined as my ability TO DECIDE. To NOT be compelled and controlled by my attractions is freedom. To NOT be in bondage to something that once was my identity is freedom. To have something that was once life-dominating become instead a small gnat that sometimes whispers in my ear – THIS IS FREEDOM.
I used to claim and live in a lesbian identity. 
From as early as I can remember I felt different and didn't fit in with other women. I hung out with guys and was a tomboy, which only drove me further away from identifying with my gender. But then I wasn't a guy, so I didn't seem to fit with either sex. I had a strong will and was very combative with my mother. I didn't know it at the time, but these were some of the factors that later led me to identify as gay. I believed I was a Christian, yet in college, I became involved with my first girlfriend.
It felt as if I had finally found HOME and where I belonged. 
The gay community welcomed me with open arms. My friends were good people, quietly living life with our girlfriends in our community. I embraced the gay identity, including the idea that I'd been "born that way."
I didn't ask for the attractions; they were as natural to me as heterosexuality is to you. 
Yet, deep-down-me was convicted.
I tried to "not be gay," even moving to another state. But it didn't work. Even after moving, I became involved in another lesbian relationship.  Apparently, the only thing that changed was my zip code! ☺ I prayed, tried to find a church, read the Bible, asked God to take these feelings away, and nothing worked.
I couldn't understand why a good God wouldn't answer my sincere prayers to take these feelings away.
I felt guilt and shame about my homosexuality, not because the world told me there was something wrong with me, but because of something INSIDE of me.
I now know this was God's moral compass. For years I tried to change, but was left exhausted and depressed. I felt trapped in my gayness. I felt helpless and abandoned by God.
Then, I surrendered. 
Surrendered trying to "not be gay." Surrendered trying to figure out what God wanted from me.  Surrendered my demands to have it my way.  Surrendered my control. For years, my brother and sister-in-law, unbeknownst to me, had been praying for me.  Not to be straight, but to find Christ in my midst of the struggle. To find my identity in Him, and not the voices in my head or around me.
And that is what happened, for I came to know Christ at the feet of this struggle. The conviction drove me to Him. It was THE THING in my life I couldn't fix, change, manipulate or embrace completely. In desperation I cried out, "I don't know what you want from my God, but I can't do it anymore.  I'm done. I'm done trying to figure out how to be straight (because I falsely believed that was the goal). I'm done trying to clean myself up to come to you."
The desperate childlike cries of surrender, heard by a Loving Savior, and everything changed.
Don't get me wrong, I didn't have a lobotomy and become a raging heterosexual. But the very next day, things began to change.  The guilt and shame I had harbored for years was gone. A recurring dream of being raped was gone. Truly, a peace came over me like never before. Although my attractions weren't gone, there was something new.  A peace that brought hope and gave me a reason to get up and look forward to the next day.  I became a New Creation in Christ.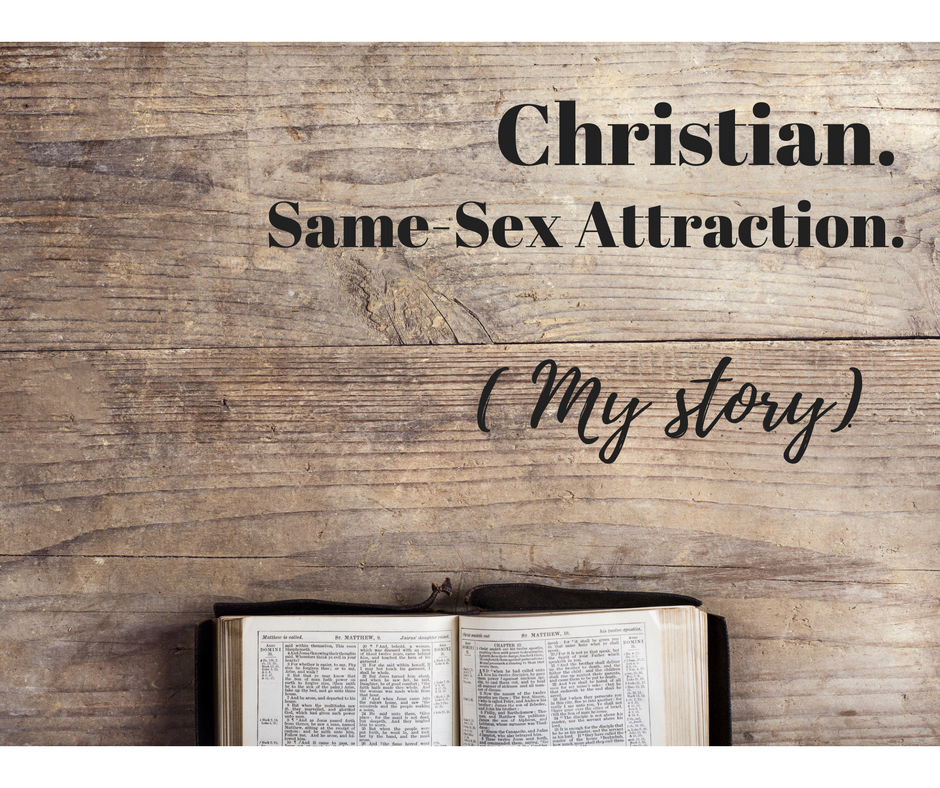 I've continued to walk that journey out for 16 years.
Until I was 30, I was "compelled" by my feelings and attractions to women and to act on them.  I felt trapped in a life I didn't choose, but didn't know how to be any different. Even though it was the most intimacy and love I had ever felt, IT WAS BONDAGE. (Sin usually is.)
So freedom, for me, is no longer living as a "helpless" person to the whims of my feelings. Freedom is the Holy-Spirit-ability to deny myself, pick up my Cross and follow Him.
I WOULD NOT CHANGE MY STORY FOR ANYTHING because it has made me the person I am – with an intimate and tangible relationship with the God of the Universe.
And He has given me a passion for the hurting Church.
How do we relate to our friends and family who struggle with same-sex attraction?
I know there are well meaning, good people in the church who encourage their friends to embrace homosexuality. (see, Jen Hatmaker).
They see their gay friends struggle, go to Bible studies, and pray, read, seek therapy, pursue holiness, and try all the "things" that might change them – AND IT DOESN'T WORK. So they reinterpret Scripture, and lean heavily on the Grace, but forget we are all called to obedience once we are His.
I believe they are doing a disservice to their loved ones. And it is a dangerous thing.
If someone popular, well-meaning, and Christian would have convinced me that generations of traditional interpretations weren't true, and that my lesbian relationships could be Holy in the eyes of God, I would have embraced it without question. It would allow me to keep my God and my girlfriend too!
But that is a trap. SIN SEPARATES US FROM GOD.
That is not loving your friends and family well.
Years before I left the homosexual lifestyle, I confessed my struggle to my brother.  I only remember the first part of his response, because I was crying so deeply.  He said, "Karen, I don't know what I think about homosexuality, but I know I love you and God loves you… I know Scripture speaks to it and says it's a sin, but God still loves you."  I didn't know it at the time, but that was the cry of my heart, to know I was still loved.  Steve may not have known just how much he was God With Skin On that day.
What he showed me was The power of Truth AND Love. Both. Together.
That is loving your gay friend well.
I think if I can be so bold, my very existence and the testimony that God has given me SCARES the church. If we are all honest, no one wants to deny themselves and pick up their Cross daily. Sin is tasty, or we wouldn't do it.  If those like me through prayerfully, surrendered lives, have changed, then so must YOU.
We don't want to see our gay friends hurt, wrestle and struggle because the Church doesn't want that kind of struggle, either.
Frankly, you would rather me and my friends not exist. That allows you to continue to dabble in your own proclivities without submission or conviction.
Never forget, our God calls everyone in the church to search their own hearts and their own sins and submit them to the Father.
Do you wrestle with your gossip issues to the point of surrender on your knees?  Or do you get a pass because you don't wear that sin on your sleeve like I did? If people knew how your treated your kids when no one is watching, would they encourage you in it, or pray you into the loving, convicting arms of your Savior? If you embraced everything you feel so deeply, would you still be married? I am thankful for the loving people God brought into my life – people who didn't stand in judgment over my shortcomings, but loved me with His Truth, into the arms of a Savior who left the 99 and invested 30 years pursing me.
Practically speaking, how can we love our gay friends and family well?
Point them to the Father in Truth and Love.
Walk with them when it's hard and lonely, as it will be over and over again.
Encourage them with the Truth of Scripture and the power of the Holy Spirit.
Remind them that God is Good and faithful, even when He seems silent to their prayers. (It won't be quick, it won't be easy, and it won't be clean.  But then, it didn't seem to be for the Disciples either. Who told you following Jesus would be struggle and pain free?)
Walk out your own faith with truth and love, and share your own struggles and imperfections.
 Take your own secret sins as seriously and work on that speck hidden in your eye. The clarity of vision will help you love your gay friends well.
I thank God that my brother did this for me all those years ago.
~
A note from Karen : For further resources, I highly recommend Joe Dallas. You can visit his blog here, and he has written several excellent books:
Follow "Smartter" Each Day on Facebook!
Follow "Smartter" Each Day on Twitter!
Follow Jessica on Instagram!