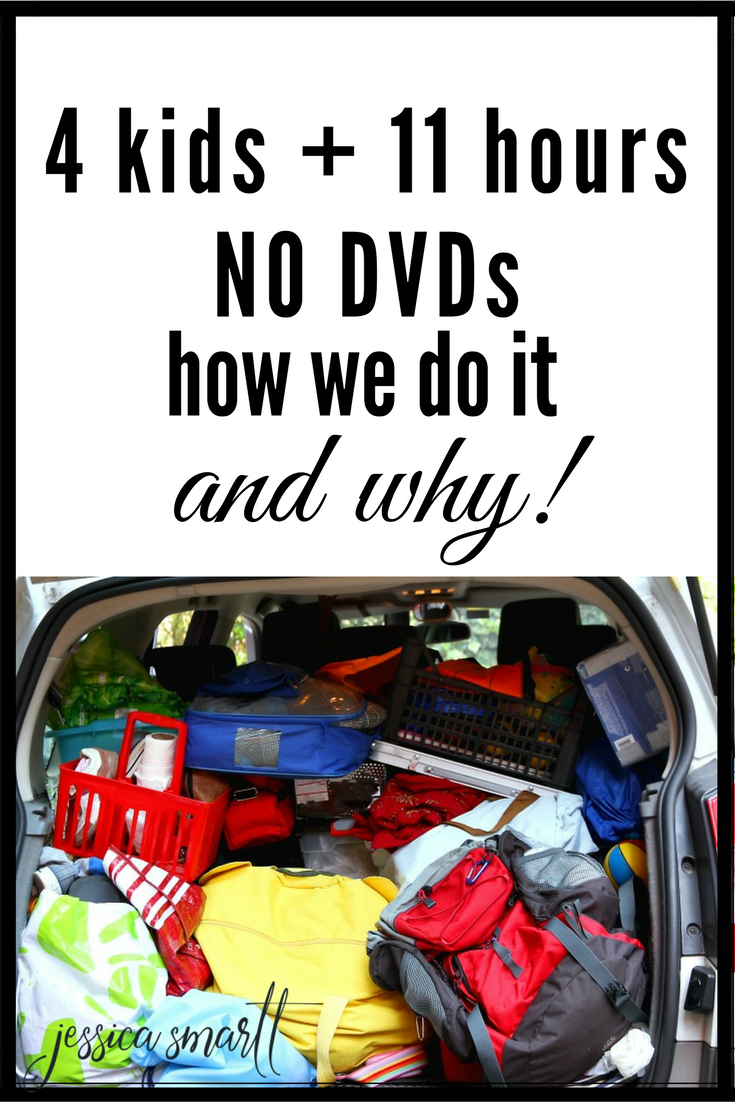 (this post may contain affiliate links.)
Disclaimer: This post is not about me. I wish I could take credit for the feats described therein. But the truth is, it is my sister who is the hero. Every year, at least 2-4 times a year, my sister and brother-in-law travel with their four kids to his family's home, eleven hours away. These are not independent teenagers we are talking about. Their kids are six and under. These are nursing babies, potty-training kiddos, temper-throwing toddlers.
While some moms (yours truly included) might be tempted to pop in a DVD or throw back an iPad to silence the madness, Jenny and John don't do that – ever.
When I asked her why, this is what she said. It's really important to John that we do it like this. When he was growing up, they had a blast in the car. The car rides, he said, were as much fun as the vacation.
I am intrigued by this concept, and I thought some of you might be as well. I have always wondered what in the world they do for eleven hours in the car with little ones (and how they survive!) Here are Jenny's thoughts – someone random in order.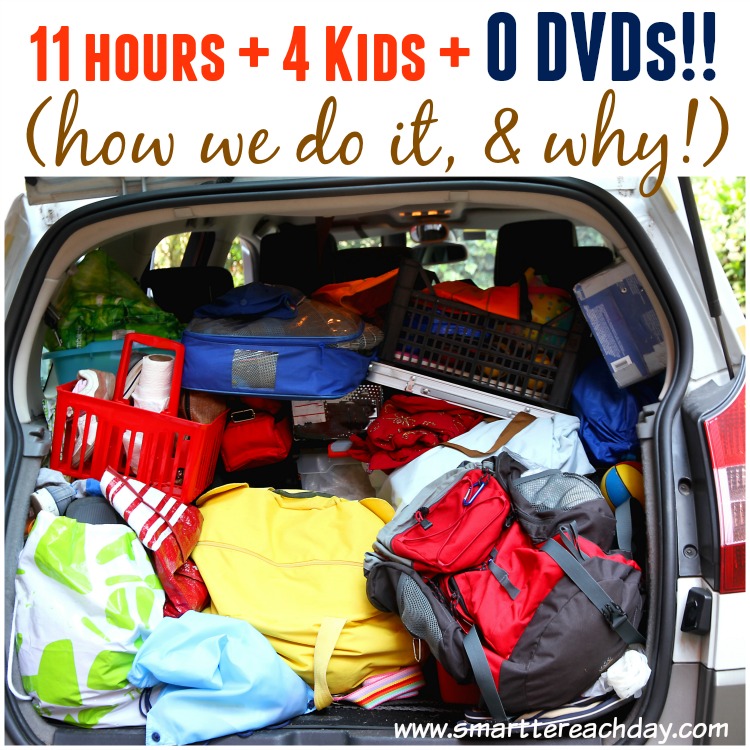 Since we don't have DVDs, here are the things our kids do instead:
Car Trip Binder – Jenny actually made my kids one of these gems, and they loved it! It was a binder she made with print-outs from online.  It included: coloring pages of seasonal things (beach, Christmas, etc.) or their favorite things (personalized to each kid – favorite show, animals, trucks, etc.). Also connect-the-dots, word searches (again, seasonal or their favorite topics), graph paper shape designs (they love coloring in patterns on these. She even laminated some pages to use again – like a map to color in the states you cover, or the license plates you see. There are some car scavenger hunts and all sorts of kids travel games she found (on sites such as this one.)
Books on tape – My kids have loved Adventures in Odyssey Audio and The Boxcar Children. Jenny says they love Fantastic Mr. Fox and The Chronicles of Narnia.
She said she'll often read aloud chapter books to them. I imagine in eleven hours they can get through a few books!
She said she puts Jack, their oldest (6) in charge of the CDs using their Kids Portable CD player. I think this is an awesome idea, because I often feel like I'm changing CDs constantly for the kids.
Other things they play with are etchasketches, water markers and Water Snake Wigglies (which is a great idea!)
Sometimes we put post-its on the dash for every hour we have gone, or rip them off after we have gone an hour. This helps them understand how long we have been traveling.
Sometimes we have a "word of the day." Every time they hear me or their dad say the word, they get a sticker or piece of candy.
Each child has things within reach in their own backpack, including a few snacks they can have whenever they want . But once they eat all the snacks in their bag they are done for the trip. (All the snacks are things they don't normally have – pretzel rods, fruit, trail mix, fruit leather, fruit snacks and pop tarts.)
I also make a homemade "lunchable" (also not something they have) using our plastic travel lunchboxes.

We try to keep the inside of the car clean and organized the whole trip. The less stuff the easier it is to keep organized .

Since it's such a long trip we have to be strategic about the time of day. We usually leave in the afternoon. We drive halfway. Stop. John gases up and I take all the kids in to use the bathroom and change into PJs. I make  sure everyone tries to poop!!! Usually this is our only stop. There have been times with a newly potty trained child we have had to make another stop.

We don't spend any money or time stopping for food . We bring everything we eat .

Also, nurse the baby while we drive WITHOUT taking them out of their car seat.  (side note from Jessica – wow. Haven't tried this. Anyone?!??! 🙂 )

We have one child who gets motion sickness very easily! We bring motion sickness wrist brackets, trash bags , a small fan and ginger mints for him all within his reach . We also have saltines and Gatorade for him.

Oh, and lots of patience .

Our kids always wake up with one hour to go crying!
Anyone else have a no DVD-policy in the car? How do you do it? What other non-media toys would you recommend?
Follow "Smartter" Each Day on Facebook!
Follow "Smartter" Each Day on Twitter!
Follow Jessica on Instagram!