*this post contains affiliate links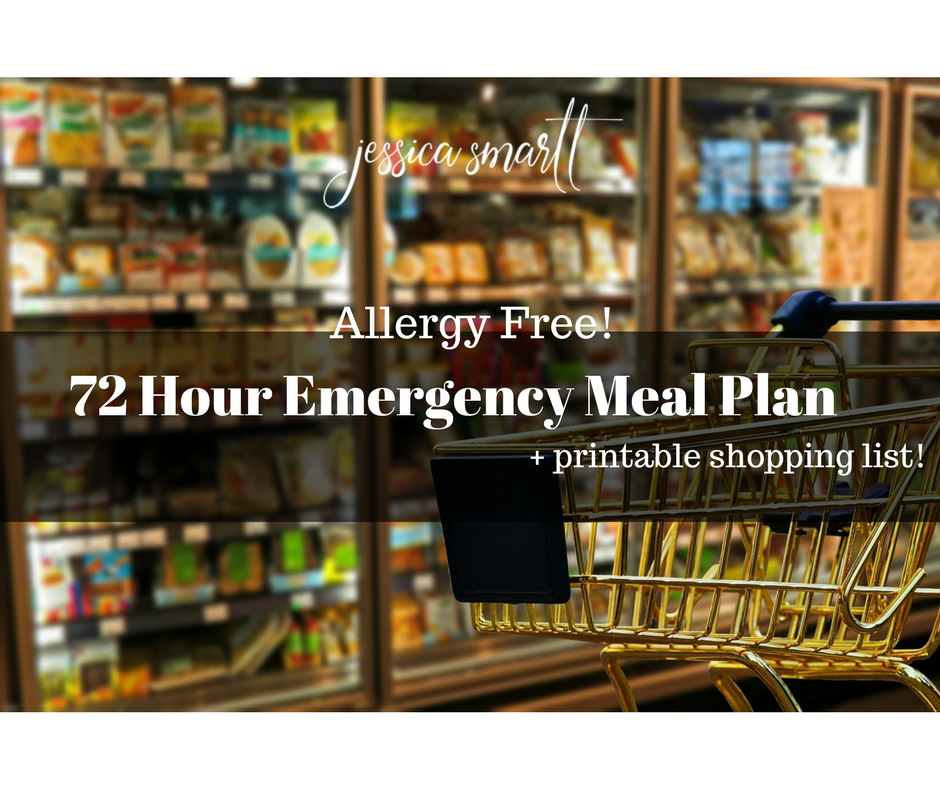 My family calls me the weather girl (and some other names, too 🙂 because I am always tracking some storm and warning everyone of an imminent disaster. It is a badge I wear proudly. I have been known to herd our kids in a closet and make them wear bike helmets if it is thunderstorming.
All seriousness. Weather emergencies are no joke. Losing power is no joke.
As those of us in the Southeast keep a wary eye southward in what is shaping up to be a very busy hurricane season so far in 2017, I have been brainstorming. In preparation for this season, I put together a 72-hour meal plan for our family of meals we can make without electricity or perishable food. AND – these meals are all free of the top-8 allergens! 
Choose your power source
The absolute first step is to decide – if your power went out RIGHT NOW – how would you cook your food? Here are a few options:
in a pot over a fire.
over a gas-powered burner like this one.
with a generator – in which you can plug in a small microwave, a portable burner, a hot pot that boils water, or a griddle.
on a grill.
We are going with option #2. We have a small burner like the one I linked, and we are stocking up plenty of butane to power it. So all the meals I list below are either cold, or can be prepped in a small pot.
Okay, so once you have determined your power source, here are some meal ideas:
Meal Ideas
Breakfast Meals:
Oatmeal – prepared with canned or boxed milk (this is our choice), dried apples, sugar, cinnamon, raisins.
Granola Bars and Juice – if you don't have allergies, this is easy…If you do, I'd use These.
Rice Cakes, Raisins and Nut-Butter (like sunbutter)
*If you do not have egg allergies, you could do eggs on your griddle and cereal for another meal.
Lunch Meals:
Crackers, Nut Butter, and canned fruit or applesauce (Gluten free crackers here)
Canned Tuna or Chicken with Mayo Packets or olive oil and tortilla chips
Noodle Soup – Carton of chicken broth, noodles, and 2 canned chicken. Add canned veggies if you like.
Dinner Ideas:
Chicken Tortilla Soup – carton of chicken broth,  two canned chicken, can white beans, can of tomatoes, can of corn, chili powder salt and pepper. Add tortilla chips. Boom.
Three-Bean Chili – mix pintos, kidneys and white beans with two cans of diced tomatoes. Add canned corn and chili powder.
Spaghetti – Cook spaghetti in pot, add canned sauce.
Rice and Beans: Cook instant rice in your pot. Add can tomato sauce and kidney beans. Stir in cumin, chili powder, and salt.
Snack Ideas:
Homemade Hummus with pita chips – mash chickpeas with olive oil, salt, and pepper
Trail mix (this is our allergy-free brand)
Protein Bites (allergy free option here)
Canned fruit
fruit leather
juice boxes
pretzels, chips
apples or oranges
cereal
Other items you must have on hand
plenty of paper plates, cups, plastic utensils, bowls,
can opener
Sanitizing wipes and hand wipes
Paper towels and napkins
Toilet paper
AND OF COURSE – WATER! I don't worry at all because I have a Berkey water filter. My plan is to fill the tub and use that water in the Berkey. Worst case, I can add a drop of bleach and rain water.
Any other suggestions? If you've been through a disaster or power outage, what else would you suggest having on hand?
Access My Grocery List – Emergency Meals
Follow "Smartter" Each Day on Facebook!
Follow "Smartter" Each Day on Twitter!
Follow Jessica on Instagram!