We've been having unseasonably cold weather. Y'all, it's 50 degrees. And raining. In May.
North Carolina and I have been having some looong talks about how this was not in the agreement, and she better get her act together.
However, in perhaps the one solitary *plus* to the wretched winter weather in May: I can keep making winter food, which I love. Like chili.
Here are the reasons I love chili.
One pot meal.
*Somewhat* healthy.
*Somewhat* easy.
You can do a bazillion different things with the leftovers.
Kids like it, I like it, Todd like it, we all be likin' it.
I've already posted here my Southern Cornbread and Chili Casserole, which I could eat in 100 degrees on the beach it's so stinkin' delicious. If you, like me, have a weird obsession with chili, here are some ways you can talk yourself into making it a warm-weather dish:
Taco Salad – Serve it over warm, but not hot, over romaine lettuce, with corn chips, cheese, sour cream, avocados, and tomatoes.
Chili Burritos – spoon in tortillas, mix in cheese, bake at 350 for 30 minutes and spoon fresh tomatoes, lettuce, and avocados on top!
Chili Stuffed Peppers! spoon into hollowed out peppers, sprinkle mozzarella cheese on top, and bake at 350 degrees for 25 minutes.
Chili dogs! (with hot dogs or all-natural sausages & cheddar cheese)
Chili nachos! – All year-round deliciousness!
Chili-stuffed Potato Skins! um…yum!!
Now, for the recipe.
Ingredients: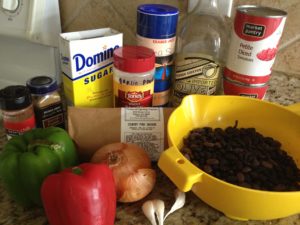 red pepper
green pepper
onion
4 cups of beans (two of: pinto, black, kidney)
1/2 lb of ground sausage
3 cloves of garlic
2 cans of diced tomatoes
sea salt
T chili powder (or less, if you prefer less spicy)
2 tsp cumin
tsp sugar
tsp garlic powder
Instructions
Dice peppers and onions.
Saute peppers and onions for 4 minutes. Add spices, sugar, and minced garlic.
Add sausage, and saute until cooked through.
Add beans and tomatoes, and simmer for at least 45 minutes.
Taste, adjust seasonings, and serve.
If you liked this post, consider following "Smartter" Each Day on Facebook or Pinterest!
Follow "Smartter" Each Day on Facebook!
Follow "Smartter" Each Day on Twitter!
Follow Jessica on Instagram!