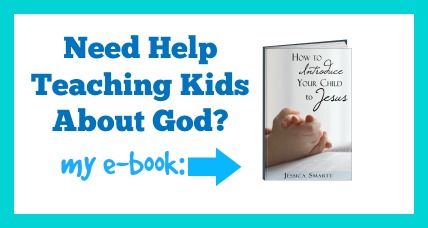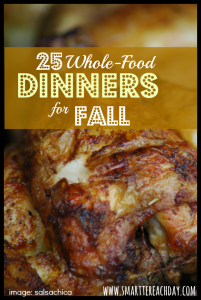 Are you looking for whole-food dinner ideas for fall? Your search is over! Here are the 25 meals I make over and over in cooler weather! Be sure to pin or bookmark this for your ultimate what's-for-dinner solution in fall!
   Sausage, potato, and pepper bake.   This the simplest, most delicious dinner. Dice three sweet potatoes, three white potatoes, one red pepper, one green pepper, one onion, and one pound of all-natural sausage links. Mix these things all together with olive oil and salt, and bake at 375 degrees for 40 minutes. Top with ketchup (for the kids) or hot sauce (for the men). So yummy!
Chili. Oh, chili how I love thee. Check out my all-star-chili recipe, where I suggest six different ways to serve it. And don't forget the Cornbread!
Cornbread and Beans. If you don't make this once a week, your life is seriously lacking. Use my recipe for make-your-own healthier cornbread, and the Pioneer Woman's for Beans, and you. are. set. PW and I say "you're welcome."
Beans and Sausage. Thanks to my sweet friend Christie for this recipe. Use the Pioneer Woman recipe basically above, substituting instead of the bacon, your favorite all-natural chicken or pork sausage (sliced thinly). Delish! Christie recommends adding bacon grease from breakfast. And who am I to argue.
Spaghetti Squash with Meat Sauce – Spaghetti squash is nothing to be afraid of! The hardest thing is cutting it open. Use your heartiest knife to cut it vertically, scoop out the seeds, and bake face-down at 350 degrees for an hour, maybe less. Then scoop out the squash with a spoon and serve topped with your favorite meat sauce!
 BBQ chicken leg quarters and corn muffins.  If this ain't the easiest entree ever, I don't know what is. Buy some cheapo leg quarters from the store.  Lay them in a casserole dish, and top with BBQ sauce (I like making my own.) Bake at 350 degrees for an hour. You can serve with baked potatoes, cornbread, even frozen sweet potato fries in a pinch.
Use the leftover chicken for BBQ chicken and caramelized onion tostadas!
Homemade pizza. This recipe is close to my sister's famous pizza dough recipe. So easy, so amazing. I substitute half whole-wheat flour, and I promise you can barely tell the difference. My favorite topping? Hawaiian. Caramelized onions, bacon (turkey if you want), and pineapple slices. Amazing! For my dairy-free son, we use the vegan soy-free cheese at Trader Joe's.
Chicken Pot Pie
Baked Chicken in the Crock Pot – I like to serve this with a green salad and my Vegan Sweet Potato Casserole. And wouldn't it be delicious with this recipe for Crock Pot Butternut Applesauce from Stacy Makes Cents?!
 My Southern Chili Cornbread Casserole rocks my face off. It's a-mazing.
Pulled-Beef BBQ. I love serving this with homemade fries and fresh green salad.
Shepherd's Pie – My recipe shows you how to make it dairy-free!
Southwest Mexican Chicken and Corn Chowder – I shared this ultra-satisfying recipe over at Stacy Makes Cents.
Sweet Potato and Turkey Caribbean Chili – This is a Sandra Lee recipe that my mother-in-law loves to make. The flavors are so amazing! It's great with a mango-avocado-cilantro salsa! 🙂
Trader Joe's White Chicken Chili – This stuff is amazing!
15-Minute Salmon Cakes (allergy-free!) served with roasted potatoes and squash.
Baked Pasta – mine is dairy-free, and you can use gluten-free pasta if you wish!
Stuffed Pepper "Stoup" by Stacy Makes Cents. You have to purchase the ebook "Crock On" by Stacy to get this recipe. I promise you with my whole heart you will not regret purchasing this ebook, even if you only made this divine meal. Which you won't…You'll try all her recipes. I love Crock On!
And for dessert…These Pumpkin Snickerdoodles look amazing. My kids could spend/are spending their college tuitions on the snickerdoodles from Trader Joe's…I really need to start making my own! These look terrific, and I'll definitely be giving them a try!
If you liked this post, consider following "Smartter" Each Day on
Facebook 
or 
Pinterest!
Linked to Raising Arrows, Wellness Wednesday, Nourishing Treasures,  Nourishing Simplicity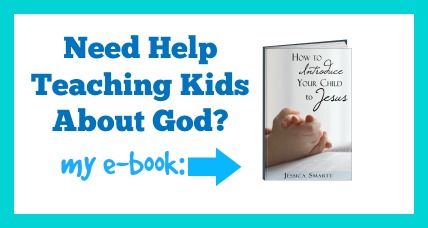 Follow "Smartter" Each Day on Facebook!
Follow "Smartter" Each Day on Twitter!
Follow Jessica on Instagram!