I've been thinking a lot about how tired I am, how busy I am, and how Sundays – the day of rest – exactly play into it all. One thing I've realized is that it takes a lot of WORK to rest.Weird, right! But work on Saturdays, that is! I've been implementing a few of these things, and though it is some trouble, it has well been worth it. Here are a few things I've been doing ahead of time to enjoy Sunday. Do you do any of this?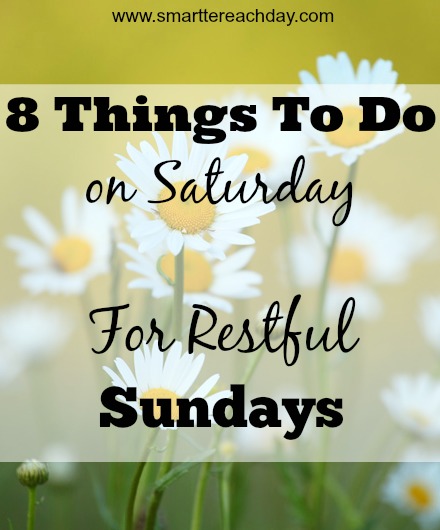 Make dinner. Yes, on Saturday! Sometimes I prep the ingredients in my crock pot for White Lightning Chili, Beef Chili, BBQ roast on Saturday night. Then I literally just turn the crock pot on. I LOVE this list from Mama Gab on After Church Meals for Sunday. (Her whole Sunday series is great, actually!)
Layout & iron clothes. Step prior to this is actually: have good church clothes. As fast as my boys grow, it just dawned on me that I didn't really have appropriate church clothes for them this season. I spent a few hours on Kohl's and picked up a handful of adorable outfits for good deals. I typically like shopping at consignment stores, but I wanted things for church that did not look worn at all. I would rather have 3-4 good outfits that they can recycle over and over, than
Make sunday snacks or lunches for church – Here's the visual of the light lunches our kids bring (that help them behave, by the way!)
Prepare purse, diaper bag and bottles for Sunday morning
Tidy up the house
Have paper plates & cups ready for Sunday meals. I am not usually a fan of paper products, but I like having them on hand, just for Sundays. Easy, peasy.
Go to bed early. I know, I know.The former college student in me is laughing hysterically. My how the mighty have fallen. But as lame as it sounds, extra sleep helps me not be in a comatose state during church, or nod off to sleep in the nursing room. (Hey, it's happened.)
Consider having an easy breakfast already prepped or done. This is where I sacrifice the optimal "health" factor sometimes. A toasted bagel with fruit and sausage isn't going to be the end of the world. Many of the make-ahead breakfasts include egg, which we can't do, but obviously an egg casserole would be perfect! I have been meaning to try a version of this overnight baked oatmeal (doesn't that sound delish?)
Read the passage for tomorrow with your family. I recently loved this article about helping kids benefit from the sermon, and one take-away was to read the passage ahead of time with your kids.
I'd love to hear your tips. Especially – any easy meal ideas to make ahead or on Sunday?
Follow "Smartter" Each Day on Facebook!
Follow "Smartter" Each Day on Twitter!
Follow Jessica on Instagram!