Today, our fish ("Lightning") passed on. He'd been with us for five months.
Despite how many times I complained about the fish, how grossed out I was cleaning his tank, how annoying it sort of was to have another thing to care for – despite all these things – in a weird way, I was sad.
He'd been kind of doing this weird thing, putting his nose down in the corner of the tank. We laughed about it at lunch. A few hours later, there he was.
Sunken, pale and ashy-looking, eyes frozen open. Yup, he was gone.
And all these feelings came over me. The ones you'd expect – apprehension about how to explain this to the kids, sadness for them…But also something else, all too familiar.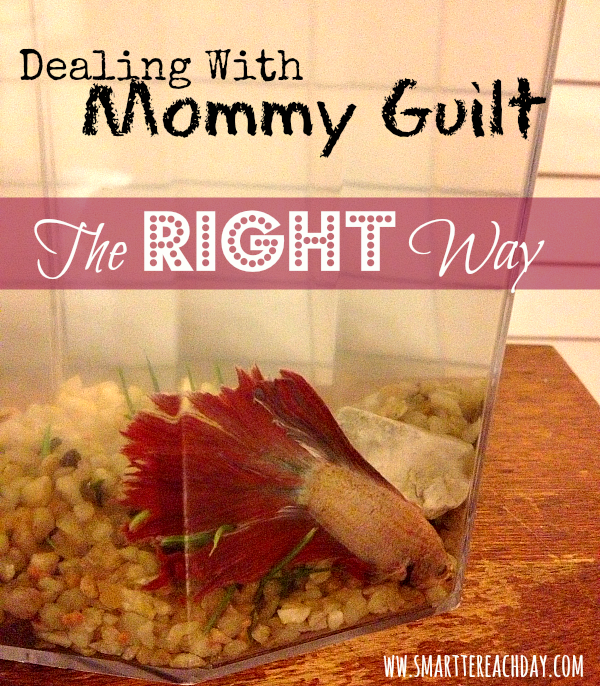 Guilt.
Weirdly, it felt all my fault. It went like this: A few days ago, Ty (the two-year-old) found the fish food and wanted to feed him.
I was on the couch, tired. Physically tired and also, just plain done with arguing with Ty about every. little. thing. He's so stubborn, and so two right now.
I didn't have the energy to fight him about feeding the fish, so he fed him. A whole chubby-fist-full of the food, way too much. (Anyone surprised?)
And now, here was Lightning.
Dead.
And I felt guilty.
Guilty for not taking care of him. God had made this little guy, and his water got murky too often, his feedings were sporadic, his tank too small.
I felt guilty for not parenting Ty better, for being too tired to handle his tantrums.
I felt guilty for being so self-absorbed that I sometimes forgot to feed him (or worse, just didn't.)
I know it sounds a little melodramatic. All this for a fish, right? And maybe I'm exaggerating a little. But the whole thing brought up a question I've been mulling over for awhile.
How do we deal with guilt as moms?
I have an answer. But it's not what you think. It's not the one I read in Parenting Magazine, or in some blogs or Mommy books.
See, often the proposed solution to Mommy Guilt is to stifle it, dismiss it. Don't even let it fester for a second. Don't feel guilty. You're a good mom, they say. Relax. Let go of the Mommy guilt, they say.
They don't often specify where and how to cover up the guilt. Any guilt is unnecessary, it seems. This reasoning can, and is, used to justify any number of mommy foibles, from feeding your kids less-than-healthy foods, to fibbing to them, to putting them in front of the TV while you relax, and on and on.
I'll be honest: I'm no mommy saint. I promise you that. I've suffered guilt over all of these things, and more. But still, it bothers me.
It bothers me because I believe that many times, guilt – even guilt over something as silly as a dead fish – is a tiny voice speaking to you. It's speaking, and there's something in it you need to listen to.
Now I don't mean getting permanently depressed, woe-is-me despondent, either. Those don't help, either.
Let me show you what I mean.
Supposing I feel guilty about letting my son's fish die.
I could laugh it off. How silly. how dumb. Relax and loosen up, Jessica. You're a good mom. You're a fine person.  And I could forget it.
But what if, instead of this, I did something else. Like this, which I read in Desperate:
Make a list of all that is causing you fear, anxiety, or weariness. Then…give up all of your burdens of motherhood into His hands. Ask God to give you strength, rest, and wisdom in the specific areas you need it.
(Desperate, Sarah Mae and Sally Clarkson.)
In that case, I might stop harboring "vague guilt" about the fish, and sit down on my couch, and pray.
I might say, God, I feel bad that fish died. I'm so self-absorbed sometimes. And God, I'm really confused about Ty. I make a lot of mistakes with him. He's hard to parent right now, God! Show me how to harness all his little personality in the right way. You know, I'm overwhelmed in general right now, and I know I'm not all I should be. Help me. I know you want to.
See the difference?
I'm acknowledging the guilt, and fleshing it out, and taking it to Him.
Guilt is a devil, a burden. We moms are heavy with too many burdens already. Deal with the guilt – not by stuffing it, not by breaking under it, but by coming to Him.
Come to me, He says, all you who are weary, and heavy-burdened, and I will give you rest.
Share this with a friend...