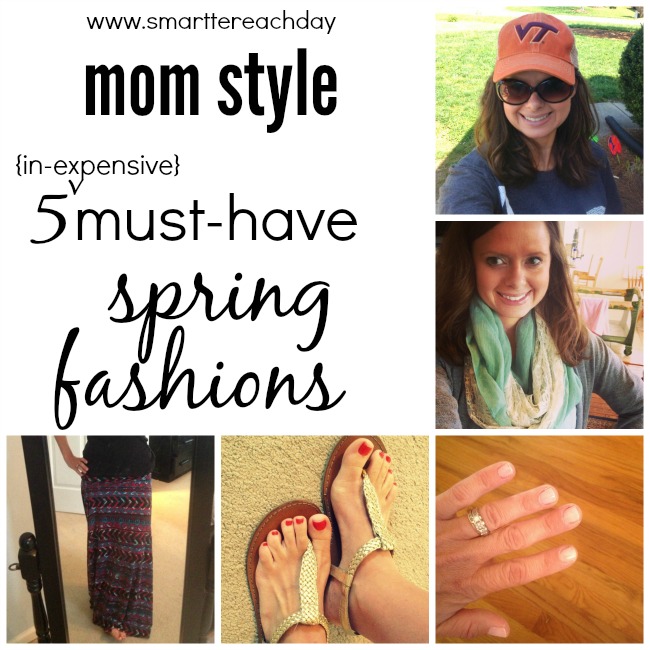 Looking for a couple new spring pieces – that are comfortable, not a bazillion dollars, AND perfect for moms who still have style?
You're in luck. Every spring and fall I like to browse around Pinterest (because let's face it…I don't get out much 😉 ) and figure out what people are wearing. I've picked a few that I LOVE and a few that I will NOT be wearing!
What I love:
(from bottom)
maxi skirt – I got this fun new print which I actually wear a lot more than I thought I would!
flats of all kinds – (And all the moms everywhere said, "Amen!") These sandals I've had for quite a few seasons, but they're still plenty in style. I saw lots of cute flats looking around. I love the ballet-type, too.
spring nail polish. Nail polish is a real cheap way to add a pop of style. Doesn't that phrase sound like I know what I'm talking about? "A pop of style"? 🙂 I love this creamy pastel pink.  A few other colors I saw : mint/seafoam green, hot pink, gray, and powder blue.
a light spring scarf – If you like my mint green & lace one, YOU ARE IN LUCK! It's one of several you can get FREE with the Ultimate Homemaking Bundle! Can you believe it? I paid $4 for shipping. This is not a cheap scarf. It's gorgeous live and worth EVERY BIT OF $4! I have loved getting all my freebies along with the books.
round sunglasses + hat – Sunglasses are another really easy way to up your style. Ideally the round sunglasses might be a little rounder, maybe a color, too. And hats, while they are in no way new, are a spring/summer accessory every mom needs, to throw on when you don't want to do your hair. If you don't have a ball cap hat you like, find one!
NOW, the things I will NOT be wearing this spring.
culottes – two words. SHORT. LEGS. Some of you can pull these off. I am not interested in trying.
crop tops – two words. MOM. STOMACH. nuf said.
big, baggy pleated jeans. For the love. I JUST got used to skinny jeans. Can we just stay with that for a while? Please?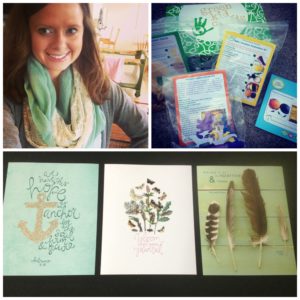 Follow "Smartter" Each Day on Facebook!
Follow "Smartter" Each Day on Twitter!
Follow Jessica on Instagram!